U.S. Vintage Trans-Am [PICS & PAINT Discussion ONLY!!!]
09-23-2011, 02:24 PM
Tech Master
Join Date: Oct 2010
Location: Norfolk, VA
Posts: 1,503
---
To get the flat black look correct, it either has to be sprayed on the outside, or clear matte lacquer has to be sprayed on the outside
09-24-2011, 03:38 PM
Tech Elite
Join Date: Dec 2008
Location: Brownsburg, Indiana
Posts: 2,008
---
They aren't easy to put on for sure. I've opted out and painted them too for the same reason. These on the Boss Mustang were not too bad. I also use one of the 3M squeegees to slowly work it down (a credit card is too hard). From the center out. And, you can pre wet the surface with Windex type cleaner. After spraying it, you lay the decal on it and it can slide around. Don't be shy with the spray. You can wipe off the excess. Did the same for the hood and that put that one on flawless.
Here's some other bodies I've done if you are interested:
http://www.indyhobbies.com/Airbrushing.html
09-26-2011, 01:13 PM
Tech Elite
Join Date: Dec 2008
Location: Brownsburg, Indiana
Posts: 2,008
Parma 34 Ford Truck
---
OK, I know its not a legal VTA body, but it is mounted on my VTA chassis! I couldn't resist!
This is the Parma 34 Ford Truck body mounted on an Associated TC3. Fits just right! I left the RPM bumber on because I want to run it on the track. Aerodynamically, that body isn't going to be too good for racing (ya, duh!), but I want to see it in motion.
The paint I airbrushed using Faskolor Metallic Black and then the neons for the flames. I painted a second body using their metallic blue. I added a "ZZ Top" decal to the tailgate of that truck body.
Both of them turned out great. So, if you want to make your VTA into a Hot Rod truck for a change of pace, go get one of these bodies! Note the front posts are just in the perfect spot. I don't know if a TC5 or TC6 would work for that reason.
09-26-2011, 01:27 PM
Tech Master
Join Date: Aug 2008
Location: da dells WI
Posts: 1,871
---
yesturday's practice day lineup. a couple more cars still coming before the indoor seaso starts.
1 of the 2 mini's pictured ran with us just for fun and finished 3rd with a very good driver
09-26-2011, 06:05 PM
Tech Adept
Join Date: Mar 2011
Location: White House, TN
Posts: 209
---
Here's my new Hot Wheels ride that was done up for the USVTA Nats in Nashville.
For the Hot Wheels logos I scanned and enlarged a set of decals from a 1/25th scale model and retouched them for
CSeils
here on the boards to print. He did an excellent job of getting them perfect before printing and they turned out awesome!
---
Last edited by aarivers; 09-26-2011 at

07:28 PM

.
09-26-2011, 06:41 PM
Tech Elite
---
These are My sons and my VTA cars for the 2011 USVTA Southern Nationals. Sorry not better pics but Was last minute paint jobs before leaving for race. The Camaro won me Concourse in VTA and 2nd Overall Concourse for event. Both all Hand Cut except the "go fast" stickers on Camaro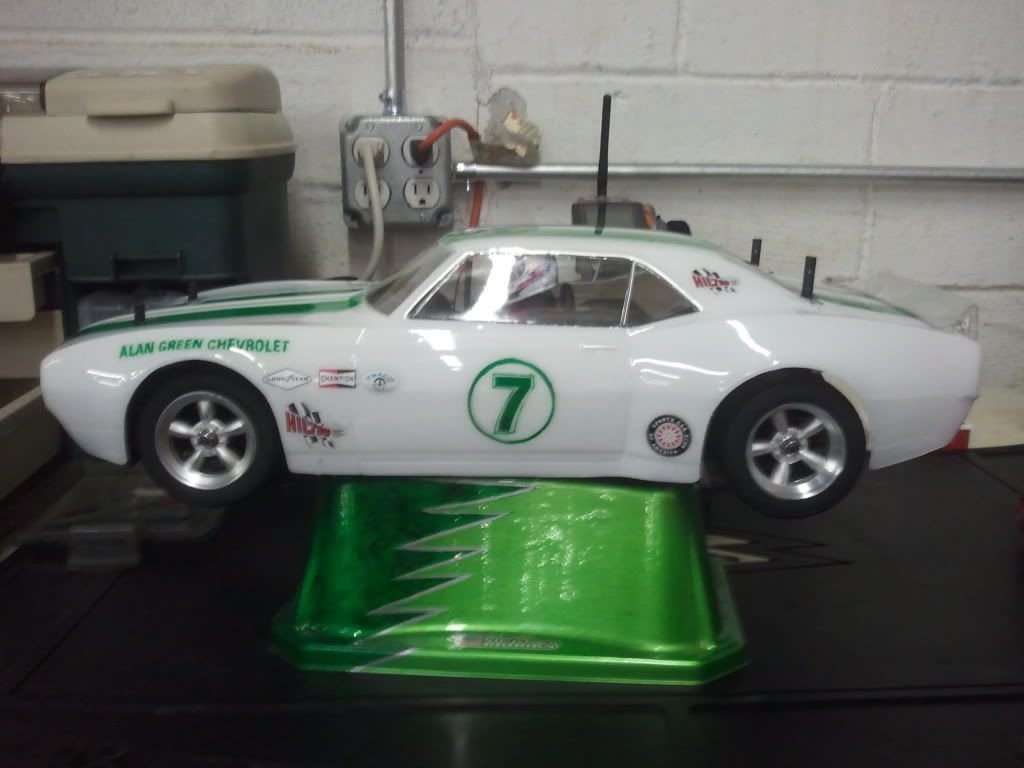 10-06-2011, 10:24 AM
---
New Paint
10-06-2011, 10:58 AM
Tech Addict
Join Date: Jan 2010
Location: Youngstown, OH
Posts: 678
Awsome Body.... and Thank You....
---
10-07-2011, 08:42 AM
Tech Champion
Join Date: Mar 2008
Location: Nashville-Memphis
Posts: 9,040
10-07-2011, 08:47 AM
Tech Champion
Join Date: Mar 2008
Location: Nashville-Memphis
Posts: 9,040
10-07-2011, 08:48 AM
Tech Elite
---
Yeah he does some AWESOME VTA bodies for sure. I almost did that #72 camaro instead of the Alan Green 1 I did. I wouldnt have been able to touch his level of work though lol
10-07-2011, 09:27 AM
---
Thanks Guys . I have been in a funk lately and haven't wanted to paint anything.

Most of the time when I am making the graphics for the car I may go thru three or four sets of vinyl before I get them to come out right.
10-07-2011, 09:35 AM
Tech Elite
---
10-07-2011, 09:50 AM
---
10-07-2011, 12:00 PM
Tech Fanatic
Join Date: Feb 2006
Location: Paramount, CA
Posts: 818
---
I have a 24-inch Graphtec 5000 and I LOVE it....

I have yet to get the masking vinyl, but I've used regular clear vinyl as a mask in the past... it sticks well on the edges, but leaves a residue when removed (because it's meant to be stuck permanently)...