U.S. Vintage Trans-Am [PICS & PAINT Discussion ONLY!!!]
01-04-2011, 10:22 PM
Tech Adept
Join Date: Feb 2008
Location: ND
Posts: 104
---
Just found this thread a few days ago. Heres a couple pics of my camaro i just recently painted. Got the color scheme from the camaro on the hpi poster added a little patina to it.
Enjoy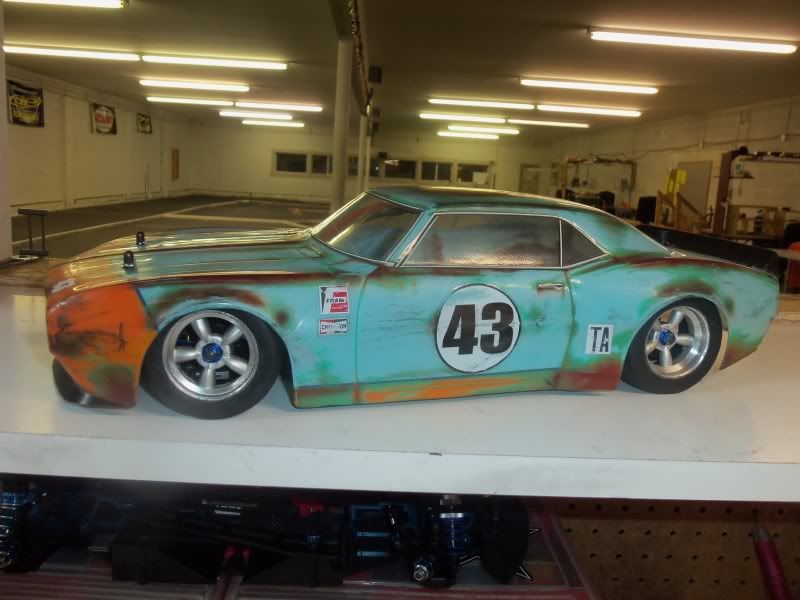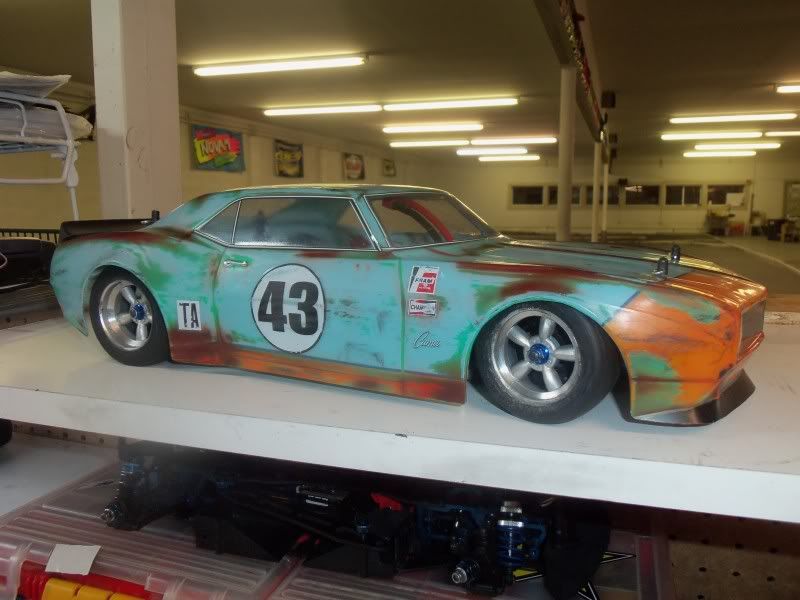 01-05-2011, 07:25 AM
Tech Master
Join Date: Apr 2008
Location: Dayton,OH
Posts: 1,253
---
That is too cool man, great job.
01-05-2011, 07:36 AM
Tech Elite
Join Date: Nov 2003
Location: Wheaton, Illinois
Posts: 4,211
01-06-2011, 08:15 AM
Tech Champion
Join Date: Oct 2006
Location: Tunnel Hill GA
Posts: 5,046
---
I think that Camaro has survived several generations of the HPI collage poster. I have been trying to get a spot on it for my Facebook award winning Mustang. Ive been bugging Andy H., Schwartz and Buckner but they make no promises.
I know this is not exactly VTA but I thought you guys would appreciate it. I found it on the abchobbyusa.com page.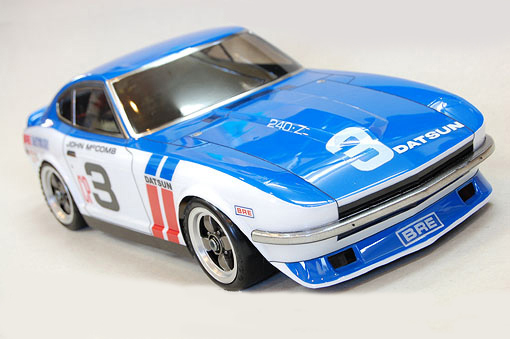 01-16-2011, 06:55 PM
Tech Rookie
Join Date: May 2010
Location: Burlington, IA
Posts: 1
---
That Camaro is one of the coolest shells I've seen in a long time!! Great job!!
01-19-2011, 11:57 AM
Tech Fanatic
Join Date: May 2004
Location: Wisconsin
Posts: 847
CPD VTA
---
Here's my latest. 70' Pegasus Mustang
Now if I can just get the fast guys to pull over for me
01-19-2011, 06:55 PM
Tech Elite
Join Date: Mar 2004
Location: Phx AZ
Posts: 3,857
---
A couple of new ones just finished up that I thought I'd share, all paint no decals were hurt in the painting of these
.
01-21-2011, 01:31 AM
Tech Master
---
Here are a few bodies I painted this week. The blue Camaro with yellow stripes is for another racer. The #42 Cuda is for me
.
Here is a photo the real car. I tried to replicate the blue from this photo instead of the darker blue from more recent photos.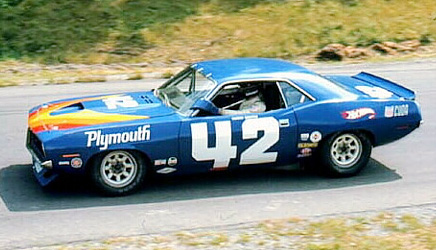 ---
Last edited by IndyRC_Racer; 01-21-2011 at

01:39 PM

.
01-21-2011, 09:00 AM
Tech Champion
Join Date: Oct 2006
Location: Tunnel Hill GA
Posts: 5,046
---
Did you dye those wheels to get the yellow?
01-21-2011, 09:09 AM
Tech Elite
Join Date: May 2009
Posts: 2,061
---
Your cars aren't going to be very fast without a chassis and all their wheels though.
01-21-2011, 12:54 PM
Tech Master
---
Haven't you heard that 2 wheels are faster than 4? Granted I might have a problem making minimum weight.
As far as the wheels go, they are the white 8 spoke VTA wheels dyed yellow. I used Rit dye (
http://www.ritdye.com/store/
).
Here is the process I used to create the yellow wheels.
1. Purchased a box of Rit Golden Yellow powdered dye which can be purchased at Wal-mart, craft stores (Jo Anns, Hobby Lobby, Michaels) and most grocery stores. (About $2.50 USD)
2. Clean off VTA wheels with warm water & liquid dish soap and rinse thoroughly.
3. Measured one teaspoon (1 tsp) of dye and placed into a 4qt glass bowl. (Kids, please get an adult's permission before accidently using grandma's antique crystal glass bowl.)
4. Boiled 4qts of water in large pan on stove top burner.
5. Slowly poured boiling water into glass bowl & stirred to evenly distribute dye. (Kids be careful when handling hot objects/use adult supervision).
6. Placed all wheels to be dyed into glass bowl using metal kitchen tongs. I made sure the wheels settled to the bottom of the bowl by turning them over a few times to release any trapped air bubbles in the spokes.
7. Set kitchen timer for 10 minutes and waited.
8. After 10 minutes, I used kitchen tongs to remove a wheel and inspect the color. If wheels aren't dark enough, leave in dyed water for additional time.
9. If satisfied with wheel color, remove from dyed water. You can either rinse wheels with cool tap water or place in another container of cool water.
10. After wheels have cooled, dry them off and glue your tires on.
11. Carefully empty out glass bowl in
stainless steel sink
. Rinse out bowl, sink, and metal kitchen tongs with dish soap and warm/hot water.
Notes:
- Make sure to dye
all wheels at the same time!!
You will achieve similar results if you use the same amount of dye/water ratio, but it is my experience that different batches will vary slightly. A large glass 4qt mixing bowl can easily hold 12 wheels (3 complete sets).
- The amount of dye/water ratio will affect the color of the wheels, but only to some extent. Even if I had left the wheels in all day, they will never turn a darker shade than the dye being used.
- Rit dyes are available in liquid and powered form. While there are limited selections, you can achieve your own custom colors by using their mixing guide. (
http://www.ritdye.com/colorit_color_formula_guide
)
- I would suggest experimenting on a set of old wheels first. (Don't we all have at least 1 bald set of VTA tires?) If you do use an old set, make sure to remove the foam/insert. Also clean the old wheels, as dirt/residue in a specific location of the wheel can prevent the dye soaking in. (Remember using wax crayons on Easter eggs?)
- I have only used glass bowls & disposed of the dye in a stainless steel sink. I have had no issues with the dye staining anything I did not intend. I would caution everyone that dyes could possibly stain porcelin bowls/sinks.
- Place a large towel under the bowl you are using to dye your wheels to catch any drips/minor spills.
- Some individuals prefer to dye wheels in a large pan of water directly over a hot burner on the stove. If you choose this option, you must insure that the nylon wheels do not settle to the bottom of the pan or they
will warp from heat
. If you choose this option, you do not need to keep the water boiling, but low heat should suffice. I prefer the bowl option since I don't risk ruining a pot used for cooking. (A separate pot purchase from a thrift store would suffice).
-
CHROME WHEELS CAN BE DYED!!
. At least some brands of r/c chrome wheels can be dyed. I have had success with a set of HPI chrome 26mm TC (non-VTA) wheels. The only issue I had was that the chrome plating was a bit soft during the dye process. If you are not careful, you might damage the chrome plating. Until the wheels are cooled, I would recommend only handling them around the outer edge/diameter of the tire.
Hopefully this info will be useful to other VTA racers. Now if only someone could create a good guide on how paint red lines around the rubber tires like the old Firestone Redline Radials.
---
Last edited by IndyRC_Racer; 01-21-2011 at

01:05 PM

.
01-27-2011, 09:18 AM
Tech Master
Join Date: Apr 2008
Location: Dayton,OH
Posts: 1,253
---
Couldn't you use a paint pen attached to a compass? Just thinking out loud here. Great write up on dyeing wheels, I would like to give a try sometime if i ever do a paintjob that would look good with it.
01-27-2011, 01:09 PM
Tech Master
Join Date: Apr 2008
Location: Vero Beach, FL
Posts: 1,022
---
Instead of a compass you could hold the pen steady and rotate the tire under it. This is how potteries/potters get stripes on their pieces.
01-27-2011, 02:51 PM
Tech Champion
Join Date: Mar 2008
Location: Nashville-Memphis
Posts: 9,085
tires
---
these are still my favorite....Ive got some paint pens to try this...I will post them if I can later today
01-27-2011, 03:01 PM
Tech Master
---
Here are a few pictures of HPI chromes wheels that have been dyed red. These wheels are HPI WORK MEISTER S1 WHEELS (
http://www.hpiracing.com/products/en/3591/
). I used Scarlet Rit dye (
http://www.ritdye.com/store/colors/scarlet
) in the same fashion as my previous post.
Note: the silver you see on the picture of the wheel is a reflection and not an issue with the dye process.
If I get a chance to dye some of the old matte chrome VTA wheels (that have worn out tires), I will post pictures of my results.