GT8 Class--buggy-based on road electric!
10-14-2010, 03:46 PM
Registered User
---
I can do anything you want man just draw it up.
10-14-2010, 11:27 PM
---
Originally Posted by
danketchpel
Hmm.... I might need to check out those CF shock towers for my DM1-S.

I've been planning on going with standup shocks in the front but haven't gotten around to it yet.

How about a shortened "radio tray" (really just a steering servo mount) for a DM1-S running BL power?
Dan, SNRSCION made my front and rear carbon towers that you saw.
10-15-2010, 01:09 PM
---
Ok boys n gals...
We will be giving out tshirts to the top three in the A main for the GT8 class this Sunday! Check them out!!
See you all there!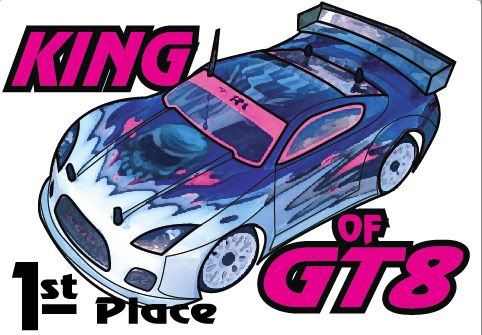 10-15-2010, 11:58 PM
10-16-2010, 12:01 AM
---
10-16-2010, 12:33 AM
---
My Speedpassion 2200KV Cirtix Slotless motor and Silverarrow 2 combo just came in as well. it's gonna be a good day for GT8!
10-16-2010, 08:24 PM
---


I got knee deep into it and there was too much engineering to do. I was hoping the motor mount I bought would drop in, nope.... no such luck, had to start from scratch and design my own....... with still more to do and I want to do it right the first time, I decided to just put the Nitro power back in.

I'll be BL by the Nov. race for sure.
10-16-2010, 08:53 PM
Registered User
---
10-17-2010, 09:29 PM
---
Here is a vid of today's A main with 7! A total of 11 entries today!
Way to go Eric Kunamay for dethroning Steve N!!!
GT8 Race at Corona
10-17-2010, 09:43 PM
Tech Adept
Join Date: Mar 2008
Location: San Clemente
Posts: 231
---
Sorry I missed it guys. Next time. The flu is a drag.....
10-18-2010, 12:45 AM
Registered User
---
That was way too much fun today I had a blast. Hope everybody goes to Surf City in HB.
10-18-2010, 08:43 AM
Tech Master
Join Date: Jul 2010
Location: Chula Vista, CA
Posts: 1,093
---
That was a pretty good video. It looks like a pretty fast race. I'm looking forward to making it to next month's race. It looks like the weather was not even a factor.
10-18-2010, 08:57 AM
---


But, I can assure you by the next race there will be one less Nitro powered car and one more electric powered car. There's no doubt BL power makes these cars rock and is way less hassle to race. Good bye starter box, fuel, igniter, flame outs...... hello "plug and play". Not only are the BL cars much much easier to race they are stupid fast and electric braking is hands down better than mechanical brakes on cars this size.



What was cool is we had a mix of chassis, GTP2e, DM1-S, Converted Losi, Converted Tamiya, and maybe a couple others I didn't know about.

These cars were turning in lap times competitive with the faster 1/10 cars.
10-18-2010, 09:02 AM
Registered User
---
Yeah definitely Eric put the smack down on me but next month Eric I got something for him.
10-18-2010, 09:30 AM
Tech Master
Join Date: Jul 2010
Location: Chula Vista, CA
Posts: 1,093
---
So in your opinioin you'd choose electric braking/motor over mechanical brakes? Is it because of the drag brake feature you get with electric braking/motor? I'm not judging, just curiously asking since I'm new to the GT8stuff myself.
I've been trying to incorporate a little mixing of mechanical with motor brakes just to keep the drag brake in place. Now you are aware that the mechanical brakes do reduce your motor temps?