1/7 Arrma Infraction
08-31-2019, 12:12 PM
Tech Adept
Join Date: Nov 2009
Posts: 221
---
A few mods added.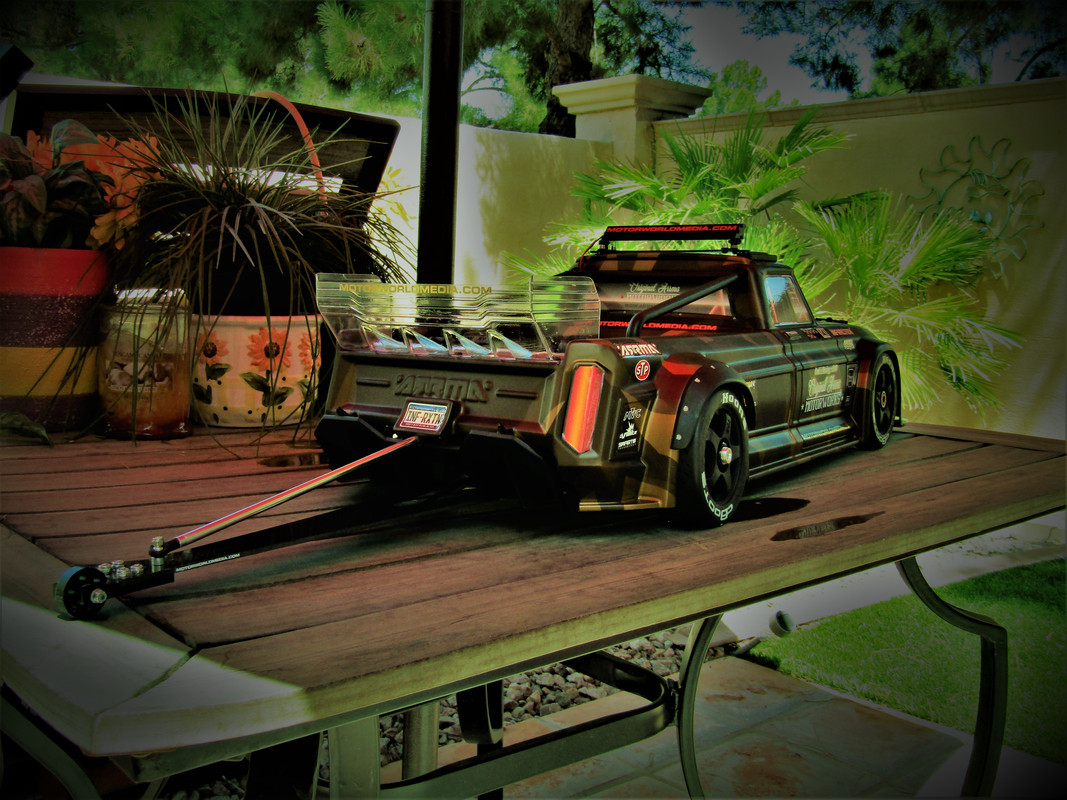 08-31-2019, 02:58 PM
---
Almost seems like arrma had the hobbywing max 6 in mind when they developed this thing.
Also i rather like the ic5 connectors
08-31-2019, 05:27 PM
---
More pictures
09-01-2019, 02:53 AM
Tech Regular
Join Date: May 2015
Location: NSW, Australia
Posts: 286
---
Yeah when I was looking at pictures I was thinking there's enough room for a max6 there, and enough room for the 4985 1650kv motor. So no doubt they did have it in mind.
Which is good of them in that regard, unlike *cough* Traxxas *cough* and their proprietary junk
09-02-2019, 07:54 PM
---
Truck seems built pretty well. Accidentally jumped mine like 30 feet and cartwheeled. Nothing broken..

Hopefully I'll be able to find my gps that flew off when it's light out tomorrow.
09-04-2019, 01:42 PM
---
Stock motor vs hobbywing 4985. One main reason i changed motors is because i have batteries for 8s. My leopard 4092 was too long to fit mounted in same location as stock.
09-05-2019, 12:52 PM
---
Ruins out pretty good with hobbywing motor. I'm still on stock tires, and i had them smoking during drifts a couple times.
09-06-2019, 12:42 AM
Tech Apprentice
Join Date: Feb 2012
Location: Stillwater, MN
Posts: 83
---
I'm really digging this truck, waiting on my lhs to get more in stock and one will be coming home with me. Now to figure out what gear I wanna run lol, most likely a max6 esc, always had good luck with hobbywing products.
09-07-2019, 06:12 PM
Tech Adept
Join Date: May 2013
Posts: 124
---
Anybody know of other bodies that may work for this? I love the truck body but a couple options would be nice. Anybody know if the wheels from a Kyosho Inferno GT2 will work?
09-07-2019, 10:10 PM
---
I had a 1/7 ofna body i was going to try, but can't find it. Think i got rid of it.
09-08-2019, 04:43 AM
---
I donít think a standard 1/8 will fit, I believe itís longer. I did find this video of one with a xo1 Corvette body
thatís the first non stock body Iíve seen used
09-08-2019, 07:08 PM
Tech Adept
Join Date: May 2013
Posts: 124
---
Pretty sure the body is from Killer Body. Looks like it is out of production right now and may be hard to come by.
Currently Active Users Viewing This Thread: 1
(0 members and 1 guests)
Posting Rules
You may not post new threads
You may not post replies
You may not post attachments
You may not edit your posts
---
HTML code is Off
---