Any 1/5 scalers here
06-26-2012, 11:03 AM
Tech Apprentice
Any 1/5 scalers here
---
After researching what was in my budget I picked me up a king motor ksrc-002 rev2 2 speed baja clone. I would like to meet & go play with some other people that have 1/5 scale buggy & sc off road vehicles.
06-26-2012, 01:09 PM
---
I'm here, in NW OKC. My Baja's not running at the moment though. There are lots of places to bash, but I'm more of a racer, and nobody here in OKC is racing these yet. I could probablly get it going by this weekend though.
06-26-2012, 01:16 PM
Tech Master
Join Date: Sep 2011
Location: carlisle, pa
Posts: 1,992
---
I have a few
06-26-2012, 03:13 PM
Tech Apprentice
---
Awesome! I live in NW OKC too but my bugged won't be here till at least Thursday. we should hook up for a bash session. I can bring savages too.
I will have 2 sets of tarmac & some dirt tires so I'm down for what ever. I wouldn't mind stretching out the 2 speed to see if it will do the 60+ they say it will do. lol
06-27-2012, 07:09 AM
---
One thing you'll really need for your 5th scale is a kill switch. I personally wouldn't run without one. It'll keep your Baja from running away if you have a problem with your electronics. It says the Super Bee kill switch works with the KM's radio, so if I was you I'd get one as soon as you can afford to. I don't think anyone here in town sells them, so you'll need to order it online. Here's a link to Killer RC's site, to the Super Bee info page. These aren't cheep, but they'll probablly save you more than it costs if you have a runaway. I think of it as insurance.
http://www.killerrc.com/products/gas_killswitch.php
This is my favorite place to order parts from, they may not be the cheepest on everything, but their free shipping on orders of $100 or more is faster than other sites' free shipping.
http://www.davesmotors.com/site/index.html
06-27-2012, 12:48 PM
Tech Apprentice
---
I go to hefner once & a while since I just live right up the road from there.

I was going to buy an rpm complete arm set as my first upgrade but I guess I'll buy that bee thing first. Its only about $20 cheaper than the arms. Guess I'll get them next week then upgrade my servo's after that.
06-28-2012, 07:32 AM
---
I know this is a silly question, but how much research did you do on the KM Baja before you purchased it? For such a huge RC forum, this site isn't very good at all for large scale info. Are you a member of any large scale forums? Here's a site that will help you if you need to do more research.
This site has the most info about KM Bajas out of all the sites I know of.
http://www.largescaleforums.com/
06-28-2012, 08:06 AM
Tech Apprentice
---
I looked at quite a few videos on YouTube & read a bunch of reviews on various sites including the site you posted. There were a lot of mixed reviews but from what I could tell the km baja wasn't a bad deal with most parts being interchangeable with the hpi baja . I opted for the 2 speed model because I like my rc's to be fast & will most likely be running mine on a lot of hard surfaces with some dirt here & there. If I want to bash hard I have my savage xl's & one of them has a fully modded sh .28 p8.But I wanted something bigger & different & the hpi baja 5b & sc & losi 5ive T were a bit out of my price range for something new. Yes I could've saved up & got one of those but it would have probably taken me the rest of the summer to save the rest of the money & I had enough to get a km or rovan . But in the end the km had better reviews so I searched for the models I wanted in my price range & went from there with more reviews & videos. I really wouldn't have minded having the T2000 but it was a little out of my range & I didn't feel to confident about the front being belt drive even tho it had some decent reviews.
06-29-2012, 10:22 AM
Tech Apprentice
---
Got it in yesterday. Man this thing is big & heavy. I will try & mess around with it when I get off work. Gotta figure outb how to tune it now. I'm used to nitro's, but this is my girst gas.
07-03-2012, 06:27 AM
---
Once you've got it tuned, you can pretty much throw away your tuning screwdriver. It's much nicer than having to retune every time you go out, like running nitro. First, make shure the carb needles are in the factory positions, your Baja should have that info it the book that came with it (I think). There's no need to let it idle for a tank, just let it idle for a couple minutes to get it up to temp, then start driving it, but you only have to be a little easy on it. I drive mine for 15 minutes, then cool down for 30 minutes, that makes up one heat cycle. The first heat cycle, after warming up, I wait another couple minutes before I floor it, then I only touch WOT, untill about half way through the heat cycle. Then I limit WOT to 2 or 3 seconds, and by the end of the first 15 minute run, I'm limiting WOT to 5 seconds at a time. During the second heat cycle, I limit WOT to 10 seconds at a time(after it's good and warmed up), and during the rest of the break-in period, I limit WOT to 15 seconds at a time.
I know that sounds like a brutal break in period compaired to nitro break ins, but that's because these are ringed engines. They are no where near as picky about break in as the nitro pinched sleeve designs. As long as you've got a good oil for break in, which is usually cheep oil, or just about anything that's not a synthetic, or semi synthetic oil. After break in (about a gallon of fuel), then you can switch to a premium 2 stroke racing synthetic oil. You'll find the place with the best oil should be a motorcycle shop. Another helpfull item to have for mixing fuel and gas would be a ratio rite cup, they make it much easier to mix your fuel.
http://www.davesmotors.com/s.nl?c=88...easuring%20Cup
I've had a bad weekend. My real car decided it wants some attention. It's suddenly picked up a misfire on 2 cylinders, and a bad exaust leak. So far I've got the leak taken care of, but I have yet to track down the reason for the misfires. Hopefully I can get it taken care of today, or tomorrow.
07-04-2012, 11:35 AM
Tech Apprentice
---
I havent had very good luck with the buggy yet so far. My 1st gear owb decided to crap out on me after 1 tank. I talked to the seller & he is sending me a replacement owb which should be here by saturday. I got my RPM arm kit in yesterday& have started tearing down the buggy to swap out parts alto I'm not exactly sure on how its supposed to be torn down especially to replace the owb. The manual that came with the buggy is for the single speed model & I'm not having much luck finding info on the 2 speed tear down or installation so Im just slowly taking it apart piece by piece & so far its a total pita.
08-04-2012, 06:04 AM
Tech Apprentice
---
After a little heart ache here is where my baja stands now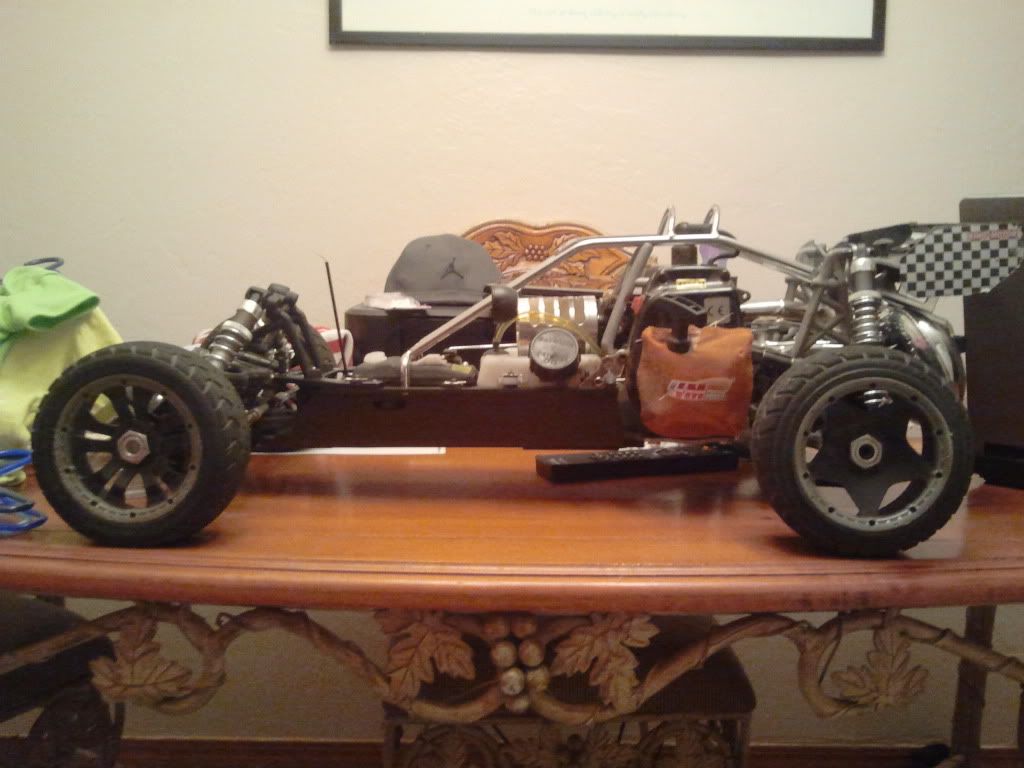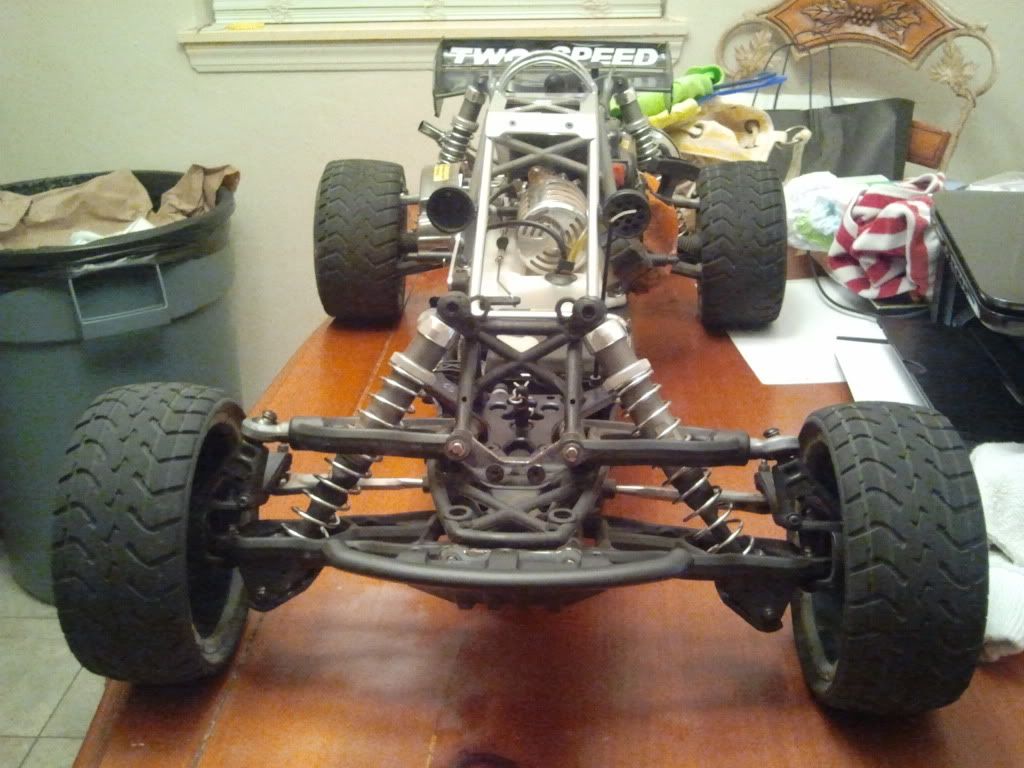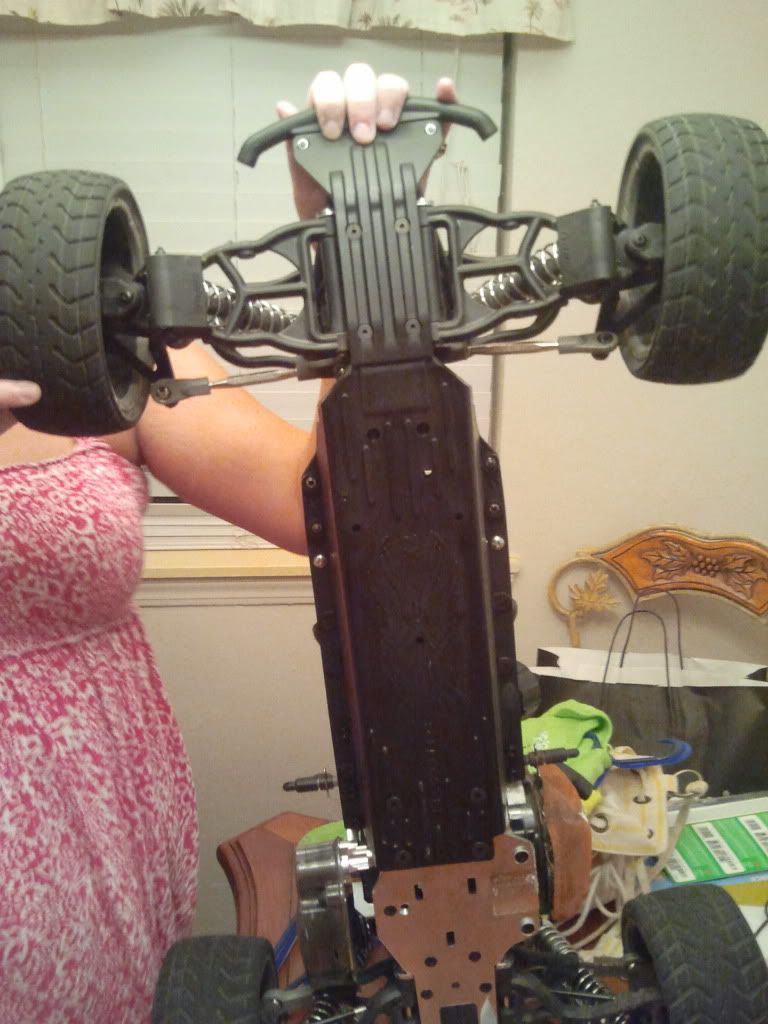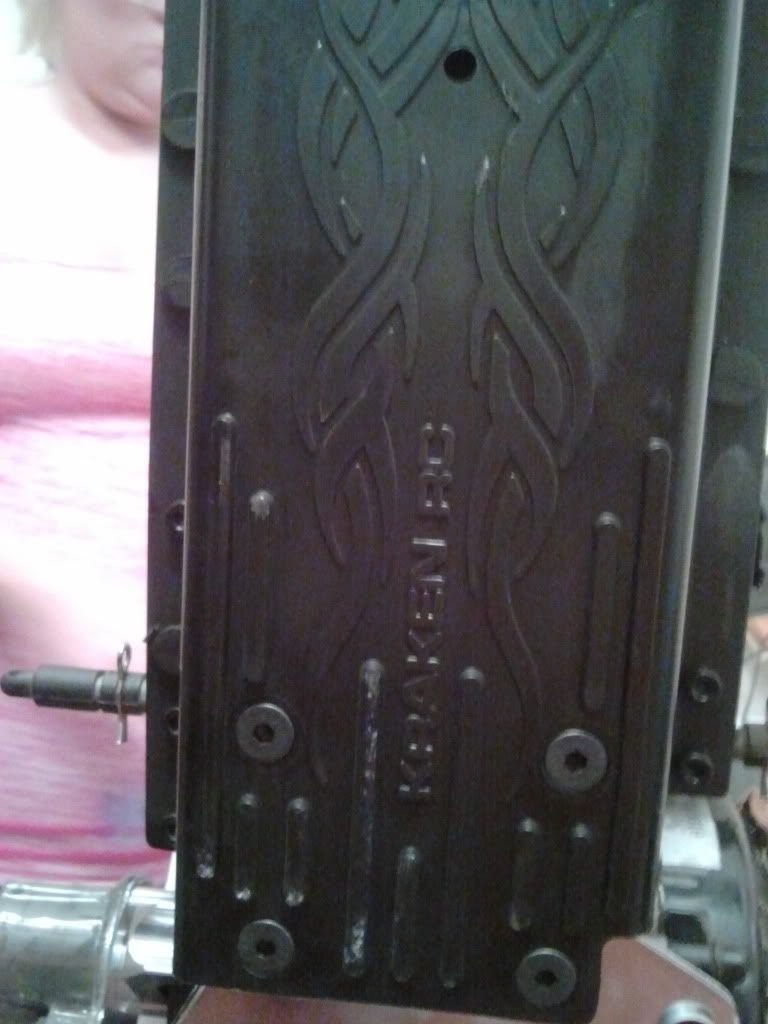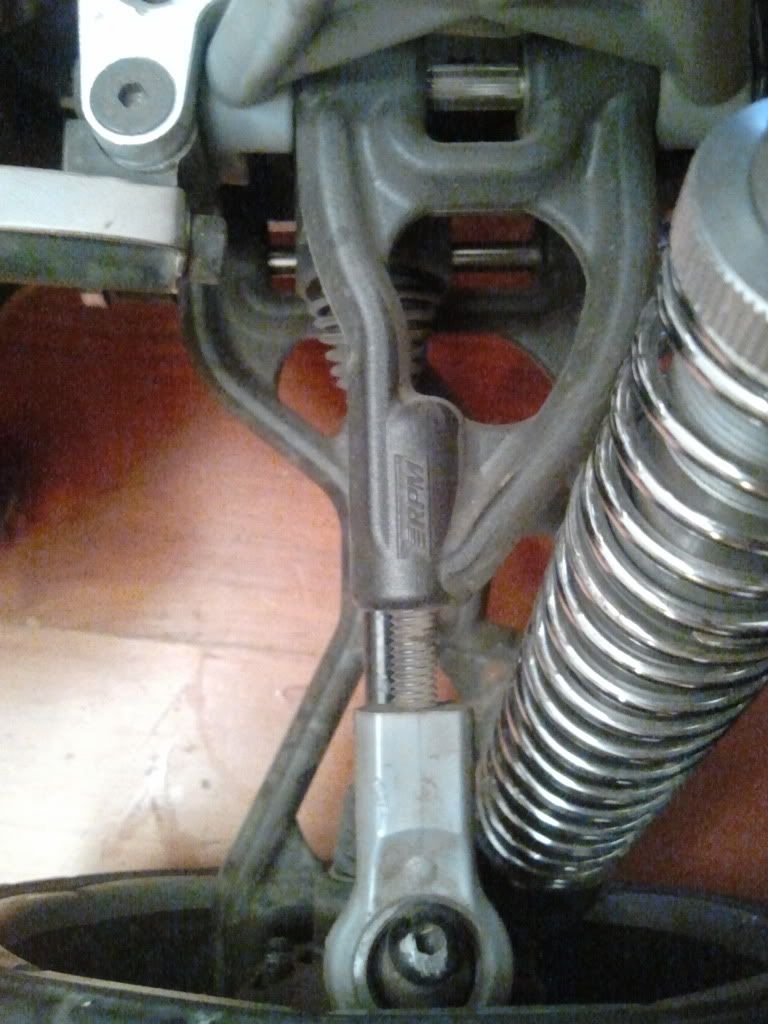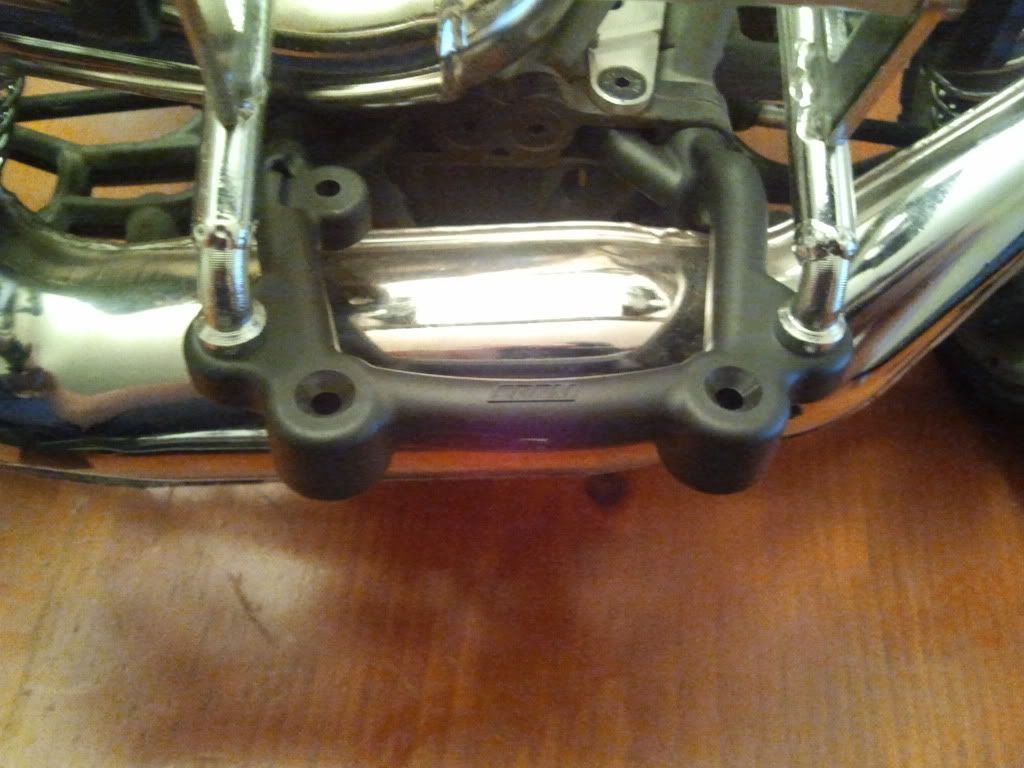 Kraken x2 chassis, RPM arms, front bumper& rear bumper brace, Turtle Racing front top plate
Parts I had to replace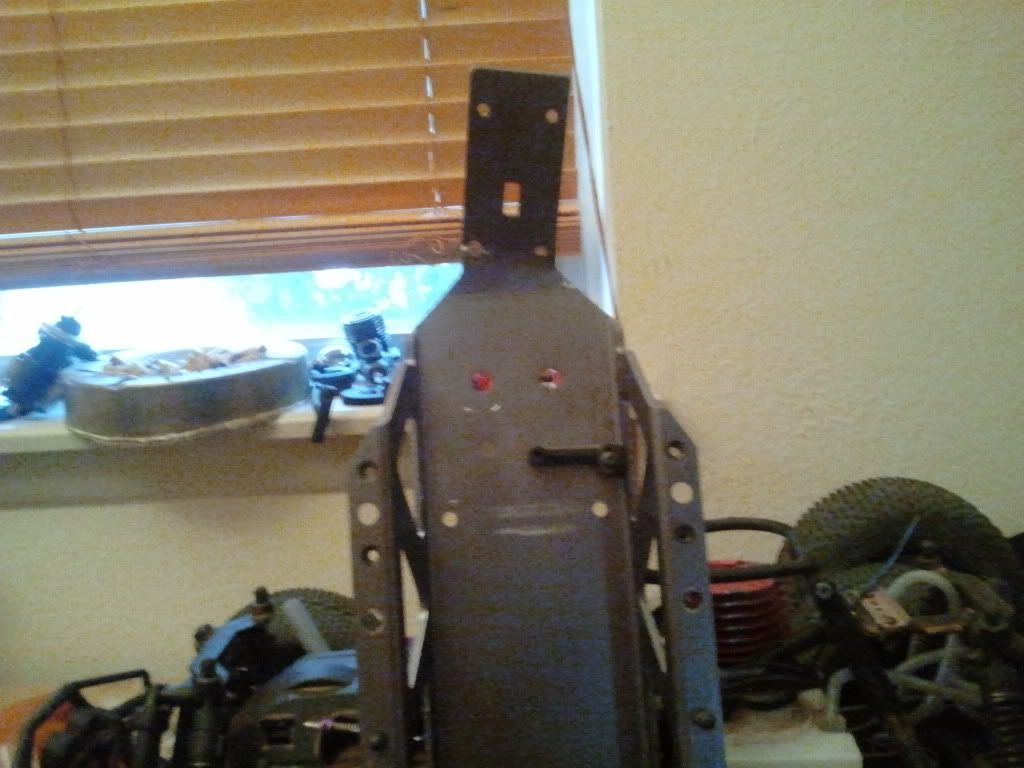 08-18-2012, 11:05 AM
Tech Master
Join Date: Jul 2011
Location: OK
Posts: 1,018
---
Wish I had a Baja or anything 1/5 scale for that matter. I'm only running 1/10 stuff right now. They're pretty boring because I haven't been able to find anyone else running RCs in OK.
08-29-2012, 08:47 AM
Tech Apprentice
---
Send me a pm & we can hook up sometime. I also have 2 savage xl's I bash the cap out of.
09-01-2012, 08:46 AM
---