2015 Horizon Hobby Off-Road Championships (formerly Spektrum Race)
09-08-2015, 08:42 AM
Super Moderator
2015 Horizon Hobby Off-Road Championships (formerly Spektrum Race)
---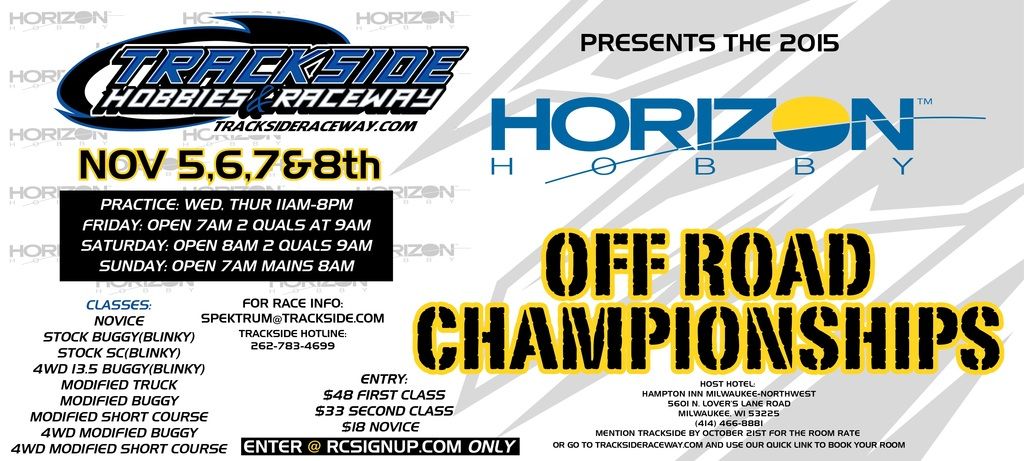 Having executed another complete cycle around the sun we find ourselves staring blindly at September on the calendar. Last year we were already discussing changing trees, new Trackside sweatshirt selections and what type of Inuit-inspired winter clothing would be required once October showed up… This year however, Mother Nature has decided to welcome meteorological fall with the fanfare of 40-year temperature highs and the foggy remnants of western forest fires!
As we barrel headlong into the glisten-causing fall weather we longingly gaze towards cooler weather, freshly built layouts, perfectly spaced jumps, fast sweepers, challenging rhythm sections and glacier-touched rollers… all in preparation for that rite of passage at Trackside Raceway.
As has been the case for many years, Trackside will host the best of the best in off-road racing for the first weekend of November, 2015. This year we welcome a new title sponsor and name to the event, Horizon Hobby!
Please help us to make the 2015 Horizon Hobby Off-Road Championships the very best event yet! Continued team changes, new chassis releases and reconfigurations will continue to test the mettle of all racers as they strive to stand atop the podium!
Like last year, the 2015 Horizon Hobby Off-Road Championships run over a total of 5 days (2 days of practice, 2 days of qualifying and one day of hot Mains!)
The schedule is as follows:
Weds Nov 4th: Practice Day #1 (Open Practice, 11am – 8pm)
Thurs Nov 5th: Practice Day #2 (Controlled Practice, 11am – 8pm)
Fri Nov 6th: Qualifying Day #1 (Open at 8am, 2 Rounds of Qualifying begin at 9am)
Sat Nov 7th: Qualifying Day #2 (Open at 8am, 2 Rounds of Qualifying begin at 9am)
Sun Nov 9th: MAINS DAY!! (Open at 7am, Mains begin at 8am – Awards to follow)
Classes at the Horizon Hobby Championships include:
Modified 2WD Buggy
Modified 4WD Buggy
Modified 2WD Short Course Truck
Modified Stadium Truck
4WD Short Course Truck
13.5 Wheeler (4WD Buggy, 13.5 Brushless, Non-Timing ESC)
Stock Buggy (17.5 Brushless, Non-Timing ESC)
Stock 2WD Short Course Truck (17.5 Brushless, Non-Timing ESC)
Sportsman/Novice Division
Main Information
All Short Course Classes feature Bump-Ups and a 7 Minute A-Main
Sportsman Class features a 5 Minute A-Main
All other classes feature Triple-A Mains
Qualifying will be based upon Qual Points, Scoring to be handled by RC Scoring Pro – AMB/MyLaps Transponders Only, house transponders available for racing.
Through a long and tedious contract battle featuring hold-outs and bathroom break demands we have once again obtained THE Golden Voice of Scotty Ernst to announce for the event.
Class rules and guidelines can be found at
www.TracksideRaceway.com
The 2015 Horizon Hobby Off-Road Championships will adhere to the guidelines set forth by ROAR for the given classes. Please refer to ROAR guidelines for class specific rules (Chassis Specs, Battery Spec, Motor Spec, etc.) If you have questions, please do not hesitate to ask!! All vehicles will be subject to technical inspection as needed.
In the name of safety and cost constraint we are implementing the following:
10 Amp Maximum Charge Rate
Battery must be within 10 degrees Farenheit of ambient temperature
Max charge voltage of 8.44 for a 2S pack
We WILL be spot checking any and all racers for the above rules!
Please don't forget that a Lipo bag and pit towel / mat are required at Trackside. These are safety requirements and are not open to discussion.
Entries for the 2015 Horizon Hobby Off-Road Championships are found at
RCSignUp
. As always, we expect this event to fill quickly – please do not wait to enter!!!
Entry fees are as follows (applicable fees additional)
1st Entry / Class: $48
2nd Entry / Class: $33
3rd Entry / Class: $33
Novice / Class: $18
Host Hotels:
Hampton Inn Milwaukee - Northwest
5601 North Lovers Lane Rd
Milwaukee, WI 53225-2201
As the host hotel, the Hampton Inn has agreed to a $79.00/night rate. A booking link can be found on the
Trackside Raceway
website.
If there are any questions or concerns, please feel free to contact us:
Trackside Raceway
3635 N 124th St.
Brookfield, WI 53005
Phone: (262) 783-4699
Email:
[email protected]
Thank You!!! We look forward to seeing you in November for the 2015 Horizon Hobby Off-Road Championships!!!!
- Trackside Raceway Staff
---
Last edited by Kraig; 09-08-2015 at

03:22 PM

. Reason: fixed hotel link
09-08-2015, 11:34 AM
Super Moderator
---
A couple of quick things.
Entries will be capped at 160 bodies.
To register, RCSignUp is your only option.
You can sign up for one class and add more later.
09-18-2015, 11:16 AM
Super Moderator
---
Race is filling up fast! Make sure you get your entry in for at least one class and pay for it as well. That will guarantee you a spot in this years event.
Currently Active Users Viewing This Thread: 1
(0 members and 1 guests)
Posting Rules
You may not post new threads
You may not post replies
You may not post attachments
You may not edit your posts
---
HTML code is Off
---