USVTA Indoor Carpet Nats RD 2 Tripple Crown Series
12-17-2013, 07:36 PM
12-28-2013, 11:24 AM
---
Here's the link to rcsignup to get your entries in. When submitting payment, please choose friends and family option.
http://events.rcsignup.com/events/di...nt.cfm?ID=3627
We only have the the space for 75 bodies, so get your entries in.
Any questions feel free to contact me.
Jeremy Hardesty
01-08-2014, 03:53 PM
---
get signed up guys! Pits are filling fast!
http://events.rcsignup.com/events/di...nt.cfm?ID=3627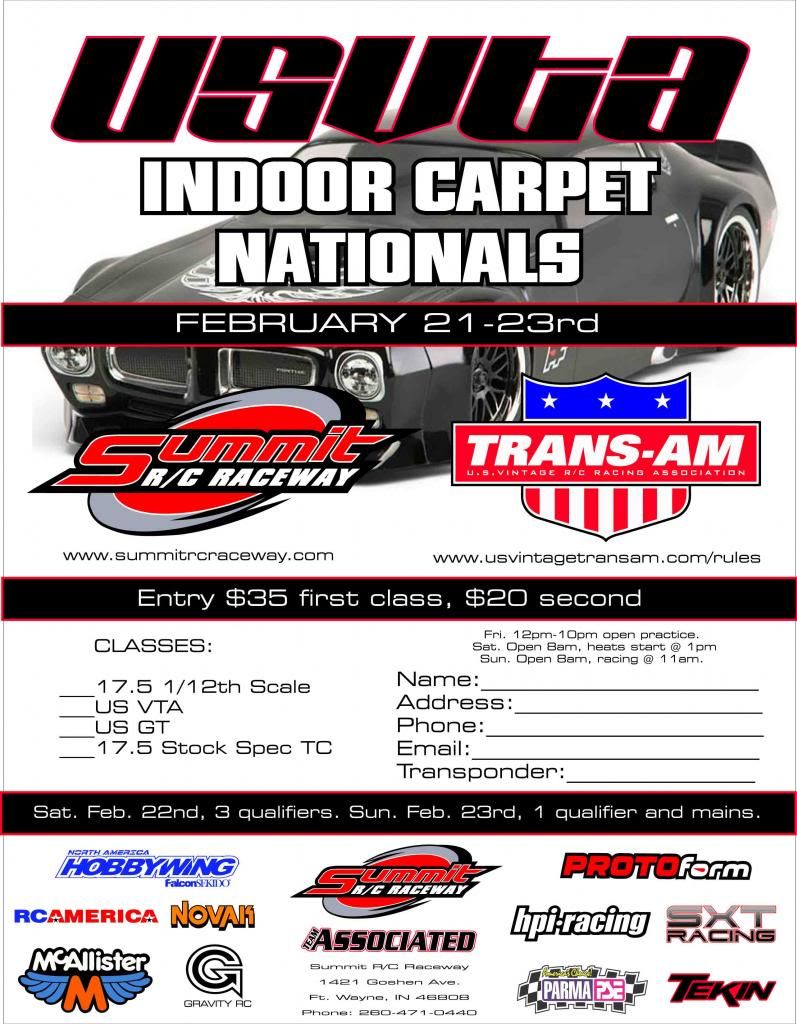 01-11-2014, 05:02 AM
01-14-2014, 11:50 AM
---
01-19-2014, 02:27 PM
---
Here is what I have so far. If your name is missing and you have paid then please let me know. We have space for about 25 more drivers. This race will sell out so get them in while you still can.



ENTRIES

VTA

1. Paul Richardson
2. David "Indy Dave" Franklin
3. MYRON "BATTMAN" KINNARD
4. Walter Arthur, Jr
5. Travis Surridge
6. Houston Thomas
7. David "Dave" Hart
8. Mike Mitchell
9. Michael Jones
10. Adam Russell
11. Sam "Team Mopar" Bailey
12. Mark Miller
13. Hollis "Loony" VanderLoon
14. Chad "Mag" Schau
15. Scott Windsor
16. Lindsay "SamiePage" Windsor
17. Shane Mills
18. Jonathan "Jon" Greenwell
19. TONY WILLIAMS
20. Eric Bisby
21. Brian McGreevy
22. Dillon "Corky" Cole
23. Rob King
24. Mark Chernugel
25. Carl "Freebird" Gouldin
26. Rich "Murph" Murphy
27. Dave Hart
28. Jeremy Hardesty
29. Rick Taylor
30. Larry Gross
31. Justin Gross
32. Dan Hissong
33. Eric Whiteside
34. Gary Crispin
35. Aimee Moore
37. Scott Heath


USGT

1. David "Indy Dave" Franklin
2. MYRON "BATTMAN" KINNARD
3. Walter Arthur, Jr
4. Travis Surridge
5. Mike Mitchell
6. Sam "Team Mopar" Bailey
7. Scott Windsor
8. Shane Mills
9. TONY WILLIAMS
10. Dillon "Corky" Cole
11. Rob King
12. Aimee Moore
13. Dan Hissong
14. Larry Gross

17.5 Touring Car

1. Walter Arthur, Jr
2. Michael Jones
3. Adam Russell
4. Mark Miller
5. Zac "Captain" Donathen
6. Philip Vertrees
7. Anthony "Tony" Reed
8. Jeremy Hardesty
9. Larry Gross
10. Justin Gross


1/12 Scale

1.Brad Mergy
2.Lee Harp
3.Sean Bushnell
4.Ron Ferguson
5.Phil Zimmerman
6.Scott Heath
Currently Active Users Viewing This Thread: 1
(0 members and 1 guests)
Posting Rules
You may not post new threads
You may not post replies
You may not post attachments
You may not edit your posts
---
HTML code is Off
---