Schumacher (Picco) 28
03-11-2011, 01:18 AM
Tech Champion
Join Date: Jan 2011
Posts: 6,048
Schumacher (Picco) 28
---
Anybody have/had one of these?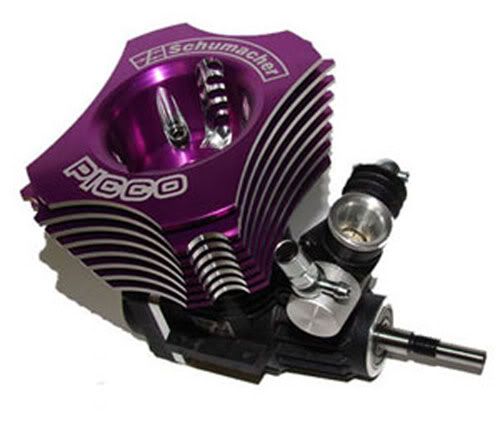 They're going really cheap, and afaik are just a normal Picco P3 28.. I currently have an Ofna DM-1, an Associated SC8, and two LST2's.. I would be looking to run this engine is basically all of them. Would the cooling head be an issue? Thanks..
03-11-2011, 11:42 AM
Tech Master
Join Date: Jan 2006
Location: Virginia
Posts: 1,807
---
Check your PM's.
03-11-2011, 11:47 AM
Tech Champion
Join Date: Jan 2011
Posts: 6,048
---
I actually made a mistake on the price. There were two Schumacher 28's on UK e-bay, and I thought the wrong, cheaper one was the Picco.. The Picco version is more expensive, so in the end probably not in the cards.. I have way more engines at the moment than I need, so would only pick on up if it were really dirt cheap.. I suppose though a normal Picco 28 with rotostart, which are bing phased out or something and going cheap-ish here and there, would be interesting in my case, because it would run in all four of my RC's.., including two LST2's.. The LRP/Losi 454 I have has a closed backplate on it..
Currently Active Users Viewing This Thread: 1
(0 members and 1 guests)
Posting Rules
You may not post new threads
You may not post replies
You may not post attachments
You may not edit your posts
---
HTML code is Off
---