Seattle RC Racers/North SeaTac Racing Center
04-21-2023, 06:01 PM
Up late
---
Man. I don't get up till 10am-12pm. Lol! I work nights. Double up on the red bull or coffee I guess.
see u at the track
D
04-22-2023, 07:56 PM
Tech Elite
Join Date: Apr 2007
Location: Seattle, WA
Posts: 2,717
Successful Seatac Season Opener
---
Despite a dodgy forecast, fifteen brave souls risked and were rewarded with a great opening race day of the 2023 Seatac onroad season. We race USGT, Super Stock, and Modified touring cars under patchy blue skies. One whiff of rain was the worst of it.

We are up and running on LiveRC, so anyone who cares can check results: Seattle RC Racers Onroad.

Some good things:

1. We test fit a new backside barrier. It will work plenty good. Final installation is coming soon.
2. The Sweep touring spec tires are dandy.
3. The cleaned up islands and berms pop beautifully - it hasn't looked this good since 2018.

We race again in two weeks. See you out there.
04-22-2023, 09:20 PM
04-22-2023, 09:52 PM
---
I just wanna say ty everyone for having me today. Felt good to get some hands on time with the f1 car. Little squirrelly and slow but my 1st on road adventure. Ty again. Pics to follow.
D
04-22-2023, 10:04 PM
---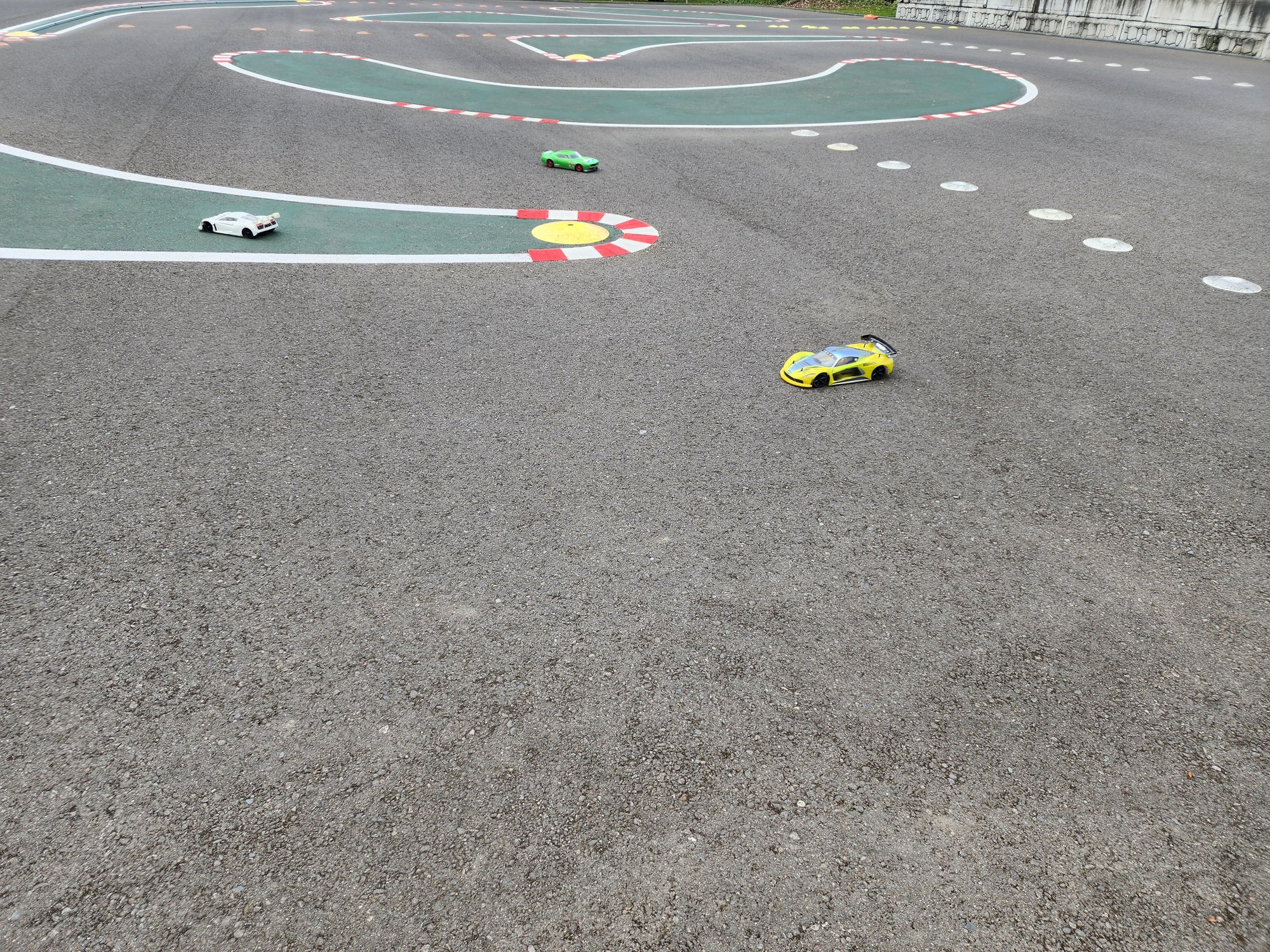 04-22-2023, 10:06 PM
---
the gloom to afternoon sun shot. Lol.
04-23-2023, 06:35 AM
Tech Fanatic
Join Date: Oct 2008
Posts: 859
---
Cheers to the gang that designed, built, and maintain the SeaTac asphalt track.
04-23-2023, 07:30 PM
Tech Master
Join Date: Jul 2005
Location: Olympia, WA
Posts: 1,648
---
04-23-2023, 07:32 PM
Tech Master
Join Date: Jul 2005
Location: Olympia, WA
Posts: 1,648
04-24-2023, 02:04 PM
---
I'm still shocked we got the Saturday race day in. great job.

Todd, Mike Clifton and everyone who helped get the track ready -- great job. the future of new back straight barrier looks bright.

Todd - liverc was great! leave the printer at home!!
04-24-2023, 02:06 PM
---
this wednesday april 26 after 230pm pacific i'll be on-site we a working decoder box (attempting to ) broadcast to
https://sidepiece.liverc.com/
. will be trying to get everyone going in the same direction / layout as this past saturday -- "mega flow"
04-25-2023, 09:56 PM
---
I saw a cpl of the euro trucks last event... was kool to run with the pan cars! TY so much for those who drove with me in the rookie class.
Anyone willing to join me rookie class next event? seems we are popular with usgt and trans am.
bring ur f1s~!
-devin
05-06-2023, 06:59 PM
Tech Fanatic
Join Date: Oct 2008
Posts: 859
---
Great race day with great weather. Thanks everyone.
05-07-2023, 05:12 PM
Tech Master
Join Date: Feb 2003
Location: Enumclaw, Washington
Posts: 1,603
---
Yes it was a great day for racing, Now I just need to limit the amount of cars I endeavor to run.

The VTA Class is making a resurgence, We need more TransAm cars in the mix, I think you need a Flexiflyer chassis to generate grip with those Protoform tires, That said, It seems to me the new generation of USGT Gravity Tires are 1 race day use, couple of heats and almost zero tread. WTF? This could be expensive class, are they shipping carpet compound?

Anyone have input?

GWhiz it's good to have you back in the paddock, Thanks for the south crew for coming up, and was really nice to have the SeaTac regulars racing, apparently midweek practice is favorable.

Maybe Mr. Bodine can pull the fishing line out from the deep for a few more race days.

Anyone who wants to join the 1/8 scale action would be fun
05-08-2023, 09:20 AM
Tech Master
Join Date: Feb 2014
Location: Kirkland, WA
Posts: 1,280
---
I haven't ran the new belted USGT tires, but I do know that since we stopped spraying the track, the USGT tires get eaten alive. Just a lot of scrubbing on the rubber. So it could be a bit of a double whammy with the new tires.

Over the past few years, we've gone from the usgt tires lasting an entire summer, to them lasting a couple race days. Whatever factors may be causing it, it sucks.