nitro TC3 - looking for all advice
04-04-2014, 06:01 AM
---
..................Hey Zak do me a favor when you get your car all setup take it to work and run it on the parking lot at lunchtime I bet you would get some people interested in 1/10 scale racing and have the begining of a club.
04-04-2014, 07:02 AM
---
Yea the muffer is going to be kind of expensive. Maybe you can try to pick up one used. The parts you need are for the exhaust manifold 2350 or 1759 and for the muffler 2354 or 1763 i think they are the same but the one is from the FTK and blue annodized. You will need 7733 to couple both together and some zipties. Its going to be hard to find an exhaust setup for that because they dont make cars like that anymore.
04-04-2014, 07:29 PM
Tech Adept
Join Date: Oct 2004
Location: Earth
Posts: 108
---
Look for an replacement RDLogics inline exhaust, a lot better then the standard Associated one.
04-05-2014, 08:20 AM
---
bought a new rd exhaust. hope it fits lol it was only 30 with shipping

also got that flysky radio rb mentioned earlier, it came with a reciever. 50$ i think
also got the super hot shot 2 glow starter, the duratrax temp gun and some new air filters.
for glow plugs, ive heard mccoys are the best. which ones should i run in this .12 nova engine?
04-05-2014, 09:27 AM
---
04-05-2014, 03:58 PM
---
your going to have to run nova plug in them. Pull the plug out and look for the number on it also see if the part that faces the engine is tapered or flat. If its tapered its a turbo plug and your going to have to get a turbo plug. And those type of engines are plug specific.

Yea that exhaust is good and should fit no problems and better than factory one.
04-06-2014, 07:46 PM
Tech Adept
Join Date: Oct 2004
Location: Earth
Posts: 108
---
Zakariah: Did you end up pulling the engine down and taking photos?
04-07-2014, 06:58 AM
04-07-2014, 08:45 AM
---
Just for laughs Zak here is a picture of my NTC-3 in its prime with a LRP .28 stuffed in it.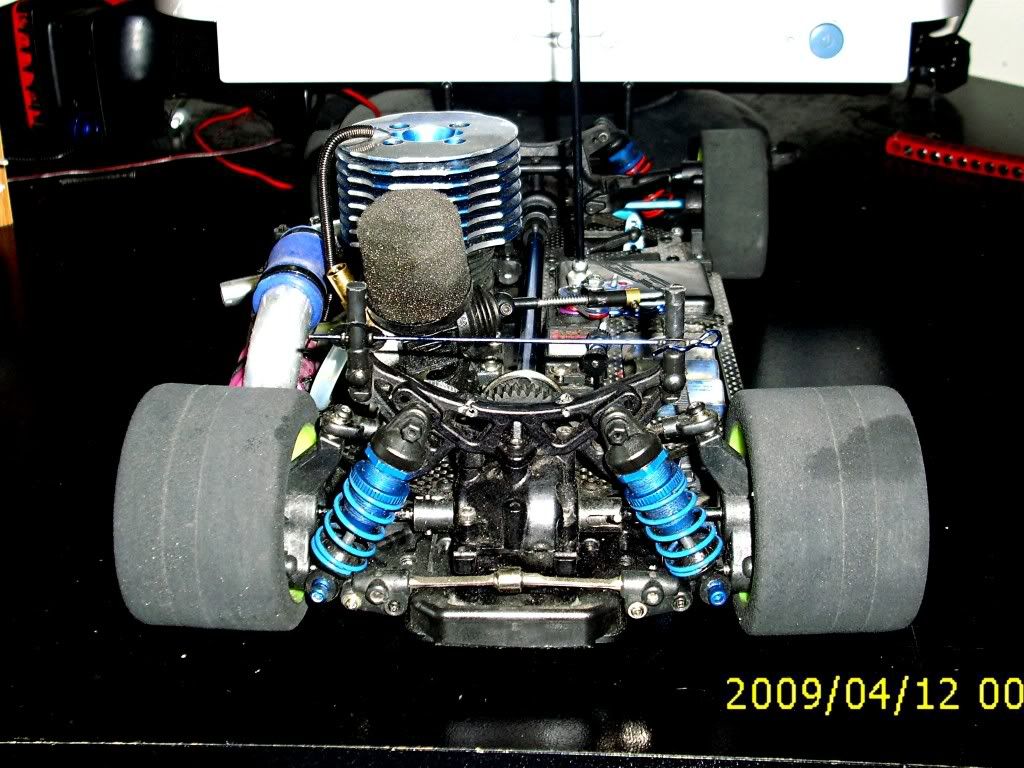 04-07-2014, 08:59 AM
---
I used Ofna CD-3 steel diffs and the wolfpak adapters and put 1/8 scale tires on the rear that I slightly cut down they were about 45mm wide car really hooked up of course it was illegal for roar sanction club racing but I used it for parking lot bashing and drag racing. Car was alot of fun.
04-07-2014, 09:34 AM
---
holly hell batman a .28 in a 1/10 scale dam doing wheelies lol
04-07-2014, 09:52 AM
---
Sorry , I don't have any videos of the car it crashed and burned!!
But here is a video of a NTC-3 powered by a .21 done by Brent Davis about 5 years ago
https://www.youtube.com/watch?v=arpSXX0dWqc
04-07-2014, 10:06 AM
---
04-07-2014, 11:50 AM
04-07-2014, 04:43 PM
---
wellllll.. more fun discoveries..

the screws holding the engine on are completely stripped....

i suppose i'll drill those out tomorrow on my lunch break. fun fun.

side note.. anyone have a specific set of hex keys/wrenches that they'd recommend? lol