Xceed Audi A5 Body. Is it EFRA legal?
03-03-2010, 09:24 PM
Tech Elite
---
Be patient the new Blitz Rs4 will be arriving soon and it's identical to the A5 and SerpentAmerica and Kamikaze will have them
03-04-2010, 07:58 AM
Tech Master
---
No it's not, it's a bad copy of the A5.
They just copied the A5 front end and sticked it to the Altis 2.3 body.
Finished up my A5 yesterday:
03-04-2010, 09:11 AM
Tech Apprentice
Join Date: Nov 2005
Location: The Netherlands
Posts: 79
---
Nice paintjob! I'm waiting for mine.
03-04-2010, 11:35 AM
Tech Elite
---
No its the same shell its not a bad copy
03-04-2010, 01:33 PM
Tech Champion
Join Date: Feb 2007
Location: HK
Posts: 6,202
03-04-2010, 03:23 PM
Tech Master
---
Blitz RS4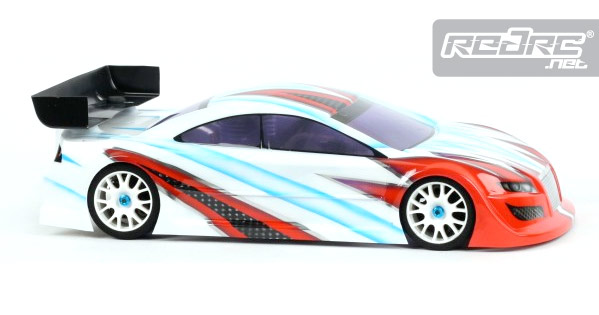 On the side the RS4 has a rounded straight rib, just like the altis 2.3 and the Xceed Civic.
The A5 has no rib on the side, just a curve at the top which is above the wheelarches.
This is clearly not their on the RS4.
Also the rear wing is different.
03-04-2010, 03:59 PM
Tech Elite
---
i know what they both look like but in the states the exceed is so difficult to get that the rs4 will be a very good alternative than spending $45 on a sedan body. I have had the A5 since late oct-nov
03-04-2010, 04:09 PM
Tech Master
---
Well why didn't you said that in the first place, instead of stating they are the same, when they clearly aren't?.

There will be some handling differences, and since the RS4 front end is identical to the A5 it's just a shameless copy.

Is it that expensive in the states, over here the Xceed A5 is the cheapest body you can get.
The protoform one's are the most expensive around here.
03-04-2010, 04:14 PM
Tech Elite
---
if you can find them their $30 and up and to get them from overseas it will 45 and up. the handling will be a little different but willing to find out
03-04-2010, 04:28 PM
Tech Elite
---
my first A5
03-06-2010, 12:27 AM
Tech Addict
Join Date: Jun 2009
Posts: 549
---
serpent Dan are you gonna go to chaplin this year or to floyd.
03-06-2010, 01:52 AM
Tech Elite
---
Both and the new track in bk if it comes through.
Currently Active Users Viewing This Thread: 1
(0 members and 1 guests)
Posting Rules
You may not post new threads
You may not post replies
You may not post attachments
You may not edit your posts
---
HTML code is Off
---