10mm offset wheels help anyone????
11-09-2008, 05:04 PM
Tech Adept
10mm offset wheels help anyone????
---
ok so i bought these Dynamite 10mm offset wheels and i tried putting them on my 1/10 trinity reflex on road, but they come out from the body, do i need a wider body? or maybe new hubs or adapters? I'm am still new to this so please any help will be great, thanks!
11-09-2008, 06:09 PM
Tech Master
Join Date: Apr 2004
Location: yorkshire, england.
Posts: 1,818
---
10mm offset wheels will mean you car is 20mm wider overall so you will need a 235mm body. Most shops will sell these, not sure where your from so can't reccomend any shops.
11-09-2008, 07:10 PM
Tech Adept
re
---
I'm from NEWYORK, do speedway pal make these?
11-10-2008, 12:11 AM
---
Mike-E
I'm not sure, but it sounds like you got your hands on some Electric touring, deep dish wheels for drifting. Do they look somethign like
these
?
I say this, because I've not seen any nitro wheels with that much offset...usually 5mm at the most.....mainly cause the nitro engines would just rip those wheels to shreds. Generally, they just make wider wheel/tires for nitro cars.
If you really want to pimp out your nitro sedan with some deep dish wheels you'll need to find some or manufature some shorter arms that will fit your car.
Yokomo makes them for their Electric Drift cars. I have a pair on mine.
Kawahara Racing used to make them when they first introduced the idea for the Lola 220 class. They only made them for the Mugen MTX2 and Kyosho V-RR-One. I found a pair which I bought off of eBay. The guy selling them was in Japan.
Hope that helped.
11-10-2008, 05:04 PM
Tech Adept
---
wow, yeah that did help, and what you said does make a lot of sense. I was truly clue-less when i made the purchase. so are electric sedan cars slimmer at width compared to nitro sedan? or just the drifting kind?
11-10-2008, 11:59 PM
---
Yes....they are 190mm wide at widest part of body, which is usally the middle to rear of body. Nitro on the other had is normally 200mm wide and tends to a have anywhere from 4 to 7mm more in lenghth.
Depending on the chassis, you could put a 200mm body on 190mm chassis and get the wheels to line up correctly, then put some 30 to 35mm foam wheels, like
these
on or some of those slick deep dish rims on without having to buy/make shorter arms for the car. Giving it great traction (not that electtric cars need it) and that tricked out
Hot Import Nights
look.
BTW.....if you look hard enough you can find some of those wheel made of shopped out Aluminum. Those will work for nitro, but usually pricey. One wheel usually cost the same as a set of four plastic ones. If I remember where I saw them, I'll post a link and send you a PM
11-11-2008, 12:58 AM
---
11-11-2008, 05:24 AM
Tech Adept
---
man i am suddenly interested in some sponge tires =] if the sponge wheels have 0 offset then i asume i can use then for my nitro no?
11-11-2008, 01:10 PM
---
Yes, you can. Even with offset foams, its not going to be as much as those deep dish wheels. Like I said before, probally 5mm at most which is not much. They would be just fine for this HPI vintage
body.
Otherwise just get the standard foam tires (26 to 30mm) I use 26 up front and 28's in the rear on my parking lot basher.
Use harder shore tires to bash around in the parking lots. Save the softer shore tires for when you race on a track. 37 or 40 shore would be ideal. Those will last longer. the higher the shore the firmer the tire.
BTW...what body do you have on your Reflex right now?
11-11-2008, 09:44 PM
Tech Adept
re
---
I'm running the Mazda 6 protoform from proline, custom painted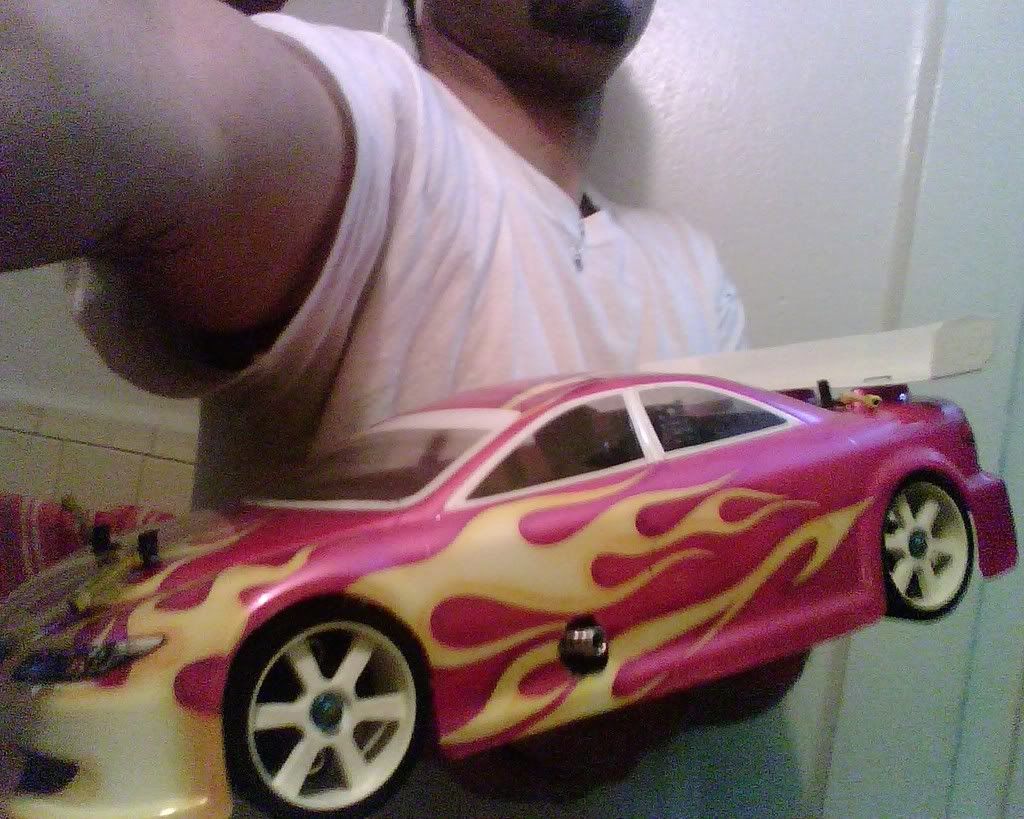 11-11-2008, 11:17 PM
---
Nice.....
Looks like you got some new shoes for your ride too.
Here's a helpful tip......Head down to your nears hardware or drgustore or even dollar store, if there is one in your area, and a pick up a 3 or 4 inch paintbrush. Use it after you finish running car to brush off the foam flakes that can build up on the car. If you don't, that stuff can really cake up, in and around your transmission, shocks and chassis. Making for an annoying rebuild. Keeping the car clean is crucial...even if you're just parking lot bashing.
Shouldn't have to tell you this, but I will just in case.......it is not wise to attempt burnouts and dounut with foams. It can chunk out your tires.
11-12-2008, 01:55 AM
Tech Adept
re
---
haha thanks man, but this ride is treated with ultimate care and luv, on the other hand, I had no idea about the build up from the foams, i will surely take you up on that. hey man found these on ebay
http://cgi.ebay.com/ws/eBayISAPI.dll...MEWA:IT&ih=015
think they'll fit nicely?
11-12-2008, 03:31 PM
---
Yes...those are almost like the ones I sent you links to in my 2nd to last post.
That's actually a good price for them too...since you're gettign tires and foam inserts and they are already mounted. Be sure to take a picture of them on your ride and post them on the forum....before you run/wreck/ruin them
Only one thing though. it doesn't say how much offset they are. Those look pretty steep, like 9's or 10's. I hope I'm wrong or you're going to be back where you started.
11-12-2008, 06:53 PM
Tech Adept
re
---
i asked the seller and he said they have no offset, but i find it hard to believe.
Currently Active Users Viewing This Thread: 1
(0 members and 1 guests)
Posting Rules
You may not post new threads
You may not post replies
You may not post attachments
You may not edit your posts
---
HTML code is Off
---