Need help with my Mugen!
11-01-2008, 06:34 PM
Tech Rookie
Join Date: Nov 2008
Posts: 2
Need help with my Mugen!
---
well I am new here, My brother and I have a Mugen Sieki msx3 and we broke part of the front suspension and not sure where to buy it.
the part is what i would call the front shock tower mounts. its one piece that can be easily taken off with 2 screws.
heres a pic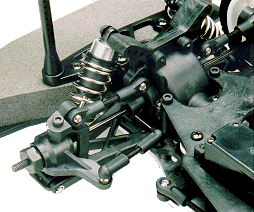 its where the 2 shocks connect on the top.
if any one can tell me where to get it or what the part number is thanks!
11-02-2008, 05:59 AM
Tech Rookie
Join Date: Nov 2008
Posts: 2
---
bump anyone?
11-02-2008, 06:09 AM
Tech Addict
Join Date: Mar 2008
Location: st james city
Posts: 637
---
11-02-2008, 06:40 AM
Tech Elite
Join Date: Sep 2005
Location: Corona Ca.
Posts: 2,834
11-11-2008, 07:46 PM
Tech Regular
Join Date: Nov 2008
Location: Virginia, USA
Posts: 480
---
I hate to be the bringer of bad news, but this car is discontinued.
I spoke with Mugen directly and they flat out told me they no longer support this car.
Getting parts is next to impossible. Unless you have deep pockets, know someone that works at a machine shop and can make parts for you, (a la Carbon fiber or aluminum) Its best you cut your loses and move on toward an HPI RS4 evo.
I've seen a few used MSX's on craigs list but as far as key parts like shock towers and arms forget it I've scoured Flee bay but olny came up with insignificant parts like the bumper, body post or radio tray....alll the things I could have easily gotten anywhere.
I got lucky and sold mine to a guy who wanted a beginner car for his son. I told him getting parts will be impossible. He still wanted it. I gave it to him for $70 bucks.
Should you be lucky and find an old hobby shop in a corner of the world somewhere, be sure to get a few rear shocktowers. Those things were notorious for snapping like twiggs on a cold winter night.
Ofna has/had a car that looked similar to the Mugen car. I thought they stole the design form Mugen when I saw it. Their front shock tower may work on it. As a last resort, check there. Towere Hobbies may still have some parts for the Ofna car.
---
Last edited by Kyo83; 11-12-2008 at

02:16 PM

.
11-12-2008, 11:49 AM
Tech Fanatic
Join Date: Aug 2006
Location: Winder Georgia
Posts: 919
---
Move up to the Mugen MTX-3 or MTX-4!
I have a few buddies with some for sale in Great shape.
Good luck
later
Jeff E
Currently Active Users Viewing This Thread: 1
(0 members and 1 guests)
Posting Rules
You may not post new threads
You may not post replies
You may not post attachments
You may not edit your posts
---
HTML code is Off
---