Built just for speed
08-24-2008, 05:30 PM
Tech Apprentice
Join Date: Jan 2008
Location: Toledo, OH
Posts: 72
Built just for speed
---
While reading the 220mm GPR class thread a mention was made of a 94mph Kyosho and a reference to a U tube video. Watching that video stirs some questions about building a car just for speed runs.

What class of car yields the highest potential for speed? The video was of a 1/10 scale car. Does the 1/8 scale car with the bigger engines give any advantages?

I know this is a nitro forum but does a conversion using a brushless/lipo conversion offer more speed than a nitro engine.
08-25-2008, 03:12 AM
---
I believe that car was owned by a guy named Ziggy it was v-1RRR. He later put a .21 modified Novarossi and ran 100mph with it. More of a challenge to get max speed out of nitro because you usually end up having to fabricate a part.
10-25-2008, 03:16 AM
---
Hi
Yes I had the RRR. I managed 84mph with a .12, 94mph with an .18 and 100mph with a 21 engine.
If you are looking for speed the current record for an IC car is 103 with my 3 engine Evolva but it was stuck in 1st gear. The record for an electric car is 161.73mph by Nic Case on October 4th this year.
The nitro classes for next years speed events will be IC Open (multiple engines) Big Block (Any chassis with a big block motor) and small block (Any chasis with a small block motor)
Keep an eye on
www.fast-rc.co.uk
or
www.rc-isc.com
for information on speed events
If you need any help on building a speed car let me know
Cheers
10-25-2008, 02:36 PM
---
Hey Ziggy would the .21 size motors designed for a Revo fit the chassis of a V-1RRR if you removed the rotostart from the back??
10-25-2008, 02:38 PM
Tech Apprentice
Join Date: Jan 2008
Location: Toledo, OH
Posts: 72
---
Anybody know the specs of the 160mph car?
10-25-2008, 02:40 PM
---
It is an electric car just go to the links Ziggy listed in the prevous post, the owner driver of the car is named Nic Case.
10-25-2008, 02:43 PM
---
Is a Revo engine a small block? I can fit an 18 small block in so a .21 would i think. As long as its not a big block
10-25-2008, 02:47 PM
---
Ziggy, I think the Revo motor is about the size of a .19 . RB makes .21 size motors for Revos and Picco does too and from the pictures they just appear smaller I figured if anybody who would know for sure would be you.
How is that big block .28 coming along that you put in your V-1RRR?
10-25-2008, 02:48 PM
---
OK. The .28 ist as powerfull as the 35plus21 but I'll try it with a different exhaust. I'm using the marine exhaust and its pointing forward now.

Nics car was a lengthened Schumacher Mi3 with a Neu 1519Y motor, 12 lipo cells and an HV-110 ESC

Cheers
10-25-2008, 02:53 PM
---
Could you post a picture of this beast so other people can see this beast??
10-25-2008, 03:23 PM
Tech Champion
Join Date: Aug 2007
Location: Holland
Posts: 7,328
---
10-25-2008, 08:38 PM
---
Ziggy's Beast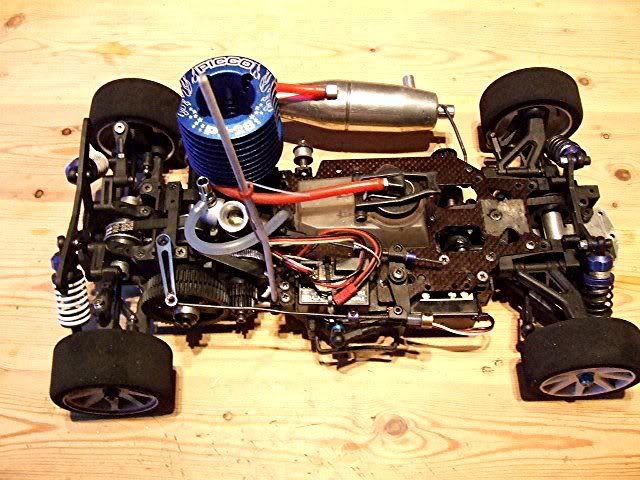 10-26-2008, 01:57 AM
Tech Elite
Join Date: May 2006
Location: Bay area, California
Posts: 4,828
---
10-26-2008, 02:02 AM
Tech Elite
Join Date: May 2006
Location: Bay area, California
Posts: 4,828
---
Any fly byes with that
BEAST
.......................
10-26-2008, 06:24 AM
Tech Initiate
Join Date: Sep 2008
Location: melbourne, Australia
Posts: 36
---
Guy's
i have only been in the car scene for a little while,
but i have been racing rc boats for over 15 years and have spent alot of time testing with my speed record boats, and hold some of Australia's speed records.
first fit as big engine into smallest chassis as possible,
second go with a marine tuned pipe, there design for alot more top end,
and the mods you can do to a car engine for top speed is alot, as the car engine's are limited to give you good bottom end (exeleration) and fuel econmey which will not be needed..

regards Aaron