back pressure effect on performance, mileage, - max power back pressure adjustment
07-30-2008, 07:20 PM
Tech Addict
Join Date: Oct 2003
Location: Detroit, Michigan USA
Posts: 592
back pressure effect on performance, mileage, - max power back pressure adjustment
---
I noticed this setup on Red RC:
http://www.redrc.net/2008/07/max-pow...re-adjustment/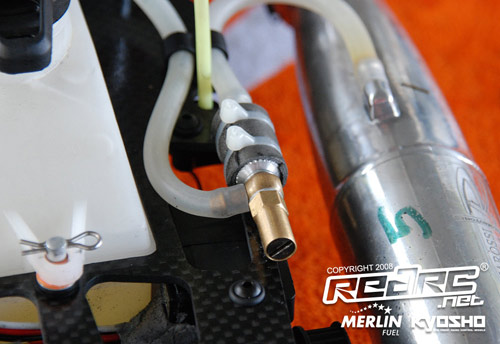 This looks really simple to do, all I had to do was take a high-end needle fitting off an old carb, and fit inline with fuel tubing (not threaded on like this one here), and test for air leaks.
Now that I have done this, could some one answer my question, what effect does increasing/decreasing back pressure have on performance/ fuel mileage?
07-30-2008, 07:36 PM
Tech Master
Join Date: Nov 2004
Posts: 1,087
---
Just thinking out loud:

Less pressure going to the tank, fuel flows slower to the carb, leaner mixture, more fuel mileage. Also there when you get off throttle, there won't be a sudden surge of fuel going to the carb. I've read a test in a magazine before of the Drake running 1/10 truck without the pressure line going to the tank.

I think thats what the Orion CPD funtion is. It keeps the pressure constant throughout the entire throttle range. When you get off throttle the excess pressure goes into the rubber bladder and slowly bleeds back into the tank. When you get on throttle the rubber bladder opens up and dumps the pressure back into the tank faster.
07-30-2008, 11:26 PM
Tech Champion
Join Date: Aug 2007
Location: Holland
Posts: 8,093
---
It is an old trick I have been experimenting a lot with.

A lower pressure in the tank does have some advantages, one of them is you make the engine less pressure sensitive and so any leak in the exhaustsystem while racing will have less influence.

The main advantage is when you are on top speed and brakes into a corner the pressure from the exhaust still wants to push a lot of fuel into the engine which will cause the engine to pickup very rich after the corner, that will cost you fuel. Leaning out on the LSN will not help because you will go to lean in other situations.
Lowering the pressure will take away that bit of push when letting go the throttle so you save fuel and you get a faster engine going out of the corner without any hickups.

A disadvantage is when taking away that push of fuel you also take away a lot of cooling. With the new EFRA exhaust pipes it is normal to run on 130 degrees celcius, taking away some pressure it did raise up to 145 degrees
07-31-2008, 04:12 AM
Tech Champion
Join Date: Aug 2007
Location: Holland
Posts: 8,093
---
Adjust the engine with the needle open, then turn the needle in to a point you notice the engine is getting leaner. from there you have to play with the pressure, main needle and mixture needle.

Do not go to far with closing the pressure, then you will cause vacuum inside the tank...
Currently Active Users Viewing This Thread: 1
(0 members and 1 guests)
Posting Rules
You may not post new threads
You may not post replies
You may not post attachments
You may not edit your posts
---
HTML code is Off
---