Help IDing car?
06-08-2014, 12:37 AM
Help IDing car?
---
So I just picked up a small lot of cars this guy was selling on craigslist for 50 bucks. I don't know the first thing when it comes to nitro cars, and I'm trying to figure out what car this is?
It has a trx 15, 2 futaba s148s, and a traxxas 2019 27 mhz rx, and it's rwd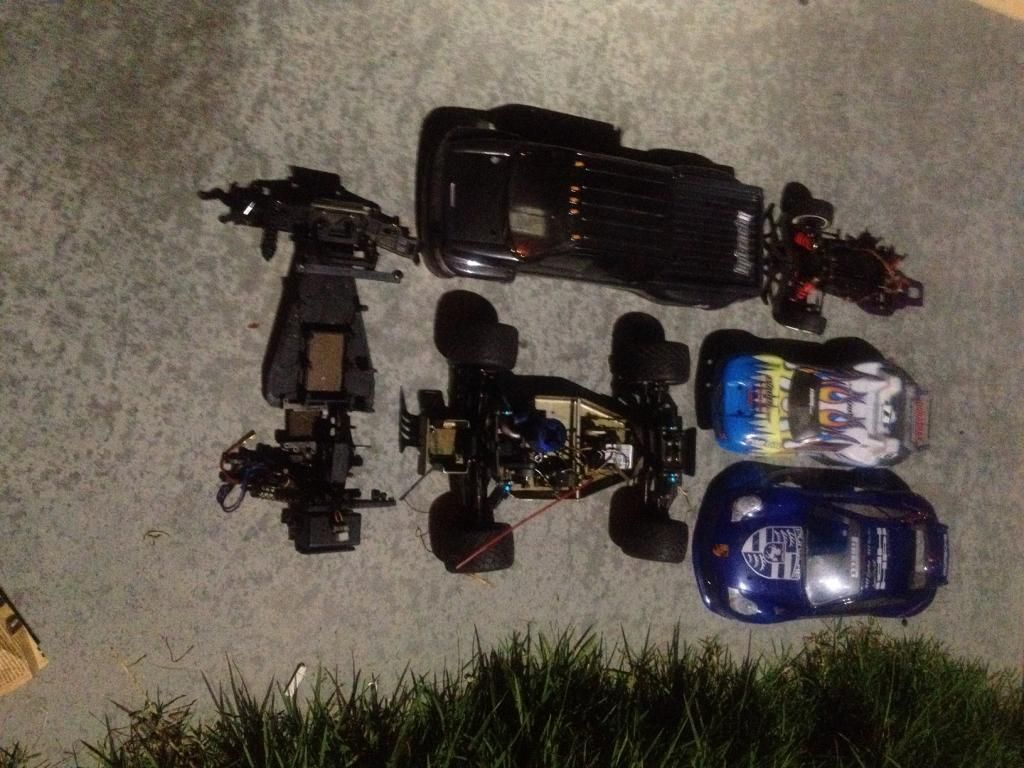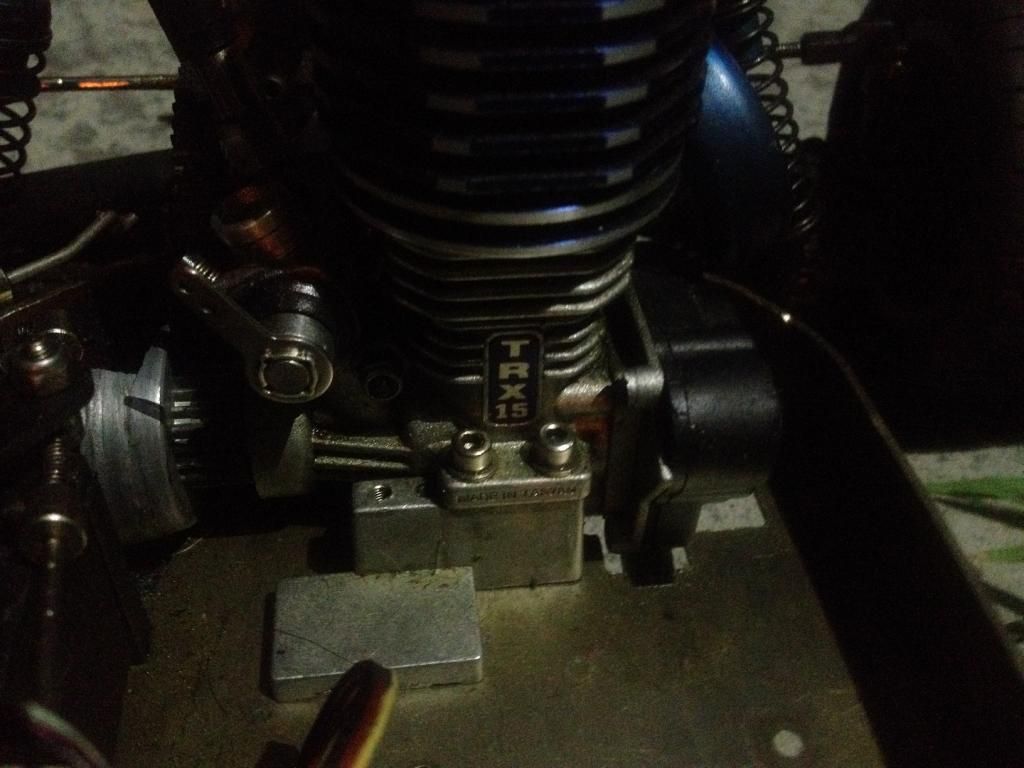 06-08-2014, 01:25 AM
---
that definitely looks like it
thanks!
is it worth rebuilding?
To use, I mean. I don't do the whole shelf queen thing.
It seems to be pretty complete? but I'm not sure what all goes onto nitro cars.
06-08-2014, 01:33 AM
---
06-08-2014, 01:53 AM
---
well it looks pretty much complete. I'll definitely need a new fuel tank, I'll probably upgrade to a 2.4ghz system, and perhaps some better servos. and I'll try to see where the heck the rear body posts are supposed to mount up
What kinda maintenance do you have to do with these? should I rebuild the engine and tranny?
where do these bobbers attach?
and lastly, how the heck do I start it? I don't see a pull tab or anything
edit: looks like that's my clutch bell, part 3120
which honestly I have no idea what it is. I know what a clutch is on a normal car, but not an rc. so I'm not sure what I need in addition to that, if I need anything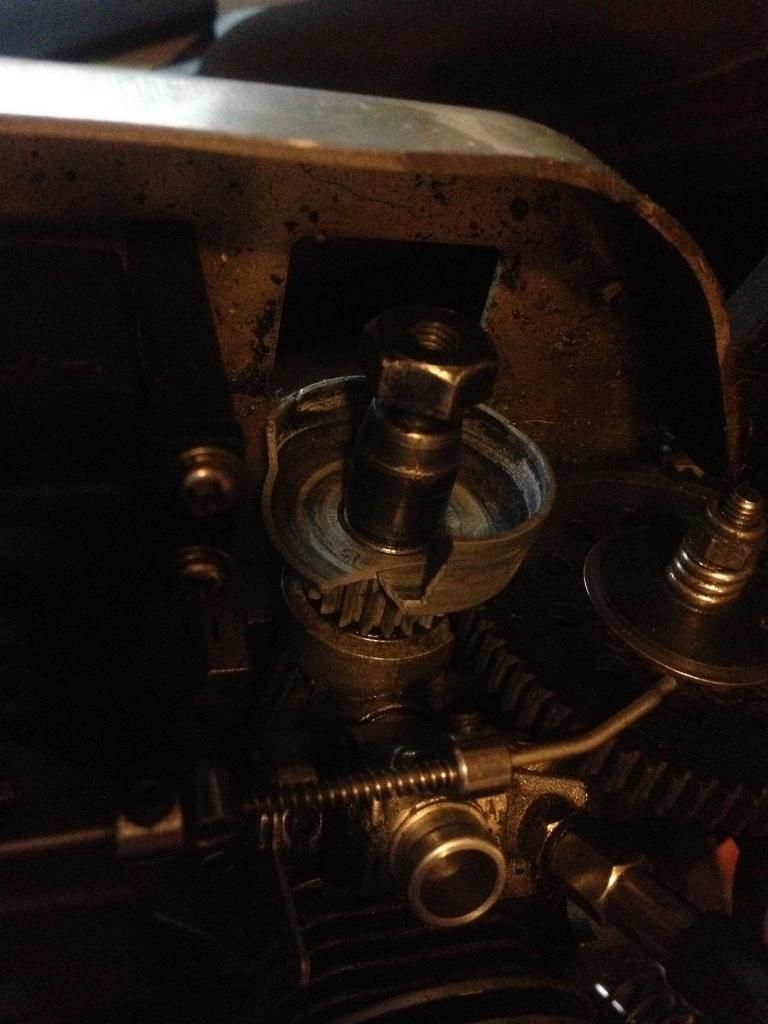 ---
Last edited by Dynikus; 06-08-2014 at

02:03 AM

.
06-08-2014, 02:09 AM
---
06-08-2014, 02:27 AM
---
Thanks for all your help! It looks like I'll need an air filter, the clutch set up, brake, pull start, and fuel tank? any idea if there are any modern parts I could use for any of that?
06-08-2014, 02:56 AM
---
what goes into the clutch set up?
clutch bell, clutch shoes, flywheel..
06-08-2014, 07:56 AM
Tech Adept
Join Date: May 2014
Location: Northeast
Posts: 105
---
You can put a pull start on it but it doesn't need a pull start. That has been converts to use the duratrax kwik pit/hpi Roto starter. It's a hand held motor/gearbox that uses a 6 cell battery and has a dog bone with a shaft in it to turn the motor. Just to try is go to the lhs and buy a shaft. You can sometimes get them to start with a cordless drill on high with a full battery.

That clutch setup looks to use an inverted clutch bell with the brakes acting on the outside of the clutch bell instead of having a disc carried on part of the drivetrain some how. Flywheel with clutch shoes would bolt into the bell. Traxxas is good about legacy product support. I bet they can email you a manual in PDF if it's not available on the website. Just compare the diagram with what you have, and make a list of what you need to get it back together.
06-08-2014, 04:59 PM
---
so I completely disassembled everything and cleaned it up, just got done putting everything back together
It's mostly all there, and shouldn't take a lot to get back to life.
is there an advantage to using the kiwk pit start over a pull start?

that I'm aware of, I'll need
-air filter (4060)
-clutch bell (3120)
-flywheel (3142)
-clutch shoes (3126)
-brake assembly (4028)
-the clutch cone thing possibly (3140)
-fuel tank (3148)
-fuel line (3147)
-glow plug (3232?)
-exhaust gasket (3156)

not sure if the exhaust is complete, it doesn't look like it based off of others cars?
and I'm guessing I need some source of power for the rx/servos?
---
Last edited by Dynikus; 06-08-2014 at

05:15 PM

.
06-10-2014, 04:09 PM
Tech Rookie
Join Date: Jan 2013
Location: Blackpool, UK
Posts: 9
---
I've got a couple of these Nitro Hawks, most parts are still available and you can even fit some of the newer Traxxas parts.
I have the HD drive shafts off a 4WD Stampede in mine - much stronger as the old yokes are prone to snapping. Also the idler gear from the VXL Ruster is an upgrade for the gearbox if you strip it. (Steel rather than plastic)
For the exhaust, i binned the original and fitted an after market pipe running down the left side of the truck - this really brought the engine to life!
Here's mine in buggy spec at the minute, its the one in the middle
https ://www .dropbox.com/s/jk0nfn2btjbdqac/2014-06-04%2020.48.17. jpg
(Can't post images apparanty as i dont have enough posts, so just remove the spaces)
BTW the throttle servo in your pic it set up wrong, see the manual for the correct set up
Also if you want a better clutch add an "x" onto the end of the part number for the hardened steel clutch bell - much long lasting than the aluminium one and not prone to breaking like yours has.
Do you have the brake shoe/lever thing? its 1 of the few parts i don't think you can get any more.
You can do a disk brake conversion off the rustler, but it does require some modification. But you can then fit any small block engine as the original is a long crank version of the TRX engines with a unique clutch set up.
I have bashed mine quite hard, its my spare truck now (or buggy as it is now) when i go out bashing and its reliable with a few upgrades and cheap to fix.
06-10-2014, 04:25 PM