Klampyz Frankenfifty Ftruck
04-28-2014, 09:19 AM
Klampyz Frankenfifty Ftruck
---
Hi peeps, here is my last two posts copy/pasted from Scale4x4rc. i thought you guys here might be interested in checking out something a little different to the norm.
its a build from way back when i first started playing scale. theres many things i wish i did differently, or just didnt do. but anyway, onto pics n story.
i decided to run with an Axial SCX axle and my HSP buggy IFS which seems identical to HPI stuff, so it will also take a matching HD underdrive gear set, which i plan to unlock and leave as an open differential.
going to run it with the 2.2 crushers, Hot Racing 2.2 internal steel beadlocks(reversed).
probably going to aim more towards trophy/baja styling on the mods and see where we end up.
and an older shot of the front end with stuff attached.
and the powerplant. just a little bit bigger than originally intended. :firedevil:
getting the driveline sorted. front CV shafts are gonna prove interesting. i was going to use the HSP uni shafts, but theyre rather thin, and too regularly spit pins out. so instead, i have a set of SCX10 CV shafts that ill combine with dognbone inner ends and ill run a VP locker with HD underdrive gears inside the alloy housings.
HPI Savage shocks will be run in the rear probably, twin on each side for better damping. run in a trophy truck setup on the links. and i have a set of Gmade XD shocks that im considering for the fronts. they may not be stiff enough tho, and instead i do have a set of buggy shocks /springs ill be able to use instead.
04-30-2014, 08:54 AM
---
for now, my attack is getting this machine on its feet,
and tonight i have mostly succeeded. as it turns out, i may actually need to raise the rear shock mount, unfortunately, that means its likely that ill have to cut through the tray.
that leads me to make the choice. do i cut the tray right out of there and go full truggy/trophy, or just make the cut to allow shock towers to sit above the floor. ... opinions???
you can see here where the shocks are fully compressed, yet the side step is still above the top of the tire. and those are not short shocks. HPI savage shocks. lol.
it does flex nicely tho. also, gotta raise the front diff, its sitting a little too low in relation to where the front shocks hold the ride height. id prefer to tuck the diff a little higher, than to lower the upper shock mount for more travel, as i feel like the front is plenty tall enough
the rear is at almost perfect ride height here, it could sit just a little bum down, but the shocks are fully compressed. ill be throwing in a second pair, but i think ill only run the single pair of springs. i like it soft, but not sure if its too soft or not yet. the second pair of shocks may be enough to stiffen it up just enough.
05-14-2014, 10:09 AM
---
so some stuff happened. and some things.
i stripped my buggy down to leave me with this.
which then enabled me to check this>
so then i mocked some stuff up, put some stickers on the screen, and checking for clearances and likely locations of items.
yes, this is a mini radiator. if my plan works, its to have nitro running through it, firstly to chill the fuel, secondly as its chillin in the rad, the air from the fan will be used to keep the heatsink on the engine cool as well so it should help as a dual purpose cooling device.
here i was just checking to make sure the servo for throttle and brakes would still fit beside the setup.
still have much cleaning up to do. it was late here so after i welded the mounts i didnt grind them down, yet.
engine bay view.
05-14-2014, 10:10 AM
---
ok gents n gals i picked up my motor tonight. shes a bit smaller than i imagined, but its pretty much the same footprint as the 0.21 i have in there at the moment. so its perfect in my opinion. winning

now, ive had issues as normally the car version of this engine would have a clutch fitted to it, and the car crankshaft will actually fit in and drive 100% normal but with a clutch instead of a propeller clamp. so ive been searching all night, scratching my head, torn between modding the crank, fitting a heli clutch, or just something. .. but.

i think i have a solution.

Im using buggy center diff as my main drive out to the summit 2speed, but it is full of JBweld and its solid, which was fine coz i was planning on using the "front and rear" brakes together for more braking power.

but now, it seems i cant run a centrifugal clutch due to the nature of the crankshaft so that renders that setup useless.

however, i have successfully mounted the clutch bell directly to the crank, i just need a way of locating it securely to center it on the shaft, but this now has the issue of being direct drive, and this situation is not good for a scaler.

Now. a Scale Truck. let me think for a moment where are we?? "scale4x4rc" right??

what real combustion engine driven truck on the road has a centrifugal clutch? they dont. they have a manual clutch (or auto, but thats not where im going with this )


my theory is this.

ill refit an open differential to the mount i have in the engine bay.
the rear side will be the output to the summit trans as it is right now, and will have its brakes operated as they currently are.
the front side, will become my clutch. ill change the leverage of the cam to make sure im not stressing out my servo to hold the front brakes on (ie, clutch) and there will likely be springs involved, and all sorts to keep stresses down and allow a bit of slip and keep it a bit softer on the driveline.

of course this introduces another issue, but it counteracts another. the 4stroke is slow compared to the 2stroke, and i plan on using a small-ish pinion so overall speed will be quite slow, but if im holding one side of the buggy differential still, and driving the outer gear, the other output will be spinning quite a lot faster than im driving it, so there may be quite a bit of heat involved, ill likely have to use a very light oil to keep it lubricated and stop it from grenading itself. id like to think theres an alloy upgrade for something like a ThunderTiger EB4 differential, but ive not yet looked.

be interesting to see how long the sun gears last under that sort of load too, id like to also think that under appropriate lubrication they would be fine but who knows, perhaps i could run an Axial Exo center diff instead and fit it out with Vanquish alloy housing and heavy duty bevel gears.... negative there is id be shrinking the gears and theyd be more likely to break...

anyway. im sure thats enough spill for tonight, pretty much typed a novel.

ill be back on the build probably tomorrow night, so see what i can come up with for securing this pinion onto the engine and ill be back with pics.!!
05-17-2014, 06:44 AM
---
ok. i think i have the clutch sorted out. I just purchased a Tmaxx 2.5 transmission with reverse and two speed. not sure if ill use the two speed factor but we will see when it arrives.
so ill be doing away completely with the buggy diff. and its a good thing i started looking as i just discovered that i had mounted everything the wrong way around. LUCKY, otherwise it would be going backwards really well... haha.. woops....
anyway. clutch.
ive decided to use a slipper clutch, but ill manually control the pressure applied to the spring that would normally be bolted up. that way, im not relying on any gearboxes to transfer torque, and it will be applied directly to the spur gear. thankfully, the gearbox i bought comes with linkages and spurs/pinions etc so i might still be able to use the 2speed function, but i doubt it will ever get that fast...
for me, best bit will be the ability to mount the engine centrally in the bay like i always wanted with the gearbox off the back of it, fan shroud off the back of the radiator. almost true scale. the way i like to try and build
thoughts??
05-18-2014, 08:54 AM
---
so, i realised tonight i cant do anything further until new parts start to turn up. pretty much comes down to a complete rebuild of the front end coz not only did i have it backwards, but the gearbox will be way different space requirement plus a whole bunch of other issues.
so i got bored, and decided to have a look inside the engine. and then decided to go ahead and give the valves the hi-flow treatment, and also bored out both intake and exhaust ports.
i only got to take photos of the valves before my phone died, but enjoy these shiny bits.
stock intake on the left, exhaust valve on the right>
now, exhaust on the left, and intake on the right>
i opened the ports a fair way, so im hoping its not too much as i cant really go back on it now... but i had always planned on fitting the big cam, and also a bigger carb. so ill see how it runs as is, but i reckon ill be buying that nice car cam next week.
edit: compared to the stock car style valves, i think i did pretty well.
and after putting it back together and starting it, the difference was noticable straight away. strangely was much smoother on the bottom idle despite (huge) ports, i could idle it a little lower without it dropping out, and on rev up, it was almost instant full revs. and seemed to rev higher than it did before.
im not wanting to increase the rev range, but it certainly isnt a negative, but if i decide to now go ahead and fit the FS-40s-c cam, will it be what changes my rev range? and perhaps now that ive opened it up, i should probably just leave it as is, since it feels so much better now...
thoughts?
05-19-2014, 01:10 PM
Tech Apprentice
Join Date: May 2014
Location: Portugal
Posts: 56
---
Really nice build!
05-19-2014, 08:00 PM
---
Thanks mate. Once parts start arriving ill be making much more progress. Alot has to change to accommodate the new engine and gearbox assembly.
05-20-2014, 08:49 AM
---
this just happened.
the rear end seems to have fallen off.
made a decision tonight after i broke the rear chassis off.
going to run AR60 axle on the front end too. what proper truggies do you see getting around with IFS???
05-24-2014, 07:20 AM
---
thanks bud
ok, so i fitted up a modded AR60 to the front end to assess clearances on links and shocks. turns out i dont really have enough room... so gonna have to narrow the rails, or cut the rails off and go full tube frame in teh front end.
full flat compression>
flex, with opposite side 100% compressed. very little space for a spring to fit in there... (read: none)
And heres some info on my new Integy "centered wraith" rear axle. overall im satisfied, but there were a few niggles im mildly disappointed with.
#1. the center diff. Its a spool which is nice. but it was rough, as the pinion can move in and out and rub n grind against the ring gear. And my other complaint. the Axial gears dont fit the Integy spool. the locating ring is a touch large enough to stop the gear seating at all. plus, the VP bearing carriers arent interchangable either, they jam the bearing down too tight, which is odd as i figured theyd be the same?? in the end, i fitted it out with my VP no-slop locker, HD ud Axial gears, and also RC4wd centered wraith axle shafts( the Integy ones were a little sloppy )
one thing i thought was kinda cool, but only if you wanted a pass thru axle, the front pinion carrier section comes separate. not sure if its perfectly centered or not, but you cant swap sides without grinding the main housing.
Rear
Front
wasnt too fussed on the grinding that seems to be needed to get the lockouts to fit properly..
but overall, pretty happy with the fit and finish.
and, a little wider than the Ax axles even with wideners on.
New stance>
05-28-2014, 10:13 PM
---
so i bought some 3/16 brake line on monday but had to buy 7metres instead of the 4 that i wanted, so been rather tight with cash this week, but just now had a bit of a play with what we call Bundy tube, and it turns out i can both solder (with normal electronics solder, i use 60/40 lead/tin with rosin core) and, i can also mig weld it without blowing huge holes in it as soon as i touch the trigger!! double bonus right there.
next step will be deciding the design i go with for the bar work, and making sure that i fit everything that i need to within the truck.
of course, its huge, so there would be something wrong if i couldnt squeeze everything inside....
heres some pictures of my wee lil 1/18 MiniQLO based F150 i built a while back and will likely be doing something similar with the rear cage section.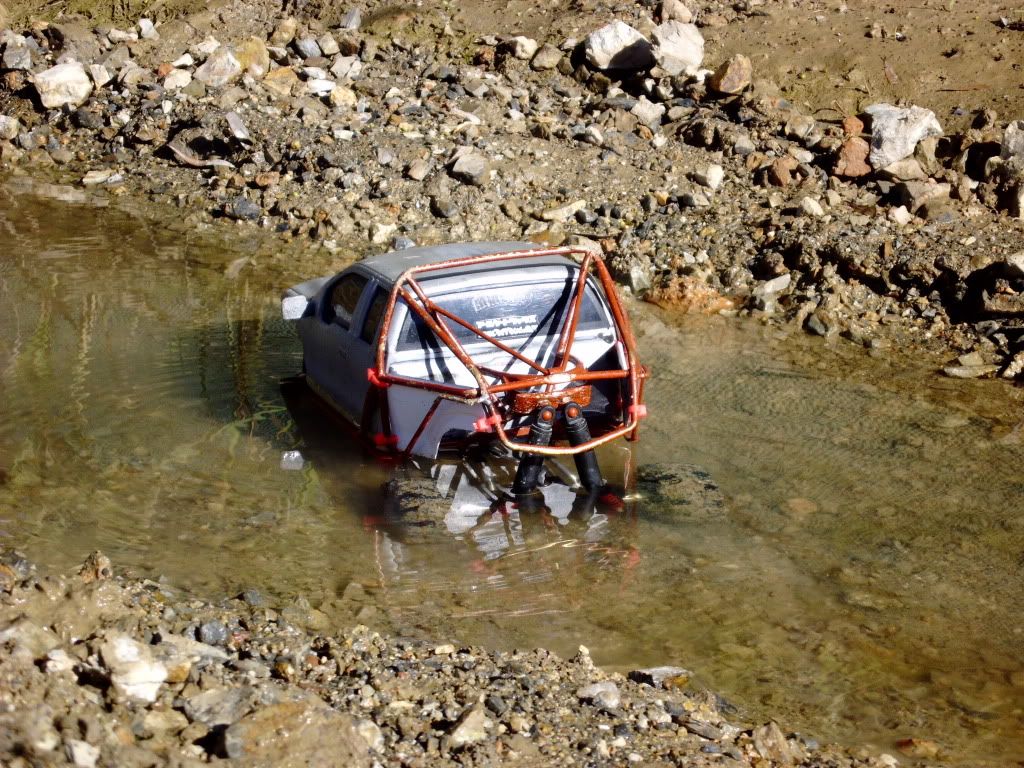 i may even run a similar front bar to the little one. i need assistance deciding wether to keep the current bar or change over to tube style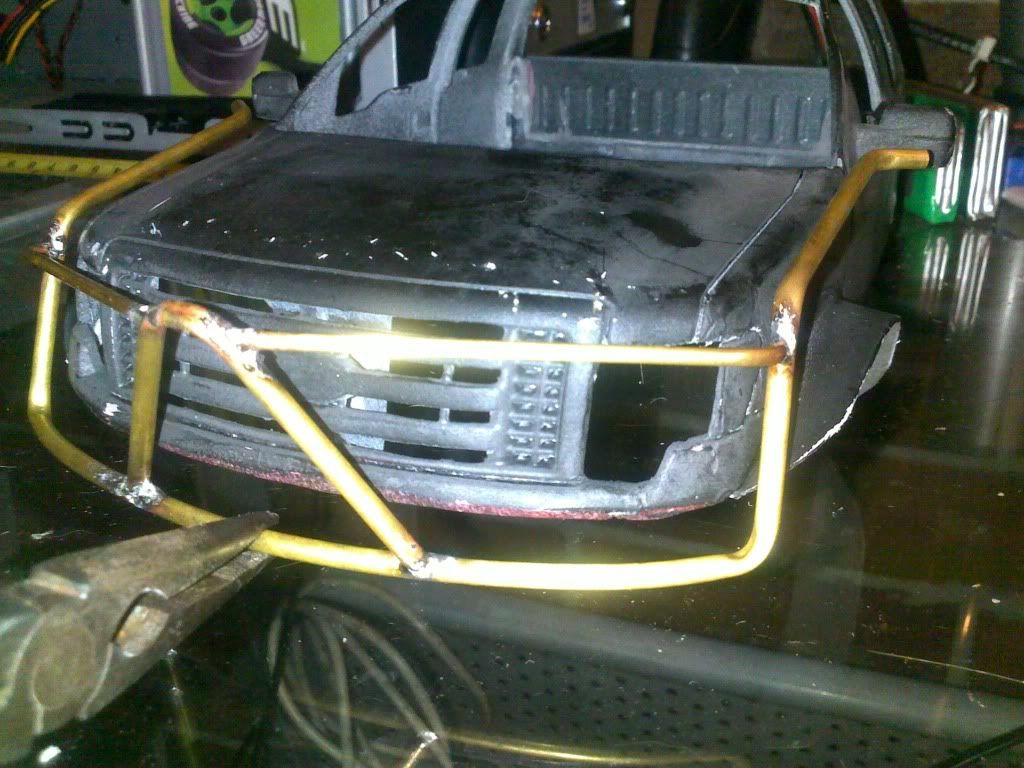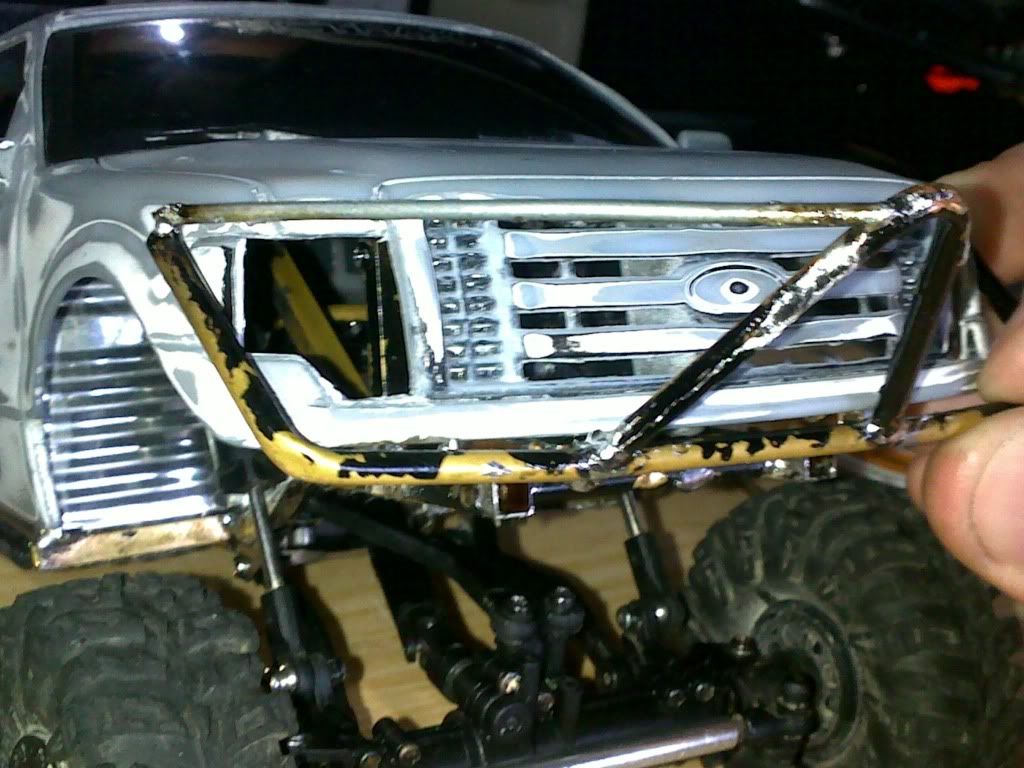 also, i bought one of these last week. gonna try something i wanted to try on my wraithokee build (that never finished as i traded a bunch of key parts.... silly.....)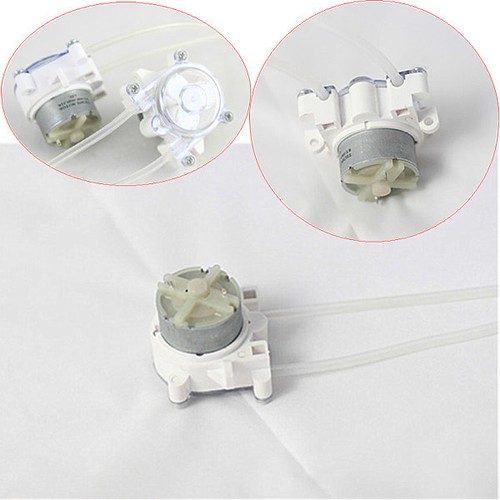 and i also have a couple of these....

a peristaltic pump, and a pneumatic cylinder... i wonder what they could possibly be for???
AND
got my tires this morning!! same size as my crushers, so reasonably happy with that. after i paid for the treps, i found the 2.2 pitbull rock beast was a little taller, and semi regretted the purchase. but, once they arrived i was happy once more.
hard part next was deciding whether to run them normal side out, or keep them dished. pretty sure ill keep em dished.
and yes, ill paint them up nice before its maiden voyage.
and also started making a mess of the rear cage.
05-30-2014, 05:41 PM
Tech Adept
Join Date: Jan 2013
Location: SE WI
Posts: 187
---
well, i'm subscribed. freakin sweet fab!
05-30-2014, 06:31 PM
Tech Addict
Join Date: May 2014
Posts: 631
---
This is looking great so far! Look forward to seeing it finished.
05-30-2014, 07:43 PM
Tech Fanatic
Join Date: Nov 2010
Location: Qld, Australia
Posts: 805