JQ THE Car YE and Novarossi Mugen BT5 Build - Input Requested :)
01-01-2014, 12:48 AM
JQ THE Car YE and Novarossi Mugen BT5 Build - Input Requested :)
---
Howdy guys,
I've been out of competitive R/C for 2-3 years and had an itch for a winter project. I've never had an 1/8th scale nitro car and have *always* wanted one...I remember begging my parents for a white & red Kyosho Inferno in the Tower Hobbies catalog ~20 years ago. I found THE Car Yellow Edition w/Pre-Season Kit while it was on special through A-Main and couldn't pass at the $350 price after reading up a bit about JQ's story, the YE and the 2013 update kit. Wish I had found this section earlier!
I've been slowly working on the build around the holidays for the last month or so. There's no nitro racing around here this time of year (or at all?), so no rush and I have been enjoying it. My kit was missing the front inner arm holder (came with two outers but no inner) but A-Main & JQ were able to get me a new one in transit. THE car is pretty much ready as a roller and just waiting for that part now. For simplicity, I decided build the car in traditional narrow configuration and then bring out the wide kit if/when I am ever able to race the car and there are some more body options.
Here's the setup I am assembling:
JQ Products THE Car Yellow Edition (using narrow parts)
Novarossi Mugen Beat BT5 .21 5 Port
OFNA Jammin JP-2 Manifold and Pipe
Spektrum DX3C with SR301 RX
ProTek 100SS Servos
Reedy Flat LiFe RX Battery
I realize I probably should have gone with a higher torque steering servo if I want to go racing with it some day, but this should be adequate for getting it up and going. Thanks to holiday sales and some patience, the car and engine combined were only $520 total brand new, so I got a really killer deal on the whole setup!
I had a few comments and questions related to the build and was hoping for any insight that people might have.
The JQ flywheel collet seemed to be bit too "short" for this combo and caused the flywheel to bind against the engine when fully tightened. I then tried the Novarossi collet that came with the engine and found it worked well. Do I have something goofed up or should I have used shims with the JQ collet?
The manual shows that the clutch bell should be shimmed but doesn't give a spec. My last experience with nitro clutches was Centax-style on NT1, which requires crazy detailed setup, so I assumed that getting at least end play correct would be important? The only specs I could find online was a general recommendation for all 1/8th scale of .3-.4mm. I ended up with ~.33mm after playing with the kit's .2mm and some extra .1mm shims. Is this OK?!?
A lot of places that call for set screws included duplicates. Example - the swaybar ballends. The ballends came with set screws already installed, as well as a new one in the associated screw bag. I think I ended up with 8 extras in total. Spares!
Like some other people have posted about over time, I had to file down the mounting tabs on the Novarossi crankcase in order to use the front-most engine mounting position. Yes, I winced taking a file to my brand new engine, but totally understandable. It might be cool to see the upper mount use a countersunk screw to allow engines like Nova's with wide mounting tabs to be run, but this isn't a biggie IMO.
With this Novarossi P5 engine, I have to use the full forward mounting position. If I use the back mounting holes, I can't get the bell and spur to align correctly. I would need to switch to the alternate center shafts in order to allow the diff to move back far enough. I've looked over my setup and the instructions dozens of times and all seems to be oriented correctly...I assume this is just a slight quirk of the P5?
I noticed that the bottom of my throttle servo sits against the right plastic sideguard. I don't think it will be a big problem but it does mean that any landing onto that area might be absorbed by the servo and radio tray. Is this common on buggies? Should I buy a mini servo for the throttle? Does the 2013 Radio Tray change this?
The JP-2 manifold & pipe seems too bulky for the car. Unless I swing it way high onto the chassis, it rubs between the fuel tank clips and the plastic sideguard. Would there be adequate space with the wide chassis? Or should I just purchase a pipe that isn't as "fat" around?
I noticed that the manual only calls for a few the screws around the engine using Loc-Tite. I used a light dab on all of them (clutch screw, mounts, etc.). Are there any places I should be sure to avoid using Loc-Tite to avoid future issues?
Until I can attach the front end, I am holding the bellcranks down with spare screws and JQ washers. I noticed the cranks are able to slide up and down the posts quite a bit end-to-end, so I picked up some 6mm ID shims and shimmed most of it out. I'll check again after front end is installed. Is shimming OK/recommended?
Out of the box, I used setup included on the paper sheet marked "2013 Setup", but I now realize that was probably also for the wide chassis. Should I just go ahead and switch to that right away? Is that setup an OK starting point for the narrow chassis?
I found a few posts about recommended upgrades for THE Car so I have a CNC Throttle Arm, Steering Arm and Servo Saver Arm in transit to hopefully protect 'er from the idiot behind the wheel. Any other suggested upgrades for performance or reliability? Seems pretty sturdy out of the box!
Anything else I'm missing, should do differently, need to avoid, etc.? Any and all input welcome! I have "experience" but this is my first venture into owning any 1/8th scale, so please school me
Thanks in advance to everyone and big props to JQ and crew for their hard work and accomplishments! Happy 2014!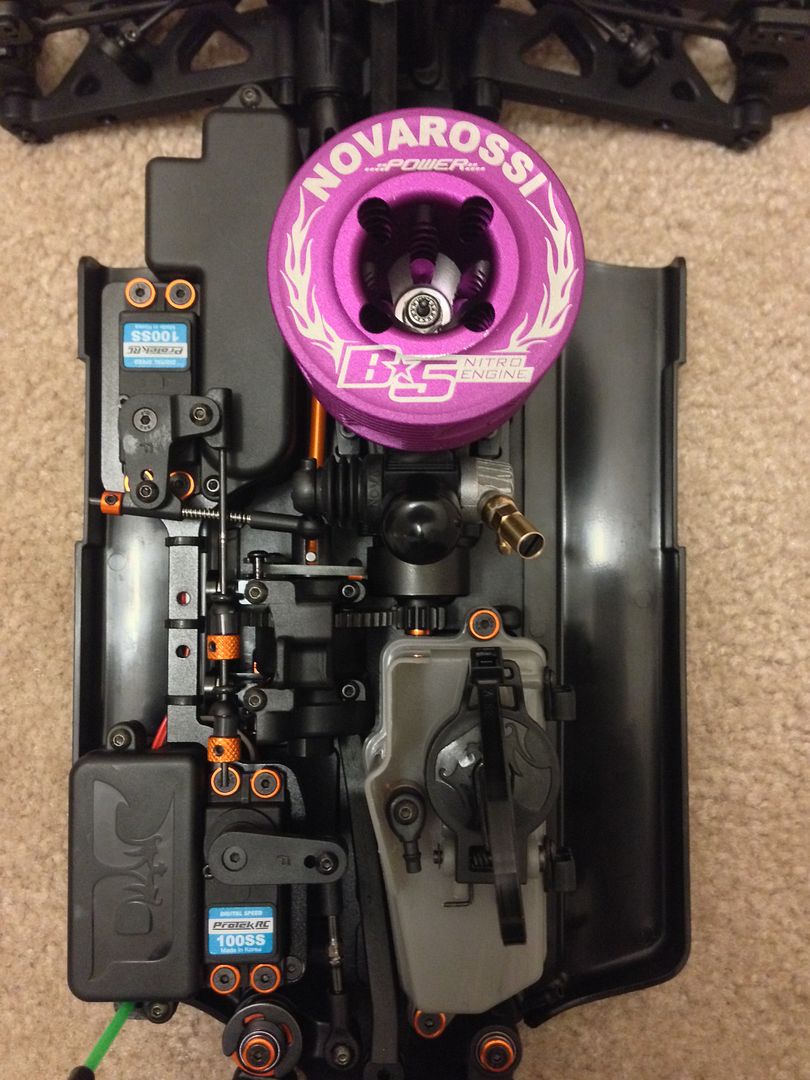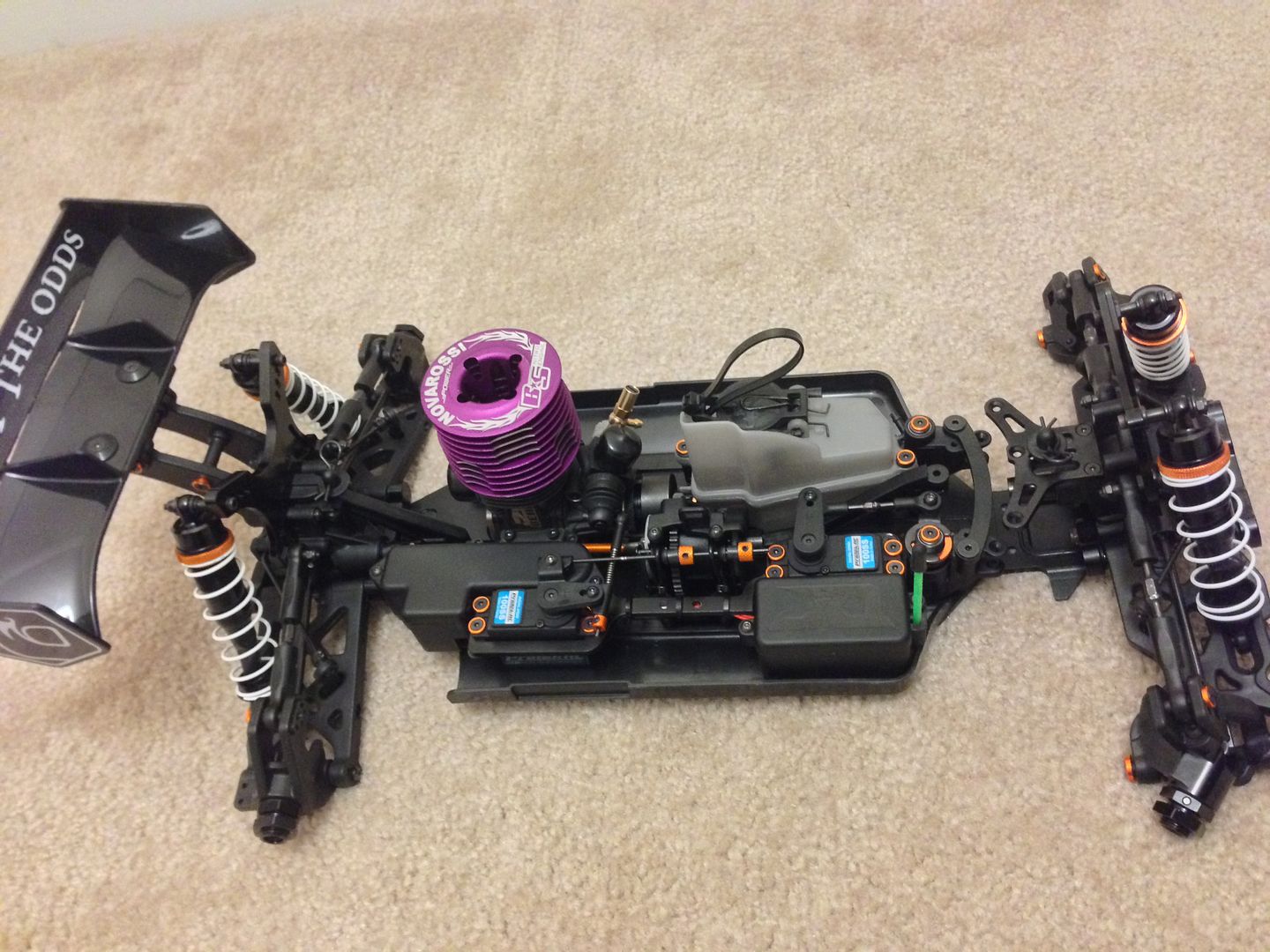 ---
Last edited by Lance Lucas; 01-01-2014 at

02:59 AM

.
01-01-2014, 02:22 AM
---
the B5 engine mounts without filing down the tabs, if you reverse the upper engineblocks, arrows to the back
you gain 2 mm for the tabs at the front screwholes and you can shift the centermount that bit
just mount it in the position you are comfortable regarding with the used engine/clutch, it is made for it..
mounting it 100% full forward isn't too good either, the front center shafts need to have more play, not to bend in a heavy crash
I leave at the least a 0.4 mm gap at the bottom screws
you should threadlock the engine blocks with care
if you can, better use Hyper/HN sort of flathead screws at the bottom without shims, the mounts will shift less easy warming up..
JP pipes: if you make up a new longer pipemount wire it should pass
cnc steering Arm and Servo Saver is ok, cnc trottle arm is not necessary.. unless you use Hitec servos
use plenty of grease at the diff outdrives, also under the planetary washers
zap glue the nuts in the arm holders at the 2 sides where they touch the plates..
use only the big black 070 bushing in the steering knuckels and the rear hubs
reverse the shockmounting screws: easier to work on and as strong, just use a washer to protect the cnc towers
Use some longer screw as a crowbar to open up the pinching servosaver tabs when mounting the steeringballs
Mount the antenna tube into the receiver box, onto the sideguards or sideways, or it will break every time out
---
Last edited by speedy2; 01-03-2014 at

02:01 AM

.
01-02-2014, 03:22 PM
---
Wow, thanks for the detailed help! You've definitely found quite a few neat tricks for the THE Car along the way. Very helpful!

I will double-check and see if there is indeed enough room to allow me to use the rear mounting holes. I know I tried that position initially (as that is what is shown on the default 2013 setup) but I ended up taking the engine in and out so many times that my memory might be playing tricks on me.

When you say to be sure to use grease on the diff outdrives, do you mean in the drive slots where they contact the pins on the drive shaft?
01-02-2014, 06:49 PM
Tech Adept
Join Date: Feb 2011
Posts: 197
---
don't use Loctite on your clutch bell screw.
01-02-2014, 08:14 PM
Tech Fanatic
Join Date: Oct 2011
Posts: 767
01-03-2014, 01:56 AM
---
"When you say to be sure to use grease on the diff outdrives, do you mean in the drive slots where they contact the pins on the drive shaft? "

I mean all onto the shaft of the outdrive where it touches the diffbody insert
and even a bit under the big shim/o-ring inside
01-03-2014, 11:29 AM
Tech Master
Join Date: Jul 2008
Location: NYC
Posts: 1,220
---
throttle return spring.
01-04-2014, 02:21 AM
---
Got it and done, thanks! Made a 90 degree antenna tube too, thanks for the suggestion on that one as well.
Today I received one of the front inner arm holders I backordered so I was able to finish the kit tonight
Still need to set all of the basic suspension stuff like ride height and camber but she's basically done. Did the CNC servo saver arm and throttle arm, the steering arm is backordered so I'll swap it when it arrives. Also picked up a set of the Losi street pre-mounts to roll it around on for the time being.
I mostly solved the pipe issue by removing/flipping the rear fuel line holder on the fuel tank. After trimming the plastic sideguard the pipe was able to fit in, albeit still snugly. It's tight against the body but should work OK for now.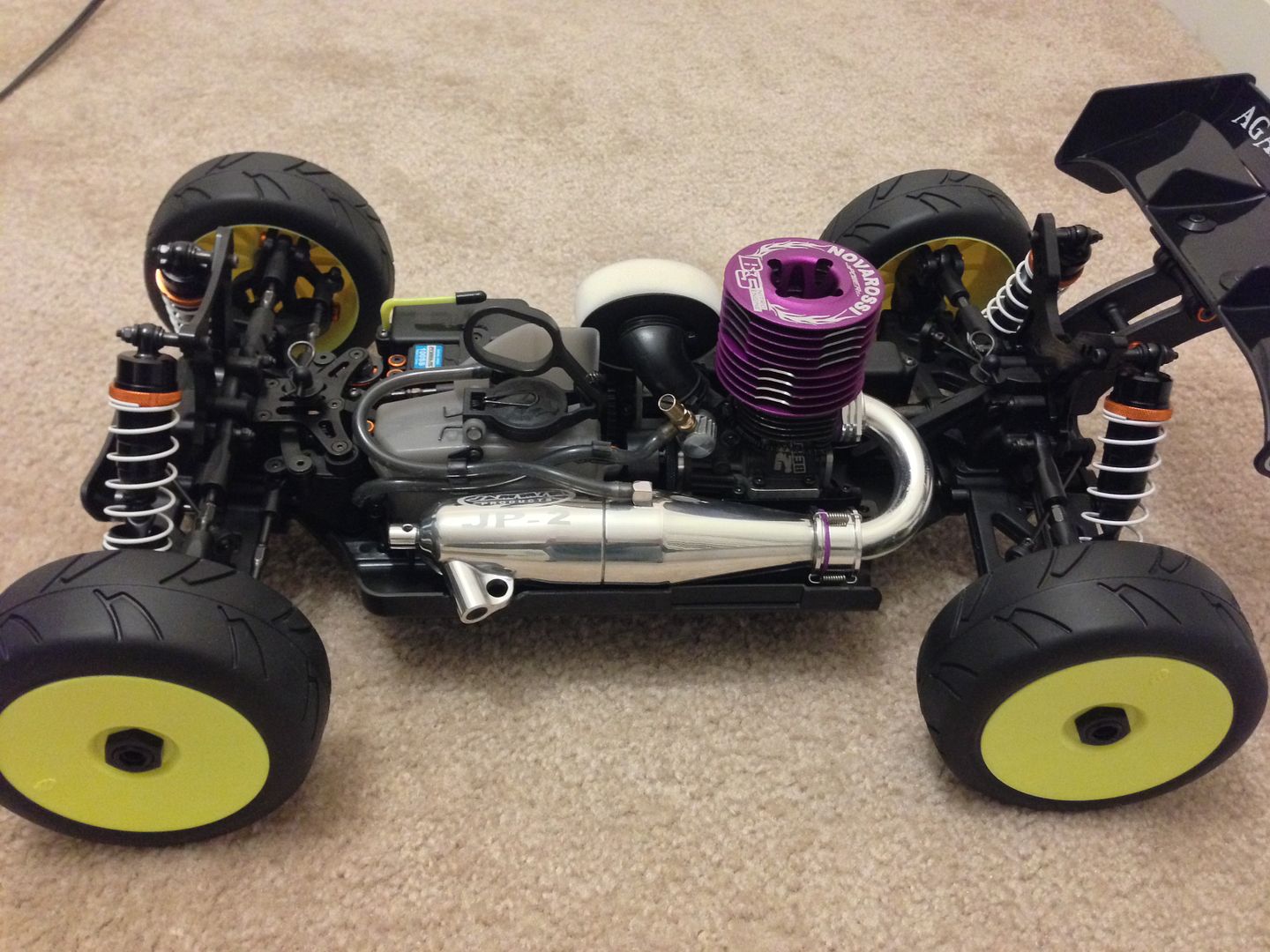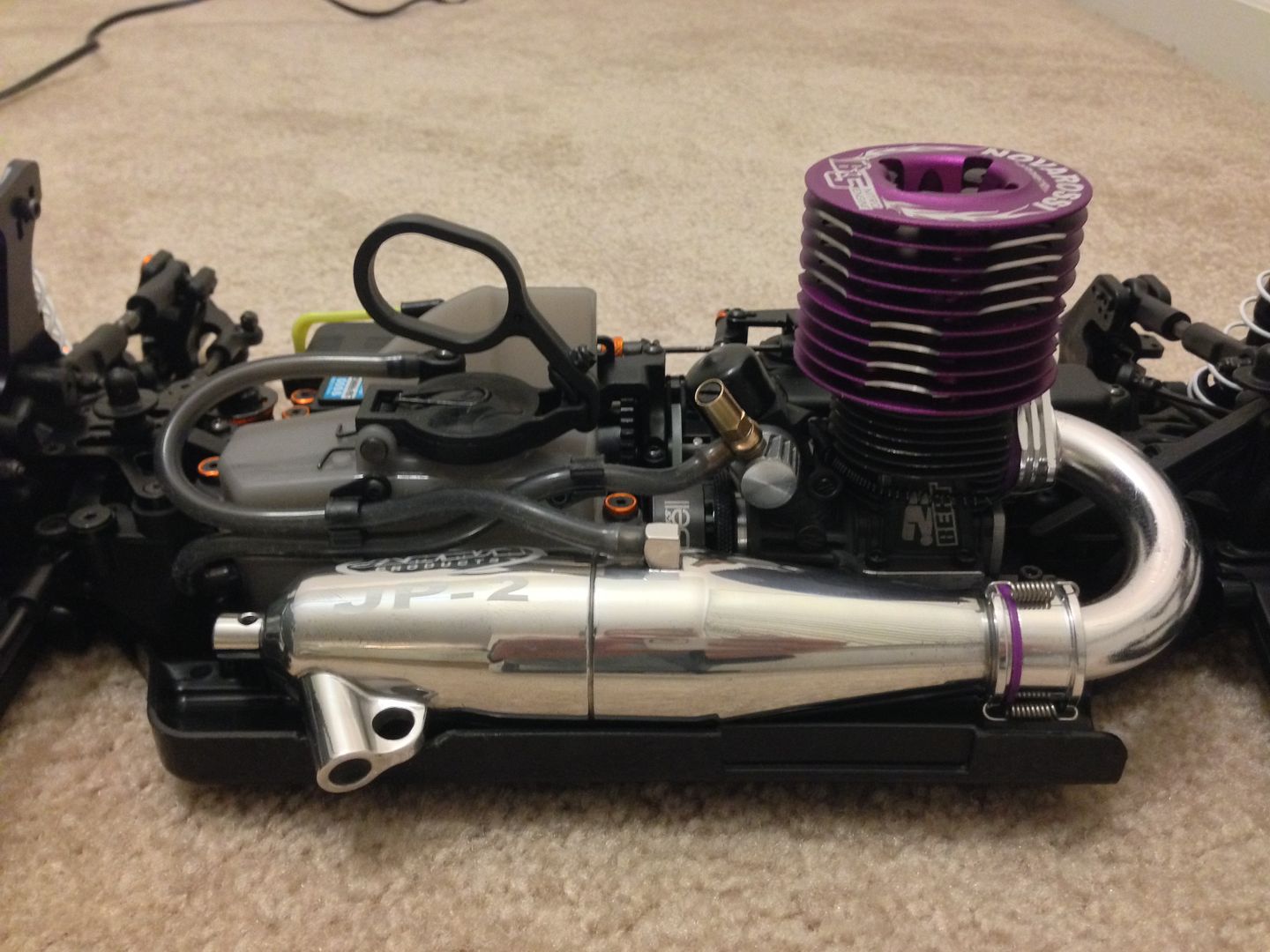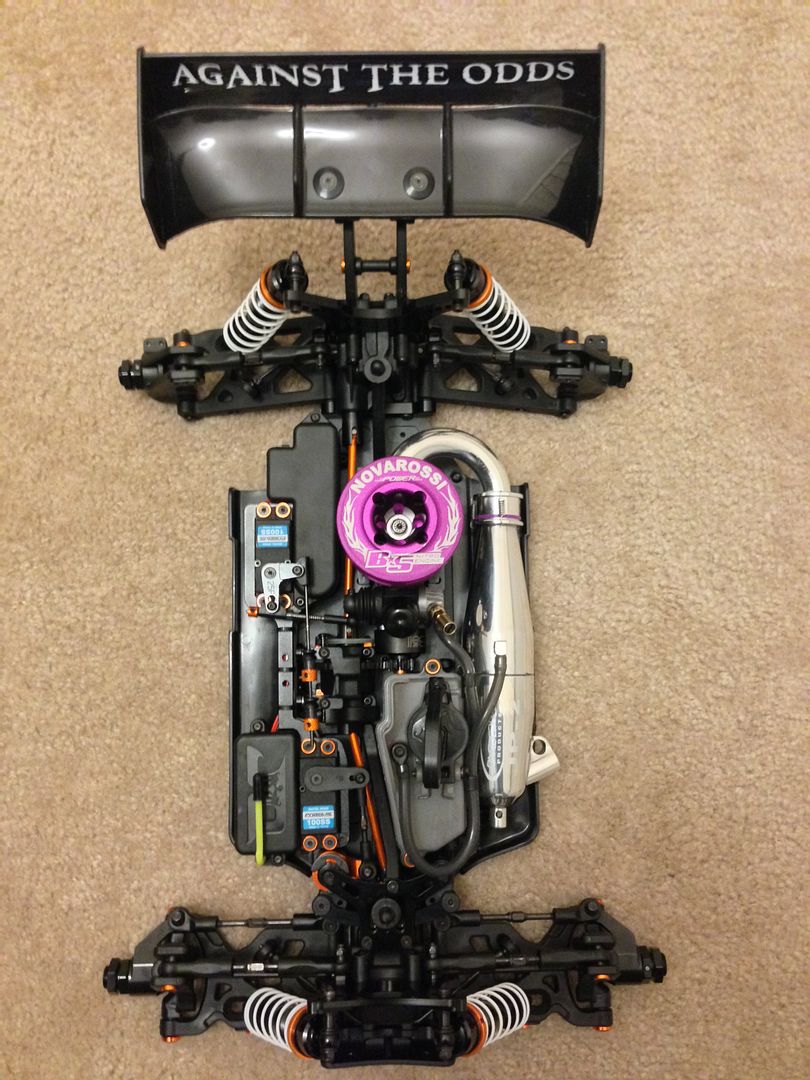 Currently Active Users Viewing This Thread: 1
(0 members and 1 guests)
Posting Rules
You may not post new threads
You may not post replies
You may not post attachments
You may not edit your posts
---
HTML code is Off
---