NEED DRIVE SHAFT PINS CHANGED !!!
04-04-2013, 08:58 AM
NEED DRIVE SHAFT PINS CHANGED !!!
---
Hi: All
I got an Xray 808 second hand a few days ago and I need to get drive pins replaced is there anyone on there that could offer such a service. Or someone that has the tool to do this and maybe figure something out!!!
Your comments are as allways very well appreciated
04-04-2013, 03:24 PM
---
Cool Beans
I live in Waterford Ireland and I do not have a track near by and no model shop neither some joke eh!!!
How will we do this
So I will have 6 pins to replace cause there all very bad
04-04-2013, 03:34 PM
---
Hey: EJF
Was thinkin of a chain breaker meself not sure if l have one lyen around though,
Yeah I know about the hudy tool but its like a hundred bucks!!
04-04-2013, 03:38 PM
Tech Master
Join Date: Sep 2006
Posts: 1,919
04-04-2013, 04:03 PM
Tech Regular
Join Date: Nov 2007
Location: sc
Posts: 499
---
Mugen or Hudy tool is your best bet if you plan on racing for any amount of time. We keep ours replaced on a regular basis and is well worth it. One of my have to have tools.
04-04-2013, 04:15 PM
Tech Fanatic
Join Date: Feb 2011
Location: Republic of Texas
Posts: 810
---
Hudy is so simple to use. Tried another one listed in this thread and broke it the first time I used it.
04-04-2013, 05:01 PM
Tech Fanatic
Join Date: Jan 2010
Location: San Diego, Ca.
Posts: 780
---
04-04-2013, 06:44 PM
Tech Addict
Join Date: Jan 2005
Posts: 629
---
Just got the Mugen tool, and it works really good.

Highly recommend.
04-04-2013, 07:11 PM
Tech Regular
Join Date: Apr 2011
Location: Rockhampton.Qld Australia
Posts: 480
---
04-04-2013, 11:11 PM
---
04-05-2013, 12:22 AM
Tech Master
Join Date: Mar 2012
Location: SW Minnesota
Posts: 1,351
---
If your creative, a bicycle chain breaker does the job!!!™
sorry to the manufacturing guy's.
04-05-2013, 12:44 AM
Tech Master
Join Date: Jun 2012
Posts: 1,876
---
You don't really need those pin tools. I just changed 6 pins from my swing shafts without those tools. I used my vise to press the pin out of the shaft and into a 5mm socket (1/4" drive). That gets one end of the pin flush against the ball thing its pressed in and the other end of the pin pushed outward into the socket. Next, I used a 2.5mm diameter pin (Mugen E0238) held with pliers to put against the pin that is flush with the ball thing and squeezed the vise closed. Since the 2.5 mm diameter pin is smaller than the ID of the ball thing, it pushes the pin you're replacing all the way out and into the socket and then the 2.5 mm pin falls out easily. Using pliers position your new pin (make sure its the correct diameter... Kyosho is a weird size) at the opening of the ball thing of the swing shaft you want to push it into. Put the socket at the opposite side of the ball thing. Close the vise. The pin will push through and into the socket. Eye ball it. Then measure. Adjust as needed. After you do two pin replacments, it only takes a minute. It's easy and cheaper than the tool.
04-05-2013, 03:01 AM
Tech Master
Join Date: Dec 2009
Location: in a Very BIG house
Posts: 1,028
---
yep, have to admit the vice thing works really well .....
if in a pinch and no tooling it is the easiest way to go
we also make some tooling for this as well...
the mugen one is nice as well...we tried this one too....
ours is a little like the Hudy one but without the Price tag!
$48.00 for ours,
and because the Punch part of tool can not go all the way down
you can't pinch your finger or hand....
other ones are good !! but ones where they do not use a twisting motion
seem to have better results, the Hudy is the most effective one but there
$100.00
the vice or a type of press is the best option.
we use the same when in our shop we use a press,
if you are in the Field(track, local park etc.) a portable one is a nice solution.
if you have any Question please do let us know at
[email protected]
here are some pics...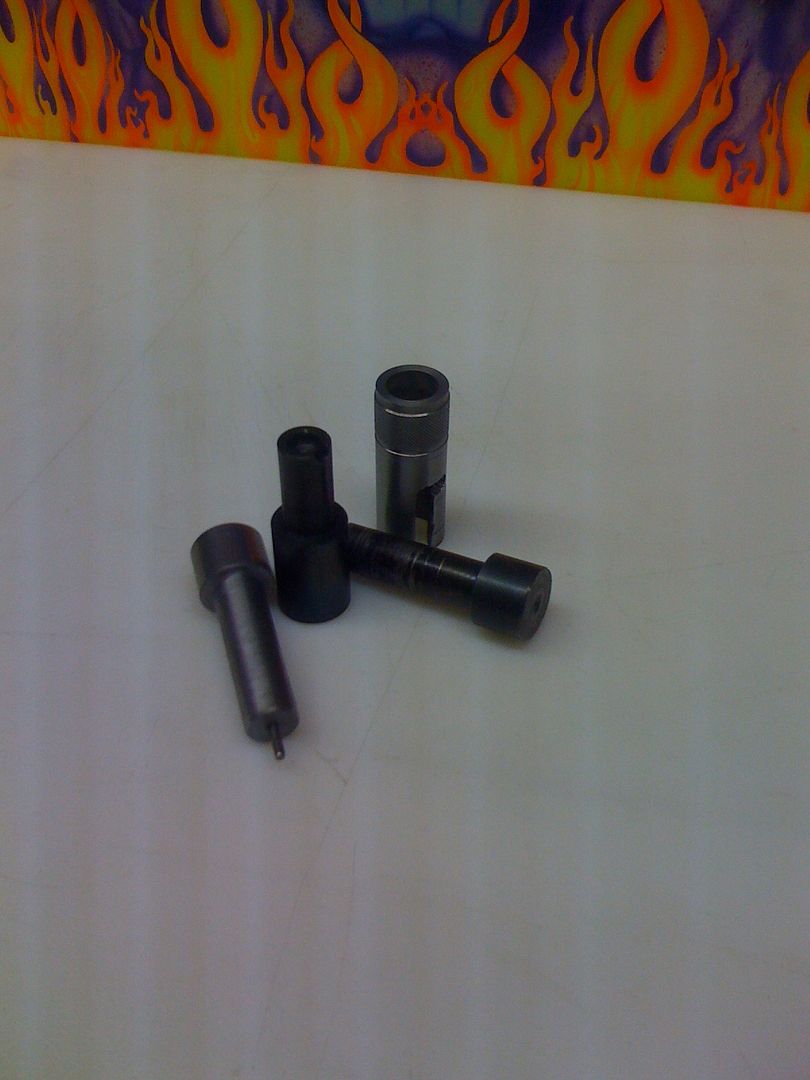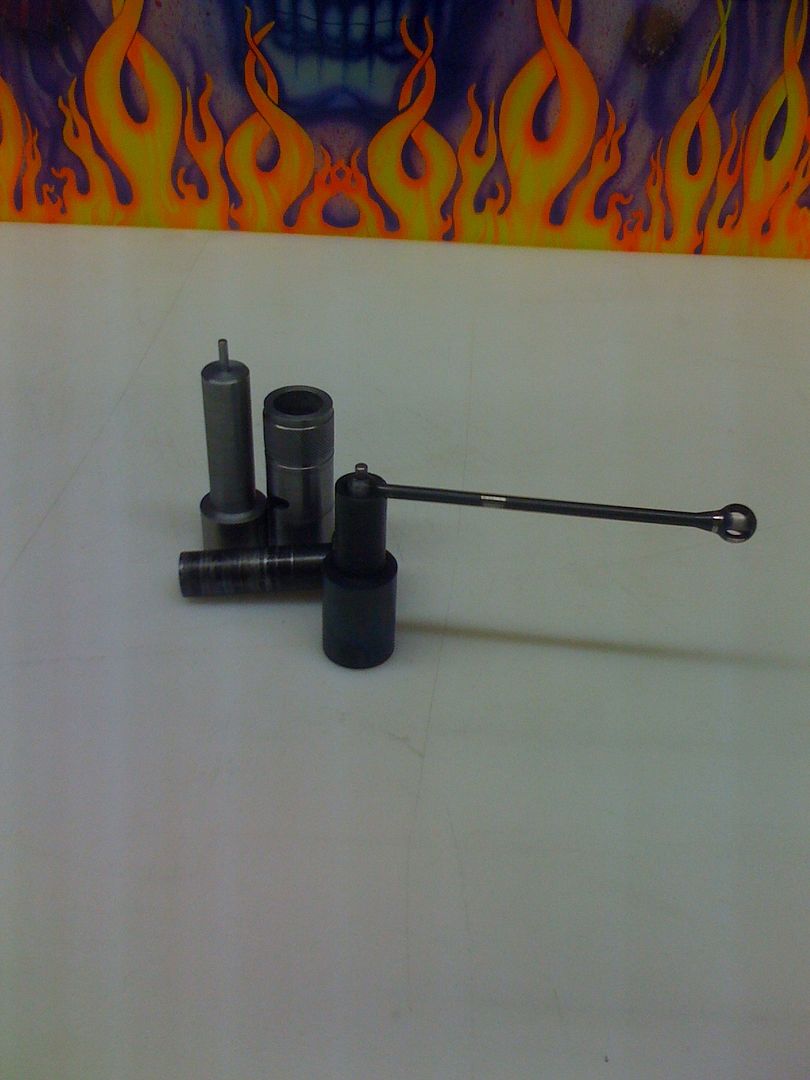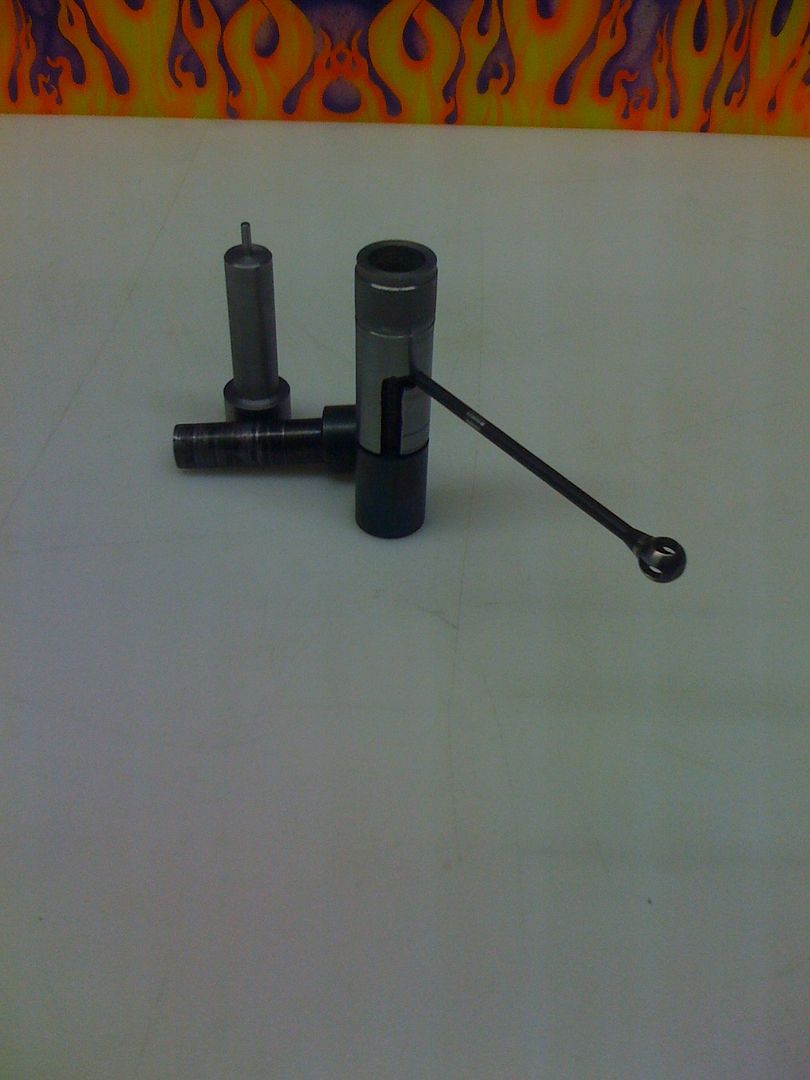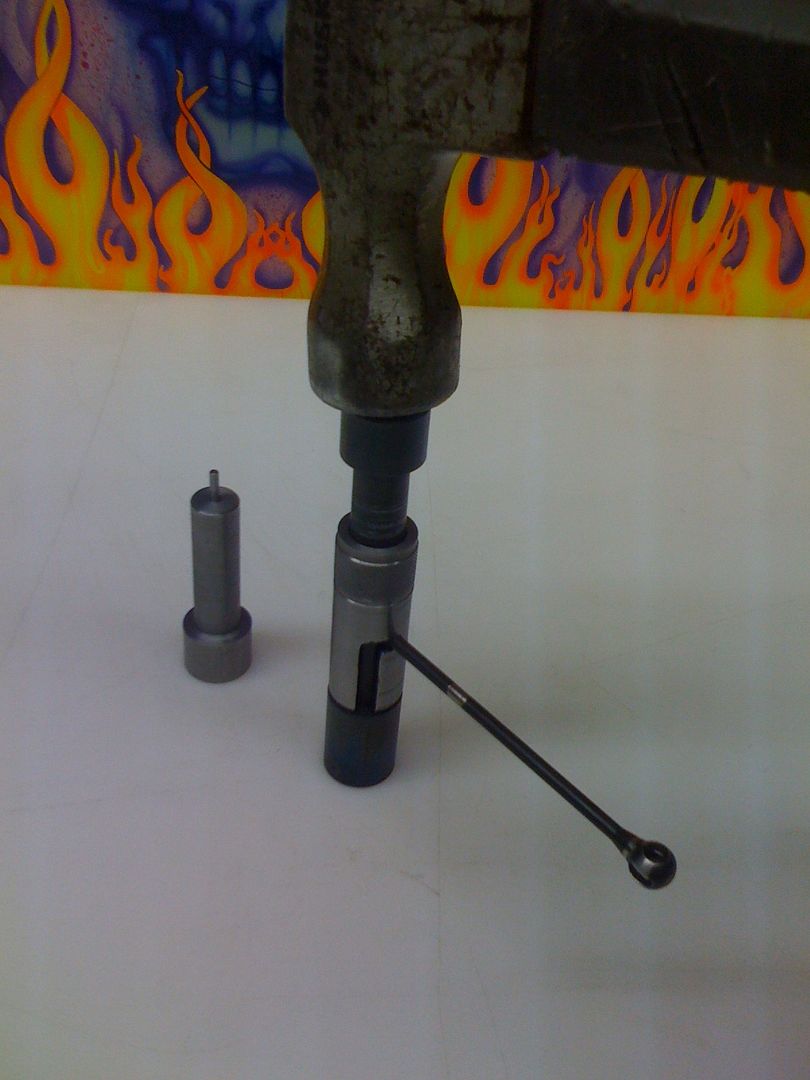 the other punch has a smaller Diameter pin to push
the pin the rest of the way out