M2C RACING QUICK CHANGE VARIABLE WEIGHT 3 SHOE FLYWHEEL SYSTEM
06-04-2012, 12:41 PM
Tech Addict
Join Date: Dec 2008
Posts: 621
M2C RACING QUICK CHANGE VARIABLE WEIGHT 3 SHOE FLYWHEEL SYSTEM
---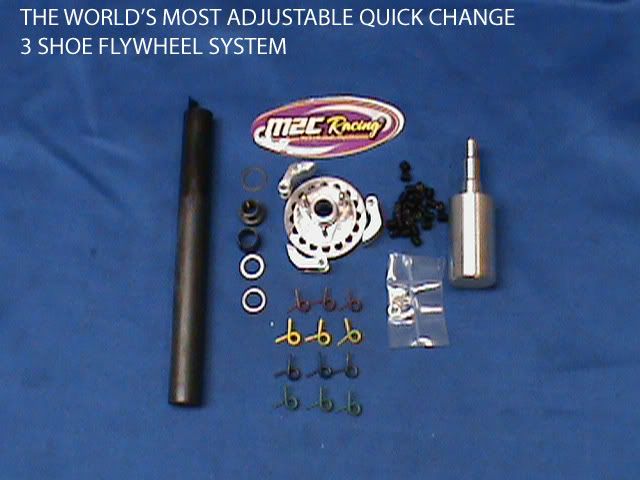 M2C RACING IS PLEASED TO ANNOUNCE THE RELEASE OF OUR NEW
ALUMINUM AND QUICK CHANGE VARIABLE WEIGHT 3 SHOE FLYWHEEL SYSTEM.
Many guys have expressed an interest in our 4 shoe system, but have said that
they prefer a 3 shoe clutch.
This kit is designed like the 4 shoe for versatility to still gives you the options
of the 4 shoe on adjustments.
The flywheel empty weighs 16.5 grams(mugen as a comparasion wieghs 19.5)
so if you are looking for quick spool up this is your boy.
Fully loaded with shoes, theclutch weighs 22.5 grams. test shoe that is a great flywheel for the smaller 3 port motors and motors with a weaker bottom.
For the guys who run the strong engine and want less wheel spin we will be offering a steel model .
the steel empty will weighs 29 grams with shoes and no weights and 34.5
grams fully loaded
the shoes are custom designed to use with our quick change flywheel, but will
also fit most stock flywheel systems that run a cenerline spring cut on the
shoes.
The springs are our 9000 series (the same as we use on all of our clutch
systems
FULL ALUMINUM KIT: PART NO. m2c6090
ALUMINUM FLYWHEEL ONLY: PART NO. M2C6091
FULL STEEL KIT : PART NO. M2C6092
STEEL FLYWHEEL ONLY: PART NO. M2C6093
www.m2cracing.com
---
Last edited by m2cracing; 06-04-2012 at

03:05 PM

.
06-04-2012, 01:06 PM
Tech Addict
Join Date: Oct 2003
Location: North Carolina
Posts: 598
---
Looks like another great M2C product Mitch!!
06-04-2012, 01:36 PM
Tech Fanatic
Join Date: Feb 2012
Location: Queen Creek, Az.
Posts: 925
---
nice!!!!
Price$
06-04-2012, 01:51 PM
---
I believe it is around $50. Amain has them.

Looking to get one soon.
06-04-2012, 03:11 PM
Tech Addict
Join Date: Dec 2008
Posts: 621
06-04-2012, 03:18 PM
---
06-04-2012, 03:18 PM
---
ahh, nevermind, I see. This one is a 3 shoe.
Currently Active Users Viewing This Thread: 1
(0 members and 1 guests)
Posting Rules
You may not post new threads
You may not post replies
You may not post attachments
You may not edit your posts
---
HTML code is Off
---