@ anyone with a crt.t quick help
02-28-2012, 02:53 PM
Tech Rookie
Join Date: Feb 2012
Posts: 1
@ anyone with a crt.t quick help
---
Hello Ive had my crt.5 a while now but been busy with other things so still havent got it running perfect! Ive got the extended chassis with standard size servos and the steering servo horn rubs the body, ive tried a number of different servo horns and they all rub! Is this the case with the stock body? Will the proline body still rub?
Also im running an os .18tm and when i back off the throttle the wheels keep spinning for about 5 secs afterwards as if the clutch is sticking a little. The crank on this engine is real short so ive had to use a lot of spacers and the clutch seems to spin ok but not as freely as id like? Not sure how to sort this out?
Also the servos dont seem to be that powerful is this because they are running on the small battery pack included in the kit?
ANy help would be appreciated...
02-28-2012, 04:05 PM
---
Ok for the body it's a tight fit so it will rub you can however 2 bends the body right over the servo to flair out the body. You try to make it look like the Kyoshos truggy bodies. I had done it to mine and it worked out. The clutch might be two things either the springs are too soft if they 0.9 and they have softened so put fresh springs or go 1.0mm the other thing that if you are continuing to shim the cluch more then the springs have overlapped the clutch nut and are popping out of the groove where the spring sits and the shoes are actully rubbing on the face of the clutchbell.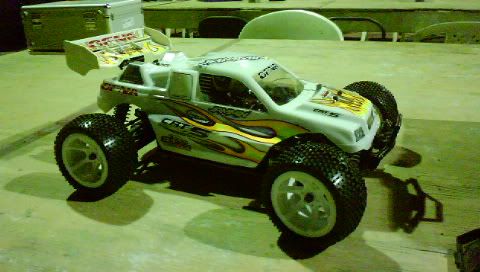 Currently Active Users Viewing This Thread: 1
(0 members and 1 guests)
Posting Rules
You may not post new threads
You may not post replies
You may not post attachments
You may not edit your posts
---
HTML code is Off
---