1/8 wings
01-30-2012, 12:07 AM
Tech Master
Join Date: Sep 2011
Location: Near a beach
Posts: 1,403
1/8 wings
---
What wings do you guys prefer, my std 808 wing died, someone recomended the JConcepts wing, which I have now, then someone else said there no good.
Ive had the proline wing in the past, had varied opinions on them as well.

What have you found the best for performance, durability etc.
01-30-2012, 12:54 AM
Tech Adept
Join Date: Sep 2007
Posts: 127
---
I highly recommend jconcepts. it's in a 1-piece design so doesn't warp over time. strongest wing i've seen
01-30-2012, 06:06 AM
Tech Master
Join Date: Sep 2006
Location: West Palm Bch FL
Posts: 1,028
---
Serpent wings are really good. They offer good stability straight line and are very strong. Jconcepts one piece wing is very tough and last forever but I feel there are better options for downforce and stability. I just started running the new Upgrade vortex wing this past weekend. So far so good but no idea on it's durability yet.
04-09-2012, 12:12 AM
Tech Regular
Join Date: Oct 2011
Location: Chandler AZ USA
Posts: 394
---
Hmmmm, although I like the way my Serpent wings make my buggy and truggy handle, I do not find them to be durable enough. They always break at the webbing after only 1 or 2 race days. I found the Jconcepts wings in 10th scale, and there bodies are very durable, so I think I will give there 1/8th wing try to see if it holds up longer then the Serpent. Being a one piece design with little webbing it should be tough.
04-09-2012, 08:33 AM
Tech Elite
Join Date: Oct 2005
Location: Netherlands
Posts: 2,491
---
Next time use the search button, i had a same thread some weeks ago. I purchased the upgrade wing which has lots of downforce and looks cool.
04-09-2012, 12:01 PM
Tech Regular
Join Date: Jan 2012
Posts: 267
---
I like the mp9 wing.
04-09-2012, 12:44 PM
Tech Elite
Join Date: May 2002
Posts: 2,715
---
best wing out is the new upgrade wing...

2nd best but most durable is the J Concepts wing with the adjustable sides..
a close second...
04-09-2012, 08:14 PM
Tech Regular
Join Date: Dec 2011
Location: SOCAL
Posts: 383
---
I had my PROLINE wing for 4 months and still fine and really looks great in the track, the design stands out!
04-09-2012, 09:09 PM
Tech Regular
Join Date: Jan 2012
Posts: 267
---
My vortex gives me too much downforce, looks bitchin though.
04-09-2012, 11:17 PM
Tech Addict
Join Date: Aug 2008
Location: Bakersfield ,CA
Posts: 588
---
The jq wing on the xray 808 looks very nice better than the std xray wing. The jq wing has a good price and bolts up without drilling holes.
04-10-2012, 06:18 AM
Tech Champion
Join Date: May 2010
Location: Brussels, Belgium
Posts: 5,081
---
JQ wing is awesome looking, cheap and strong. The funny thing is that its design is the result of a moulding error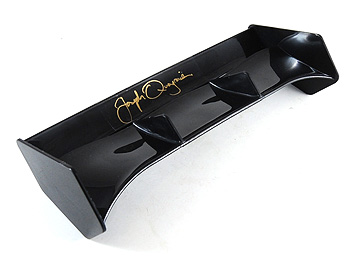 Durango wing is great looking too