Bergonzoni R1 2011
10-27-2011, 05:56 PM
Bergonzoni R1 2011
---
Thought I would share some pictures of my new Bergonzoni R1 2011 spec buggy!!
Quality of the kit is second to none , Instructions are not the best but if your an experenced racer you will have no issues building the kit.
I bought the car from a guy in England for $300 NIB these cars are priced at $650 so I got a great deal.
Our outdoor season is done for the year , so I'll have to wait to race it next season. The Bergy is my project buggy there is no US distributor so I will have limited spares ..
I would like to hear from anyone else that may own this car? It's really impressive happy I bought it..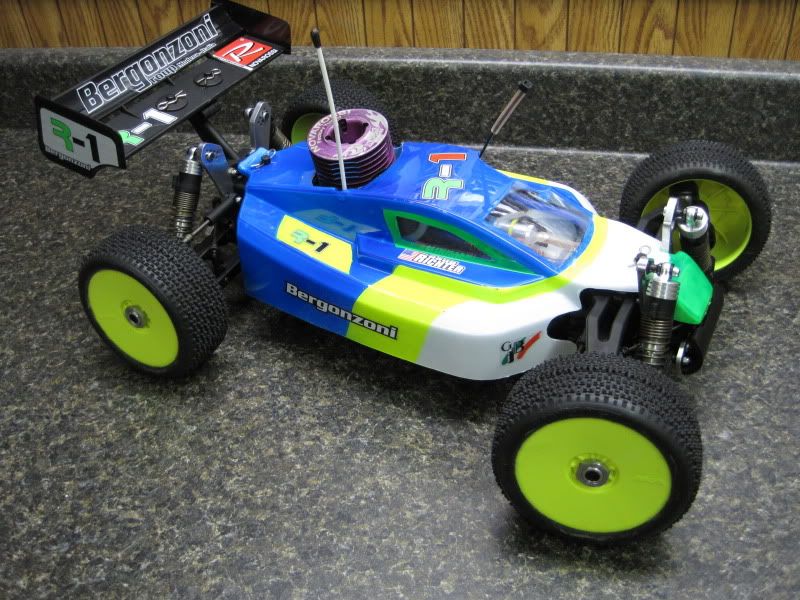 10-27-2011, 10:05 PM
Tech Adept
Join Date: Aug 2009
Location: Melbourne VIC
Posts: 157
---
Hi there, we are running this car here in Australia and I personally know Mr. Bergonzoni. There are also quite a few drivers running this buggy in Europe and they have just appointed a new distributor in Germany.
I will send you a PM with some info & newer instructions..
10-27-2011, 10:23 PM
Tech Adept
Join Date: Aug 2009
Location: Melbourne VIC
Posts: 157
---
I thought to post few more photos for those who haven't seen this buggy before. The R1 is fully Made in Italy with top quality materials and different design solutions which started back in 2005-2006.
10-28-2011, 08:26 AM
---
I don't know who Mr Bergonzoni is but the man behind the R1 is Raul Peris. I watched him race the car at the Nitro Pit for Nitro Challenge I think it was two years ago or last year I dont remember but the car was good and I am sure the 2011 is better. You should friend Raul on Facebook and I am sure he has all the good setups for your new ride and will answer all questions and might even help with parts.
10-28-2011, 08:52 AM
Tech Rookie
Join Date: Mar 2009
Posts: 2
---
Yes Raul Peris designed the car, Bergonzoni are the manufacture.
Raul is very helpful, if you search " r world racing" you will find his site for the car and parts, although it is in Spanish if you contact Raul he will help you
I had an original R1, very nice car, solid and light weight. Would like another one
10-28-2011, 03:30 PM
---
Thanks for the replys much appreciated !! I have been in contact with Raul Paris we trade emails he is extremely helpful and genuine nice person.
Thank you Poltro for the email and attachments
Couple things that really are impressive are the shock towers 5mm yet very lightweight , the universals are a work of art! and the hard anodized chassis looks like it will last a long time.
The shocks are buttery smooth, I spent a little more time building them than your normal shock set.
Diffs are tight when new but all it takes is to run the car to break them in .. now there very smooth!! diff gears are made of steal but milled out to save on weight ..
Overall looking forward to how the car will handle on our outdoor tracks..
08-20-2016, 06:12 PM
---
Awesome!!!! I have a soft spot for the Bergonzoni cars
08-22-2016, 04:06 AM
Tech Regular
Join Date: Feb 2014
Location: Queensland, Australia.
Posts: 397
---
08-23-2016, 04:28 AM
Tech Regular
Join Date: Feb 2014
Location: Queensland, Australia.
Posts: 397
08-23-2016, 10:14 AM
Tech Master
Join Date: Apr 2009
Location: South Africa
Posts: 1,056
---
Originally Posted by
Palebushman
My Bergonzoni "Flash" back in the 1990's had balls long before I ever saw them on Mugens, and as far as I know, the Bergonzoni Flash was the only buggy in it's time to sport
"Thorsen Diffs"
all round. The purchase choice I had at that time was the Kyosho MP3, Crono or the Bergonzoni "Flash". The "Flash" was a brilliant piece of Italian micro engineering and I was not the only one who loved it so much, the thieves that stole it, must have loved it too.
holy crap...went looking around and found these pics...truly amazing engineering on these:
found here:
http://www.rc-monster.it/public/foru...php?f=1&t=6523