New hong nor x3s
11-02-2011, 01:58 PM
---
11-03-2011, 02:54 AM
Tech Regular
Join Date: Mar 2008
Posts: 258
---
I honestly cant wait to try this buggy out. I love my 9 but if this car is anything like the X1,it should be easy to drive and on rails when set up right and the driver is focused.

It looks easy to work on compared to the 9 although the receiver box looks small in the photos.

One downside is that this comes out right before Christmas... I dont think my son is going to believe me if it turns up under a tree with my name on it from Santa lol.
11-04-2011, 07:07 AM
11-04-2011, 01:20 PM
---
Outlines ready for full body wrap...............

Paco
11-13-2011, 12:38 AM
---
Body and wing fully wrapped (no paint) for the TEAM TWF8 review car.
11-13-2011, 12:46 AM
---
Jacco Koch has made the shake down last friday at a full astro turf track with the X3 Sabre.

He ran over the 80% pre-build car he received from Hong Nor and changed oils to his liking and track.
Car further standard except some minor changes on the brake linkage.

First impression it is easier to drive then the X2 and the car jumps better.
More will follow soon on TEAM TWF8 page.

TechWork too will soon do its job on the car to see where it is..............between all cars. Stay tuned for that as the guessing is over soon.

Paco

BTW the second review car is on tits way from Tawain which is a full kit so we will compare the old with the new car as much has been changed.
11-21-2011, 02:31 AM
---
The car alive.
11-27-2011, 02:27 PM
Tech Apprentice
Join Date: Mar 2008
Location: Netherlands
Posts: 67
---
I've seen this car going today and must say its looking very promising.
11-28-2011, 04:09 PM
Tech Regular
Join Date: Mar 2008
Posts: 258
---
Has this car seen any cold weather running yet?

I plan to boil the plastics anyway but I figured I would ask anyway.
11-28-2011, 04:48 PM
Tech Master
Join Date: May 2007
Location: Georgia
Posts: 1,565
11-30-2011, 07:09 PM
Tech Addict
Join Date: May 2004
Location: Perth, Australia
Posts: 586
---
Just saw the pricing from the Aussie Factory HN driver - very well priced at about $540 AUD - that's almost half the price the X2 were selling at here about 3 years ago - and will hopefully put the HN brand back in the running with the other established names in RC.

It's only had a couple of runs here, but the team driver is well impressed and took out the WACC MORBC round on it's big screen debut!
12-01-2011, 10:16 AM
---
The X3 is now availble here in the U.S. for sale, Nitrohouse is offering it for $469.99. The parts for the X will be here next Thurs. the car is stout and drives really good, I've had the car for 6 weeks and had to bite my tounge about talking so now I can answer questions.
12-01-2011, 01:37 PM
---
Here's my car with alot of runs on it, of course I have running alot to get the feel of the buggy and I'm been happy with since finding a good setup, very good in the corners the caster adjusting has made tuning set for this car I've been running 23 degrees of caster it makes the steering very stable for my style but turns very tight, sorry the airfilter is dirty and I have been breaking in the JL engine.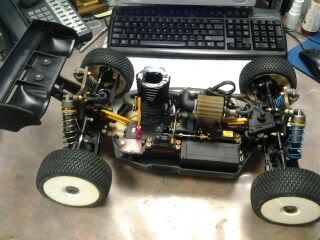 12-01-2011, 02:58 PM
Tech Elite
Join Date: Nov 2008
Posts: 4,583
---
Is this car going to make it out to distributors or is this a in house deal only with Nitrohouse ?
12-01-2011, 03:32 PM
Tech Fanatic
Join Date: Feb 2008
Location: Dayton TN
Posts: 983
---
Anybody know how long the shocks are on the x3? They look shorter then the old x1/x2 shocks.