2011 Intech BR5 Evo
05-29-2012, 02:21 AM
---
Thanks guys...looks like the 8.2 bodies fit better than the mp9 ones. I kinda had to "stretch" the mp9 body on mines and seems like the front bulges out a little. I think I'm gonna try a FTW or a Bitty force for the 8.2. I just wanted to fit an old mp9 one I had laying around and try others before I send it to the painter.
Thanks again!
06-10-2012, 09:09 PM
---
Havent been able to run the buggy lately due to work but got to run some tanks through today. I am really liking the buggy so far and getting it closer to handle the way I like it. I had one issue though. I noticed that the rear has a lot of up travel, causing the universals to pop out of the outdrives. I didnt notice this and and really thought it was too much droop. It actually caused the outdrive to chip and tore the metal bushing in the diff cup. I ended up using fuel tubing to limit the uptravel on the shock shafts as a quick fix but now seems to limit the travel and the rear gets kicked around more. Anyone else had this problem? At full compression, the unis are just about at the very edge of the outdrives. I've shimmed the axles as much as could but still.
Though like I said, I'm really starting to love this buggy.
I've also tried the NGD Racing tapered 1.3x6 pistons. Amain was out of the CSI ones and the NGD ones work great. Still curious to see how the CSI ones compare to these though.
Great job Intech!
06-13-2012, 08:27 PM
Tech Regular
Join Date: Feb 2009
Posts: 438
---
Hunter will you pm me your number ill like to talk to you about the intech buggy looking to swap brands this is mitch out of baton rouge
06-14-2012, 04:33 PM
Tech Adept
Join Date: May 2008
Posts: 181
06-14-2012, 07:06 PM
Tech Regular
Join Date: Feb 2008
Posts: 273
06-14-2012, 07:30 PM
Tech Adept
Join Date: May 2008
Posts: 181
06-23-2012, 12:51 PM
---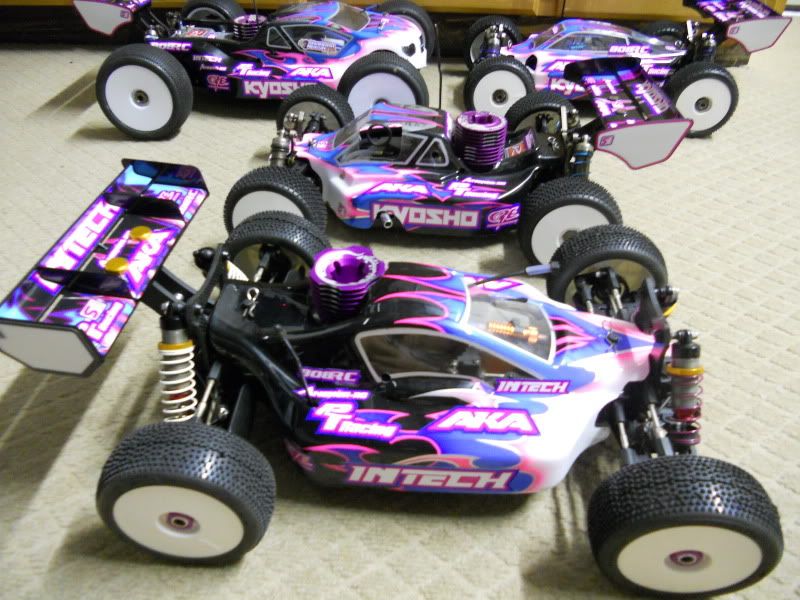 here is my new paint for the BR5 Evo. Ready for some track time now.
06-23-2012, 12:58 PM
Tech Master
Join Date: May 2010
Location: Ewa Beach, HI
Posts: 1,181
---
Man, those look good!
06-25-2012, 12:53 PM
---
Thanks Braddah Sein! Can't wait to see your new ride too!
07-23-2012, 11:07 AM
Tech Elite
Join Date: Dec 2004
Posts: 3,774
07-23-2012, 08:59 PM
---
I saw that too and started drooling. LOL ..........Russ, whats the scoops on this? Fill us in bro!
07-24-2012, 01:47 PM
Tech Regular
Join Date: Feb 2008
Posts: 273
Currently Active Users Viewing This Thread: 1
(0 members and 1 guests)
Posting Rules
You may not post new threads
You may not post replies
You may not post attachments
You may not edit your posts
---
HTML code is Off
---