Anyone Out there Own a Mugen Super Sport?? Would like pics
11-01-2010, 10:06 AM
Tech Master
Anyone Out there Own a Mugen Super Sport?? Would like pics
---
Hi. I was wondering if anyone out there still owns or has access to good clean pics of a Mugen Super Sport. I have had Mugen products since I first got into RC which was a Mugen Super Athelete. I wanted to see what was out before the Athelete so I am asking if anyone has pics.
Thanks
11-01-2010, 11:30 AM
Tech Regular
Join Date: May 2008
Location: Surrey, UK
Posts: 429
---
11-01-2010, 12:02 PM
Tech Master
Any good?
---
Need you ask?? Of course... Thanks much very much.

Funny.. I saw this article this morning, but, didn't look for more info.


Thanks

IF you find anything else, Please let me know.

IF you know of anyone selling one, I'd also like to know..
11-01-2010, 12:06 PM
Tech Master
Super Sport
---
Another funny thing. Some years ago, I received what I thought was a Mugen Super Athelete body. I never mounted it. Later, I think I noticed the body was not an exact fit. I think I got a Super Sport body by mistake. I'm not complaining, I just now want the car to do with the body..

I kinda like the older stuff. I would love to race one of these cars in a vintage R/C race.
05-19-2011, 04:15 AM
Here's mine.
---
Here's my Moog Super Sport after I've stripped, cleaned and put it back together.

The rear shocks are just temporary fitments as I haven't any oil for the original ones as yet, but as soon as I have then they will be put on.

I have another rolling chassis as well and quite a few spares, some even still sealed in their mugen packaging.
05-19-2011, 04:19 AM
---
I've tried to upload some pics but apparently i'm not allowed to post urls to other sites(like photobucket where the pics are) until i've made a certain number of posts.
05-19-2011, 04:21 AM
---
Still won't let me post them.
05-19-2011, 04:22 AM
---
This is getting ridiculous now
05-19-2011, 04:41 AM
---
I've pm'ed you the link to the pics now Doc.
05-19-2011, 09:27 PM
Tech Master
Mugen Supersport
---
Hi. Thanks for the pics.
Funny, I actually have the following:
Super Atherlete
MBX-4
MBX-5
MBX-5T
MBX-6
MBX-6T.
MBX6 ECO??? Not sure. if I'll get one. I have a Losi 8 tekno conversion and it works pretty good. Need more steering. I think I need a stronger servo and a different setup. Anyway.
I like Mugen. the only one I've had a problem with was the Super Athelete. IF you look at it, it breaks. So, I always have the car facing the wall in my garage so you can look at it and it doesn't know it. LOL.
Other than that, I really enjoyed the MBX 4-XR. You can push the car and it will go where you want it. The MBX5 isn't so much like that. The MBX6 and 6T are still my shelf queens and haven't been driven yet. (Totally built, with engines in them,servos, receivers and transponders. Just can't take the clean cars off the shelf and run them. I know. Mental
I do like building cars though)
05-20-2011, 02:33 AM
---
Hi Doc,
no worries did all five of them work? I will try and get a few more posts under my belt and then try to put them up for all to see.
I've only just got back into rc after not having any cars for over 20 years. A mate bought a thunder tiger and I got hold of a cen magnum nx. Then I won a chassis from ebay that I got for £16 and I was going to use it for any spares that I could.
When I went to pick up my cheapo I was quite taken by the overall build quality and the big step-up over the measly cen. It took me a few hours of searching and I found that I had a mugen super sport. It was virtually all there, the receiver in it was duff but I was able to check the servos with another reciever and they were fine. The engine in it is a serpent s-max 3.5cc which I've not tried yet and don't know if it's viable as yet.
My next thing was to look around and I bought a nice running Super Sport which I totally stripped, cleaned and sorted and so I have plenty of backup spares for it. Then I sold the cen to a mate as I lost all interest in it.
I have noticed some differences between the two chassis though. On the one that I bought as a complete runner(had been a shelf queen for the past 10 years) has metal ring gears in the diffs whereas the cheap one has plastic, also the runner has a slightly oversize centre dogbone and joints and you can't mix and match between the two, you have to use one lot or the other.
Now I have a basher MBX4 but I am after some bits for it before I go looking for an engine. Priority is a front n/s lower wishbone and I'd like to replace all the suspension pins and I'm also after a lot of the original screws, nuts and bolts for it as about 1/4 of them I have found are unoriginal...so if you do have some of these bits kicking around I'd be grateful to take them off your hands
.
Do you have pics of your cars? I'd like to see the super athlete as that is what I was going to go for next when I get the mbx4 back working again.Do you have any idea what parts are compatible with the mbx4?
Thanks for the reply
soops
05-20-2011, 03:05 AM
---
Huzzah, it now works so all can see.
The nasty looking shocks are only on until I can get some oil for the original ones I have. The highrise add-on for the exhaust is only temporary, the previous owner was a bit of an engineer and he made it himself. Apart from giving a different exit point it does actually mute the howl a little.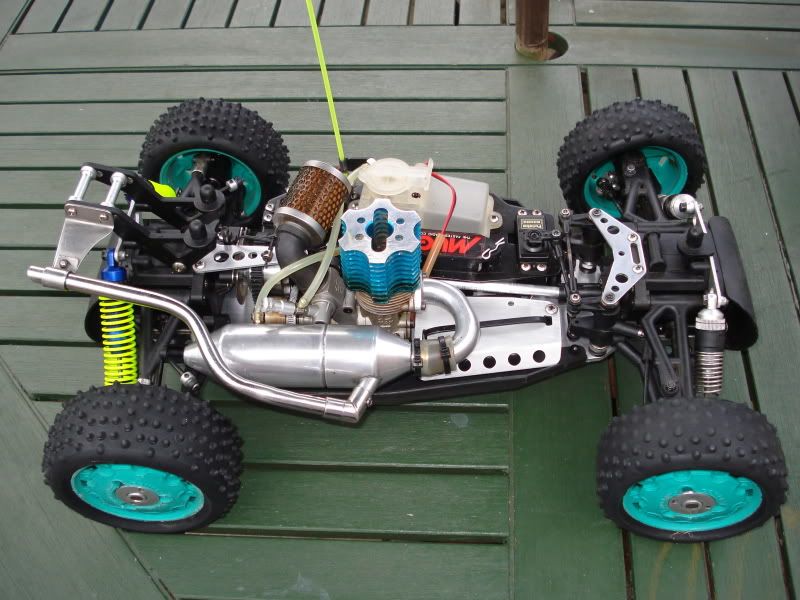 05-20-2011, 03:06 AM
05-20-2011, 03:07 AM
05-20-2011, 03:07 AM