CUSTOM VINLY WRAP vs CUSTOM PAINT
12-29-2009, 05:30 PM
Tech Master
Join Date: Jun 2006
Posts: 1,887
---
Originally Posted by
Integra
I use the hair dryer trick and my edge's were good...but on places like the front end on a truggy that Does see the dirt on occasion was where it would peel.....Granted these were Upgrade wraps...so im not sure if Chad's vinyl is much different from theirs as far as tackyness and glue....Chad care to enlighten us on what kind of vinyl and how thick ?
We use different material than they do, alltho it is the same thickness.
All I can say is its some extra tough, super sticky stuff.
12-29-2009, 05:34 PM
Tech Elite
Join Date: Apr 2008
Location: MODESTO CA
Posts: 4,863
---
i need to send you an email on some ideas i have for a wrap!
thats going to cost an arm and a leg i need
truggy
sc10
radio
starter box
charger
ott light
pitmat
thats going to be a good day for you a bad day for my debit card.
12-29-2009, 05:39 PM
Tech Master
Join Date: Jun 2006
Posts: 1,887
---
LOL!!! But it will be a good day for you when you open the box.
Shoot me an email at
[email protected]
and I can get you all taken care of.
12-29-2009, 05:39 PM
Tech Lord
Join Date: Dec 2006
Posts: 12,484
12-29-2009, 05:40 PM
Tech Apprentice
Join Date: Jan 2008
Location: North Texas
Posts: 52
12-29-2009, 05:53 PM
Tech Apprentice
Join Date: Dec 2008
Posts: 68
---
You will not be disappointed with Chad's wraps. Fastlane is the only choice.
12-29-2009, 06:22 PM
Tech Elite
Join Date: Dec 2003
Location: Clayton, NC
Posts: 2,696
---
of course I'm gonna have a biased opinion here, but:
A wrap just
can't
look as good as a nice custom paint job. Sure the details and logos, etc. can be made smaller and more intricate, but vinyl will never have the depth or gloss that a painted lid will have. If you want something that looks like a MX graphic kit on your ride, then a wrap is a fine choice. If you want something like you see on a kustom car/ truck then paint would be a better choice.
Most painters these days offer logos on the paint jobs as well as a custom scheme, like the wraps do. Also, a paint job will be truly custom, unless you get one of Doug's mass-produced version from ebay.
It's a matter of personal preference.
I have customers that choose to have a custom body over a wrap, even if it takes longer or costs more. I've contemplated picking up a wrap for my own buggies on more than one occasion, I'm not knocking them. But, when I see the price tag on a generic, non-custom, wrap I quickly come to my senses
.
12-29-2009, 06:30 PM
Tech Fanatic
Join Date: Nov 2003
Location: purvis, ms
Posts: 968
---
i likes the paint myself...Jim of W.E.D does mine and looks good yes yes. i have looked at some wraps to just try.
12-29-2009, 06:43 PM
Tech Fanatic
Join Date: Dec 2009
Location: Versailles KY
Posts: 837
---
Check out Bradleys fine line design. This guy is freaking amazing he does some of the best work I have every seen.
12-29-2009, 09:38 PM
Tech Lord
Join Date: Aug 2008
Location: Dwindle city
Posts: 12,494
---
I will agree with the wrappers. I've gotten custom paint done by both WED and BCG Industries and while they were both completely sick paint jobs, the paint scratched off and the lids cracked very quickly. My wrap takes abuse and always looks great and it makes the lid stronger so you dont have to buy lids as often. i will also agree that nothing looks better than that freshly painted lid, but after one or two times around the track it dont look like that anymore, unless you cover the inside with shoo-goo, but it still cracks during the flexing. I am hooked on wraps now and will never get another paint job unless its a do it myself job on a practice lid. Take a look see what Chad at fastlanne has done for me:
12-29-2009, 09:52 PM
Tech Lord
Join Date: Dec 2008
Location: NorCal
Posts: 12,521
---
I love the wraps over the painted jobs. I have been running them all year. I do like to change my bodys more than the avg guy I think I did 4 this year. Only one is toast the others are in pretty good shape. I like the ease and options that the wraps come with. I dont have to add any other stickers all the logos are in the wrap. I get my stuff from upgrade and I put them on everything I can. It's nice to be able to look down pit lane and instantly pick out my starter box and fuel gun. IMO the wraps are the way to go. Sure they get scratched up and when another truck does a burnout ontop of your truck things do tear a little bit but thats racing. Some of the guys I run with can be animals. I espically like the new factory flo from upgrade with flo colors and chrome colors, they are a little flashy for my style but man do they look good. Does fastlane have any flo or chrome colors?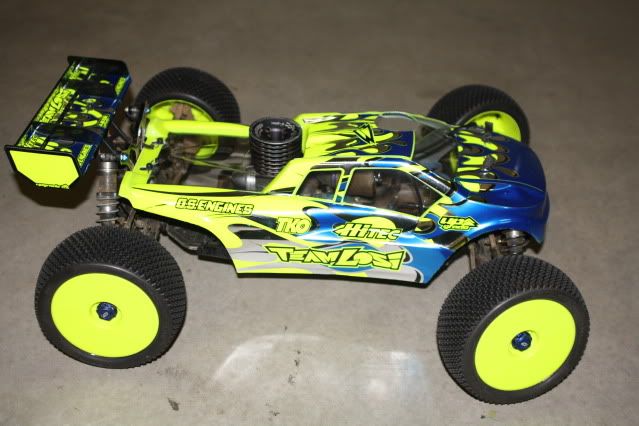 12-29-2009, 10:05 PM
---
get in the fastlane or get left behind!
12-29-2009, 10:07 PM
---
Jaz ur chit is FIRE! me likey!
12-29-2009, 10:42 PM
Tech Adept
Join Date: Nov 2009
Posts: 110
---
What wrap is that Jp. love the flagging
12-29-2009, 11:08 PM
---