Official VP Pro USA Thread
10-01-2009, 01:57 PM
Official VP Pro USA Thread
---
Hello to all RC Tech Readers! This will be the official thread for any of your questions, and or concerns regarding the VP Pro USA product.
We will monitor and update this thread to keep you posted on our new and exciting products!
We also, have weekley specials under the P.O.W. program. This program benefits the Veterans of America, who fought for our freedom. Without our courageous Veterans we would not be able to enjoy this wonderful hobby!
Thanks and welcome to our thread!
Here is a cool pic of my car at Revelation Raceway in Southern California.
10-01-2009, 02:00 PM
---
Also: I just got word, that VP Pro USA is looking for Team Drivers, and Regional Representatives nationwide. If you are interested in a Regional Representative position contact us via email.
If you feel that you have what it takes to effectively promote and win with VP Pro Product then send your racing resume via email as well.
www.vp-pro-usa.com
10-01-2009, 02:19 PM
Tech Rookie
Join Date: Oct 2009
Posts: 2
---
As our west coast team manager Andrew Smolnik stated, we look forward to bringing you valuable information with this thread, regarding new and existing VP Pro USA Product.
We have a very very wide range of products, including hop up aluminum option parts for the Team Associated RC8 , Losi 8 2.0, and much more.

Clutch systems for every 1/8th scale vehicle in the Market

NIMH Reciever packs

Clutch Bells

1/8th scale buggy and truggy wings in various colors and shapes

Tools

Ignitors

Fuel Guns

EP 1/8th scale hardened pinions

Airfilters

and of course our high quality wheels and tires for both 1/8th buggy and truggy!
Also: as Andrew stated we are looking for qualified Team Drivers and regional representatives. Feel free to contact us and we would be happy to consider your resume / application.
Thanks!
10-01-2009, 02:59 PM
Tech Fanatic
Join Date: Feb 2007
Location: Fontana, CA
Posts: 781
---
Were you at rev last saturday? There was somebody with a vp pro shirt.
10-01-2009, 03:14 PM
Tech Rookie
Join Date: Oct 2009
Posts: 2
---
No, I wasn't there, but we do have a couple representatives that frequent Revelation Raceway.
10-01-2009, 03:21 PM
---
unsp0ken,
I race at Revleation Raceway a few times a month.. but I wasn't there last weekend. I may race this Saturday. If your there feel free to check out my car, tires etc. ; )
Here is my ugly mug...... next to some pretty ones. hahaha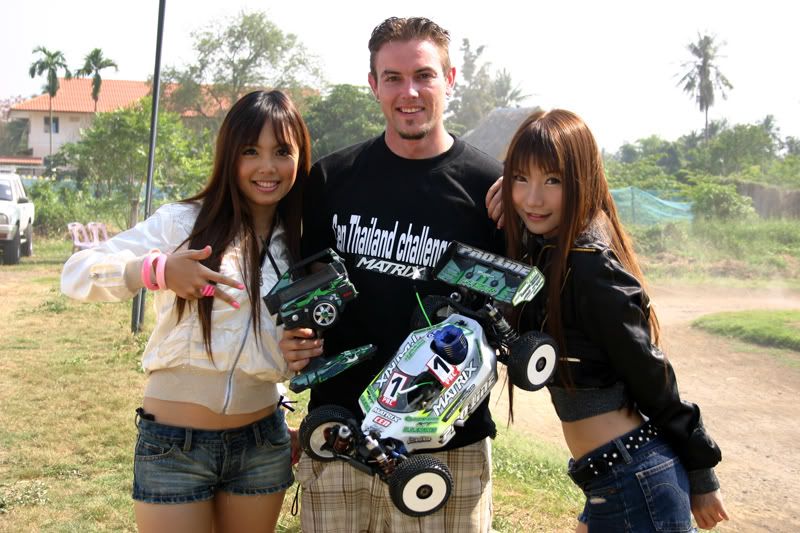 10-01-2009, 03:34 PM
Tech Addict
Join Date: Apr 2007
Posts: 726
---
VP PRO PRODUCTS ROCK
10-01-2009, 04:05 PM
---
What up Big Puddin!! Whats crackin! ; )
10-01-2009, 04:08 PM
---
10-01-2009, 05:18 PM
Tech Addict
Join Date: Dec 2008
Posts: 529
---
I would like to buy some truggy tires are there only two types. and are they any good I have never seen any body use them.
10-01-2009, 05:34 PM
Tech Addict
Join Date: Apr 2007
Posts: 726
---
The truggy tires are awesome. I have not worn out a set yet and I have been running them since the first round of the pro series this year. If you run on a track that eats tires up get you some low flex compound they are like a m2 the med flexx is like a m2.5. Hope that helps any more question just ask. These tires are awesome I don't understand why people pay the extra money for other brands when these tires are awesome and they have 3 new tires coming. There are only two right now.


Andy- I use the motor mount and clutch stuff they work great. Call me
10-01-2009, 07:59 PM
Tech Master
Join Date: Feb 2004
Location: Roseburg OR
Posts: 1,393
awesome wear!!!
---
Totally agreed. The vp pro tires last 3 times longer than any other tire I have ever tried. And the best part is they still hook up!
10-02-2009, 03:29 AM
Tech Adept
Join Date: Mar 2009
Posts: 125
---
And they hook on every kind of surface. I cant wait to try out the new tires coming out!
10-02-2009, 03:06 PM
Tech Master
Join Date: Nov 2005
Location: North Port, Florida
Posts: 1,116
---
Here
is my ugly Mug too. Look for me at the East Coast Races. The Truggy Tires are awesome.
They are the lightest ROAR Legal tires on the market also.
10-02-2009, 03:10 PM
Tech Master
Join Date: Nov 2005
Location: North Port, Florida
Posts: 1,116
---
I was just informed that VP-Pro USA is now offering USPS shipping on their website for small items starting at just $2.95, so it is easy to get small items like clutch shoes and tire glue. The site it looking better all the time.

C-ya at the RC Pro Series this weekend.