Is the 2.0 8ight wing sit higher then the 1.0 truggy wing
06-23-2009, 05:11 PM
Is the 2.0 8ight wing sit higher then the 1.0 truggy wing
---
I know its a stupid question but I am putting a Jconcepts Punisher body on my 1.0 and I am not overly thrilled with the wing mount location...its basically perfectly level with the body. Maybe this a good thing I dunno. Any suggestions are welcome. I am just looking at some of the photos of 2.0's and the mount looks like it sits noticeably higher. Maybe the mount is longer i dunno. Maybe I am being overly picky. I can take some pics to show what I mean after i cut the rest of the holes.
06-23-2009, 06:03 PM
---
Now that its all mounted up this is what it looks like. It seems that this is as low as I can get the body. I dunno.
06-23-2009, 06:38 PM
Tech Regular
Join Date: Jan 2009
Location: TX
Posts: 421
---
I want to buy that same body for my 1.0. I'll be watching this thread for results
.
06-23-2009, 08:04 PM
---
BTW I am putting some stickers on....lol. So the shock tower sits lower, good to know. Are the shocks the same length or different also. I can get a rear tower cheap enuf on flea-bay.
06-23-2009, 08:11 PM
Tech Adept
Join Date: Dec 2008
Posts: 237
---
Wait WOW hold on i actually like the way that looks
06-23-2009, 09:11 PM
Tech Addict
Join Date: May 2009
Location: Pittsburgh, PA
Posts: 611
---
The shocks on the 8ight-T 2.0 are much longer than the 8ight-T shocks. The front shocks on the 8ight-T 2.0 are the same length as the rear shocks of the 8ight-T. The Droop settings on the 8ight-T 2.0 are roughly 110mm in the front and 130mm in the rear opposed to 96mm and 107mm.
06-23-2009, 09:15 PM
Tech Addict
Join Date: May 2009
Posts: 512
---
Thats doesnt look half bad. More pics for side and straight on?
06-23-2009, 09:19 PM
Tech Addict
Join Date: Jun 2009
Location: On a boat
Posts: 717
---
my CEN is the same way i kinda like it, seein your truck makes me want to buy another body, that thing looks awsome great job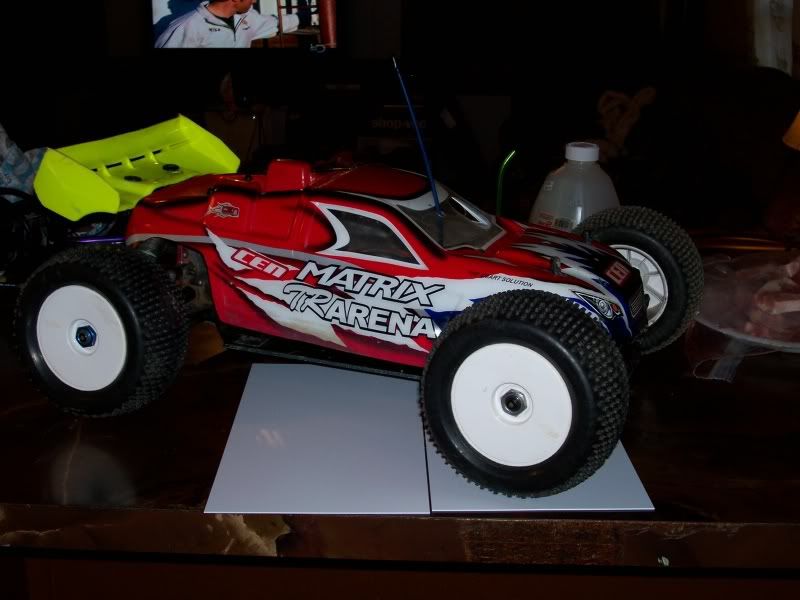 06-23-2009, 09:54 PM
---
Thanks...Im diggin it too kinda. I will apply some stickers and take a few more shots. Its just when I originall saw the pics of this body the wing sat much higher. I guess I just need a 2.0 rear shock mount and I will be in business.
06-23-2009, 10:05 PM
Tech Master
Join Date: Feb 2009
Location: North Hills, CA
Posts: 1,283
06-23-2009, 10:17 PM
---
LOL...My wifey said the exact same thing!!!
A few more stickers...
06-23-2009, 11:09 PM
---
The 2.0 rear mounts are much lower than the 1.0. This is why your wing sits right on top of the body. It all boils down to aerodynamics and how the air moves over the body at speed. The wing is designed to apply additional downforce on the rear of the truck to give the rear more bite. If you look at a side profile view and the wing is continuos with the body of the truck the downforce is altered and the wing is not as effective. You will need to drill new holed for the rear body mounts to drop the body down. Thats all it is.