The Tigre's Lair - The Sequel ...My Pit Trailer Project II
06-11-2009, 01:38 PM
The Tigre's Lair - The Sequel ...My Pit Trailer Project II
---
As most of you who have raced with me know, I have been trying to sell my Pit trailer so I can upgrade to something larger with more headroom and more wallspace. Well I finally sold it and ordered a 7x16 on Ebay.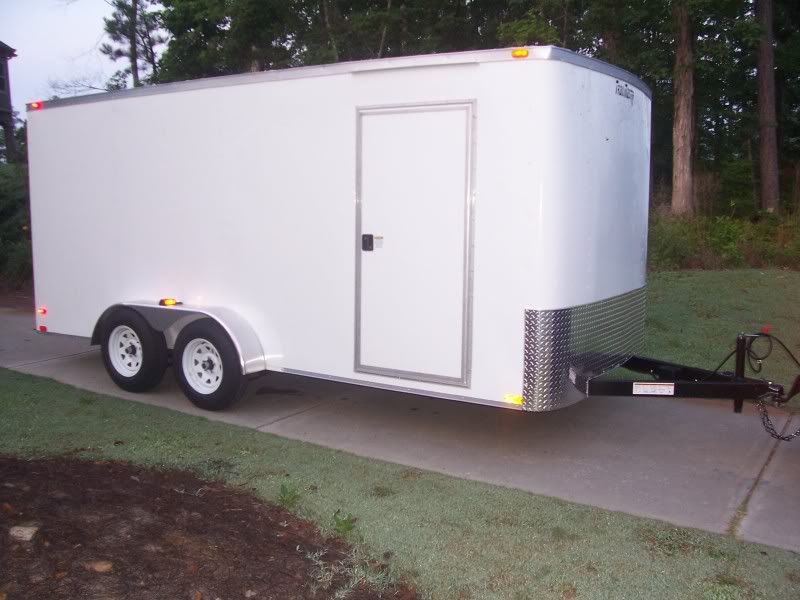 This puppy has tons of space and I special ordered it with 6'6" ceilings. No more bumping my head when I stand up.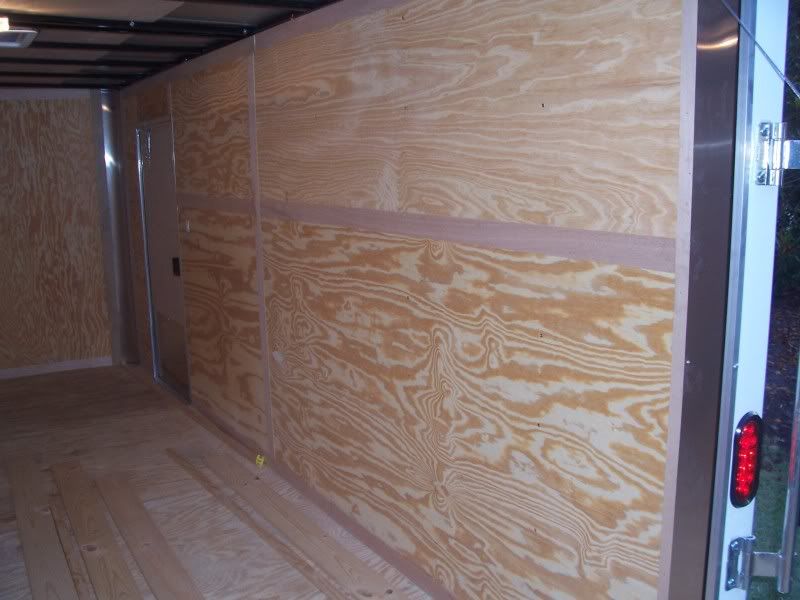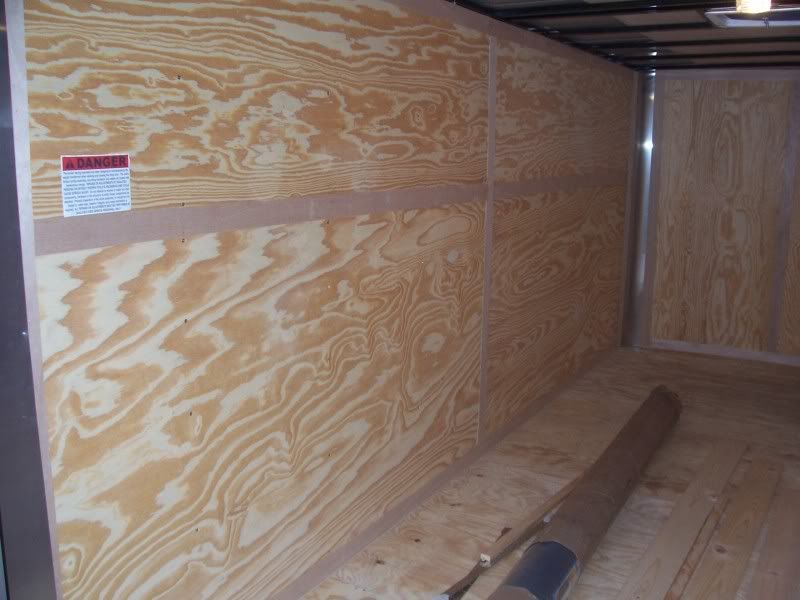 Much like the build thread on my previous trailer I will detail every step of the build so stay tuned.
06-11-2009, 01:42 PM
Tech Initiate
Join Date: May 2009
Location: Jonesboro, GA
Posts: 34
---
Very nice! I can't wait to see what you do with this one. The last one was NICE!!!
06-11-2009, 02:04 PM
---
06-11-2009, 02:21 PM
Tech Initiate
Join Date: May 2009
Location: Jonesboro, GA
Posts: 34
06-11-2009, 02:27 PM
Tech Regular
Join Date: Mar 2009
Location: Sierra Vista, Arizona
Posts: 252
---
Very cool, I followed your first pit trailer build on RCUniverse and it was awesome, can't wait to see how this one turns out! Subscribed!
06-11-2009, 03:18 PM
Tech Master
Join Date: Mar 2009
Location: NorCal
Posts: 1,914
---
very cool would like to have one of my own . so it is going to
be fun to see it come together step by step and may inspire
me to get off my butt and get one going.
good luck and keep us posted
06-11-2009, 06:59 PM
Tech Master
Join Date: Feb 2008
Location: Tampa, Fl
Posts: 1,693
---
they really do sell everything on ebay... i'm watchin' too.
06-11-2009, 09:22 PM
---
Okay, let the adventure begin.....
In my last trailer I used framed pegboard on the walls, and I ran the electrical wires behind the peg board. This time around I'm using Slatboard which will be directly screwed into the walls. So I'm going to run the wires above the slat board and build a crown lightbridge on both sides to cover the wires and screw the lights and outlets onto the lightbridges to maintain a professional appearance. Here I'am clamping a 1x2 to a 1x6 so I line up the hinges. The 1x6s cost about $5 and the 1x2s cost around $3 and I brought 4 of each so the wood ran me about $40 bucks.
I'm going to connect the wood with hinges so I can swing the lightbridges down to make light installation easier. To save money I got two 24 in door hinges at $7 a pop and cut them up into 4 in sections. Remember kids, safety first! Always use eye protection!
Here is the first lightbridge with hinges attached. The gameplan is to screw the 1x2s into the wall and screw the 1x6s into the metal rails in the ceiling at a 45 degree angle so that the lights will shine directly on the countertop giving me better visbility.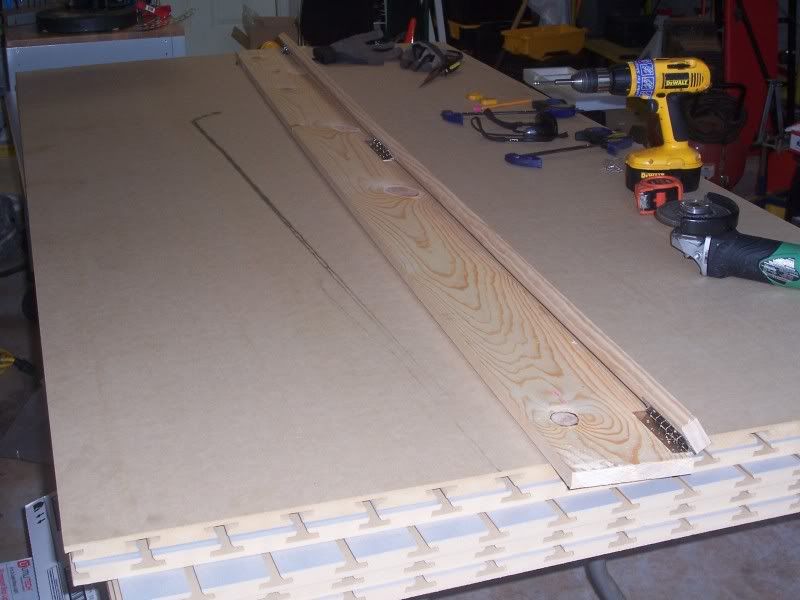 Installing the first set of lightbridges into the left wall.
Left wall is done, now starting on the right wall.
Both sides are up, and the fit is good. Now it's time to sprinkle some pimp juice on this sucka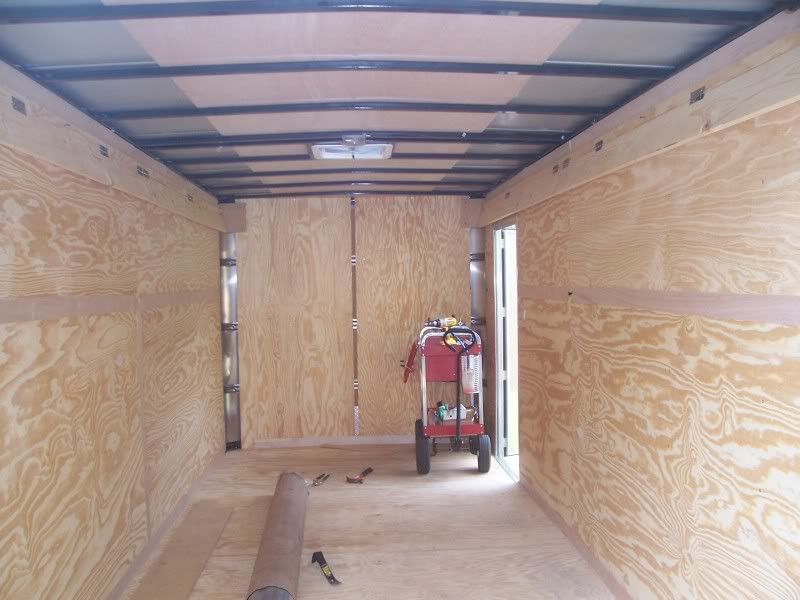 To amp up the bling factor, I'm covering the lightbridges with aluminum flashing. The flashing runs about $24 for a 10" x 50' roll. I'm a huge fan of aluminum. It's the poor man's stainless steel.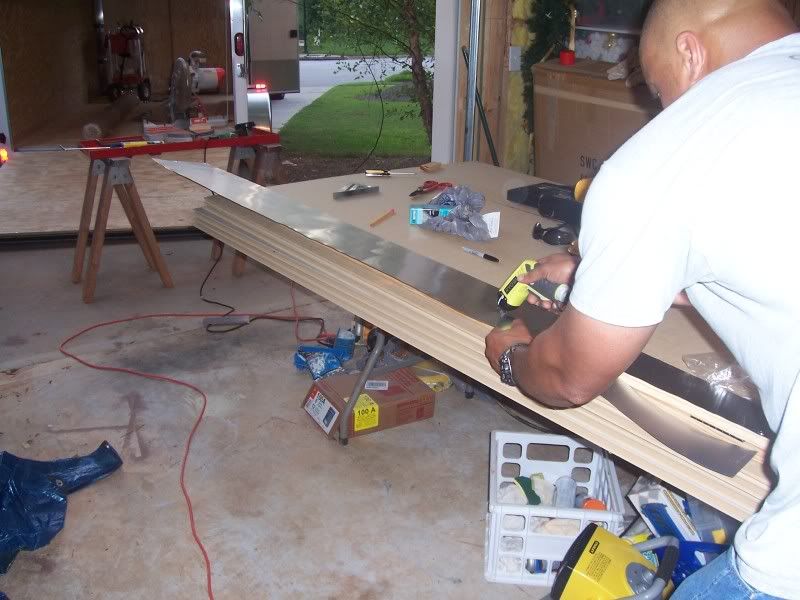 The aluminum flashing is extremely thin and very easy to cut with metal shears. Once I cover all four lightbridges, I will reinstall them and prep for electrical.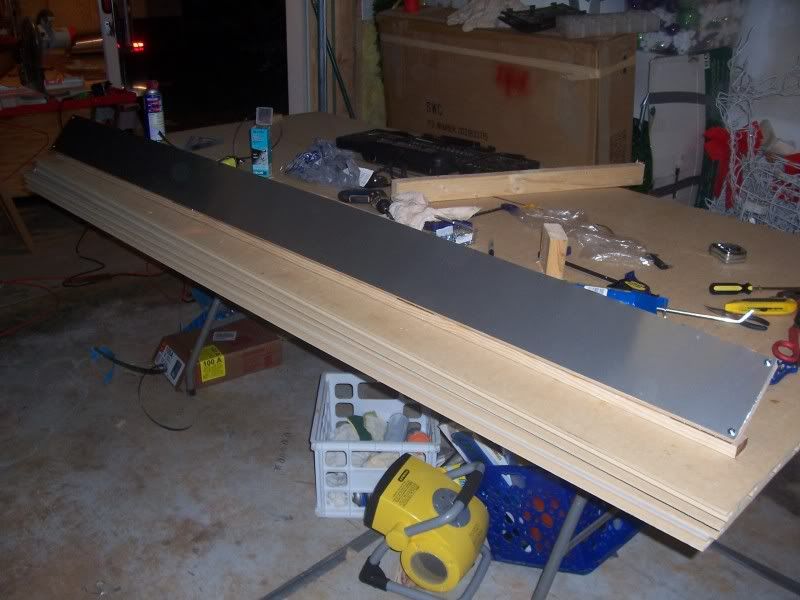 Excellent!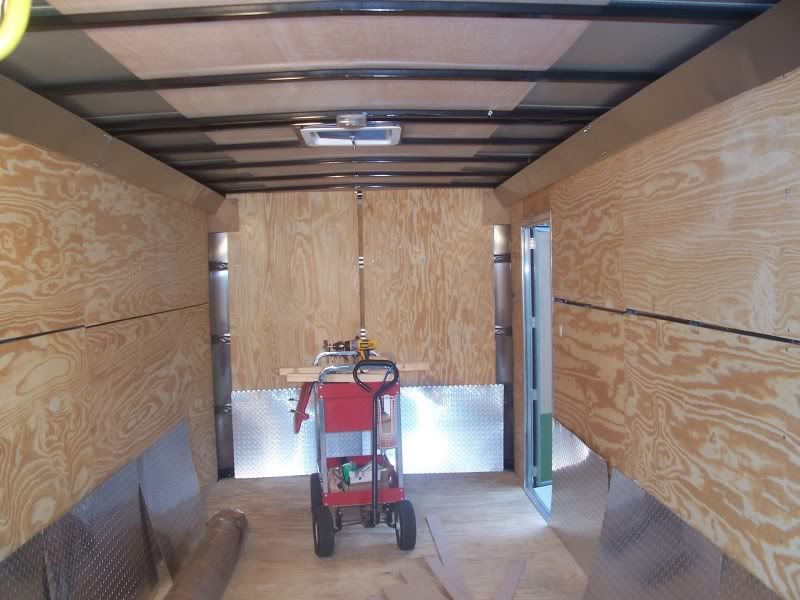 Left side looks good. Very pimpish...very pimpish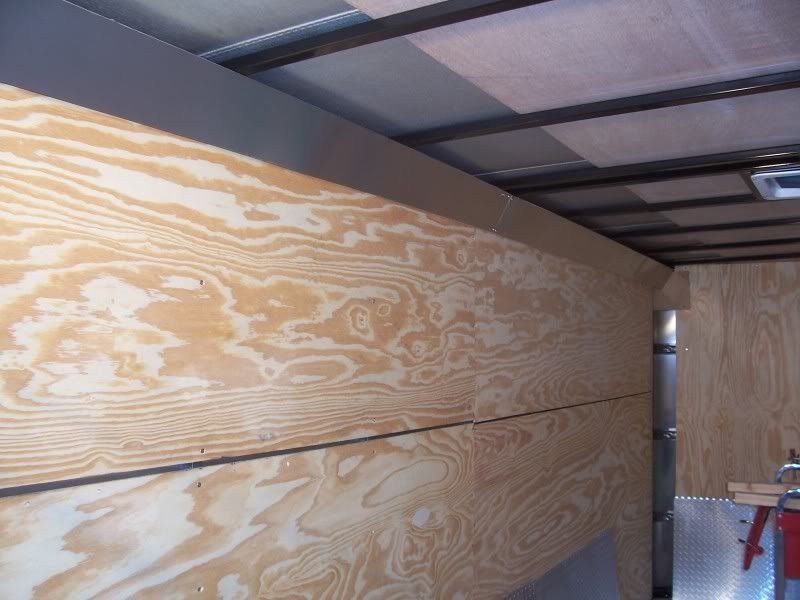 Right side looks good. So far so good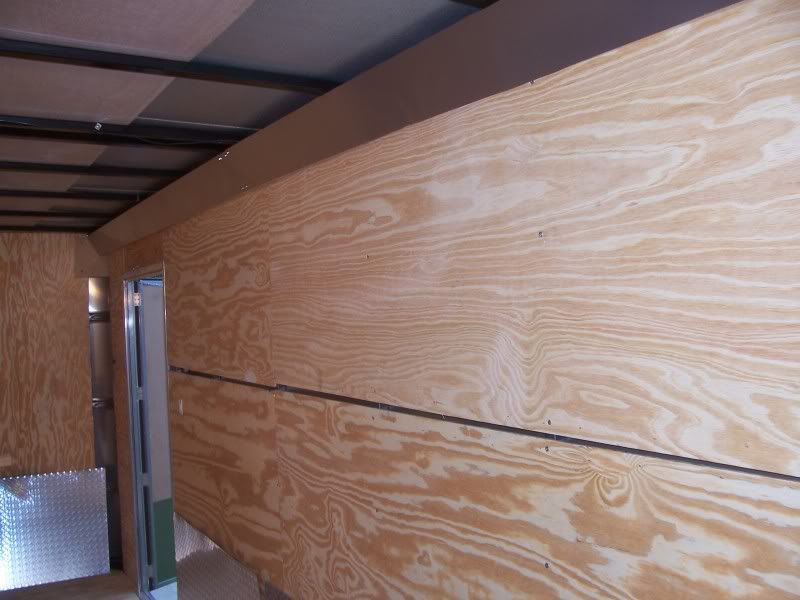 06-11-2009, 10:22 PM
---
Are we allowed to ask questions as you proceed...OK Good!...
In the photo you have the hinged beams installed with no aluminum flashing...then you are adhering the flashing..did you take them down to put the bling on or are those different pieces?
how did you secure the beam to the roof after you swung the beams up to the 45 degree angle?
06-11-2009, 10:38 PM
Tech Addict
Join Date: Mar 2009
Posts: 725
---
Looks good so far. Keep us posted. Are you adding an a/c unit
06-12-2009, 12:41 AM
Tech Master
Join Date: Oct 2002
Location: Strathroy, ON
Posts: 1,190
---
nice trailer. Myself and 2 fellow racers have converted a 28ft camper into our pit. Lots of fun engineering the whole thing then the build. Good luck with your build, looks like you have a good start.
06-12-2009, 04:00 AM
Tech Adept
Join Date: Dec 2005
Location: Atlanta GA
Posts: 104
---
Cool! I used to see guys like you when I raced buggy. Those were the serious dudes! These guys had the trailor all decked out w fans and lighting.