Z-Car ZMXT-8 Z-Truggy
05-27-2009, 09:59 PM
Tech Adept
Join Date: May 2009
Location: Geelong, Australia
Posts: 175
---
Im looking to convert my truggy from the pullstart to a box start can anybody tell me if the DYNAMITE DYN0960 PULL-START ELIMINATOR formerly the SWK8057 backplate will work on the LRP/SH .28 pullstart?

also are the buggy engine mounts the same size as the truggy ones? i can only find the buggy ones here in australia.

thanks in advance for any info to help me with this.
05-28-2009, 06:53 AM
---
I know the backing plate will work, you should cut the crank pin.

Nice truggy monkey!!
05-30-2009, 08:17 AM
Tech Master
---
Oooow Paint day, I hope to have her on the track this week!! I can hardly wait, Real tempted to do an "Easyryder" paint job!!
05-31-2009, 05:38 PM
Tech Master
---
Pics of new Truggy paint..I am Surley not a painter!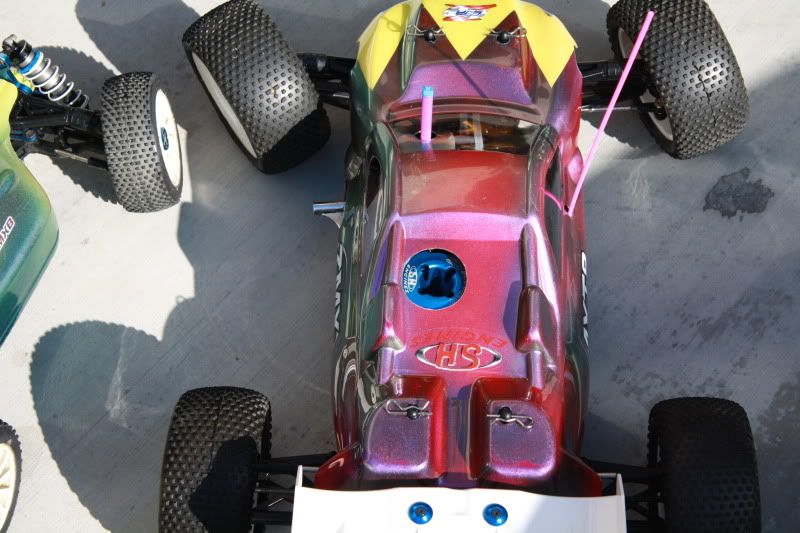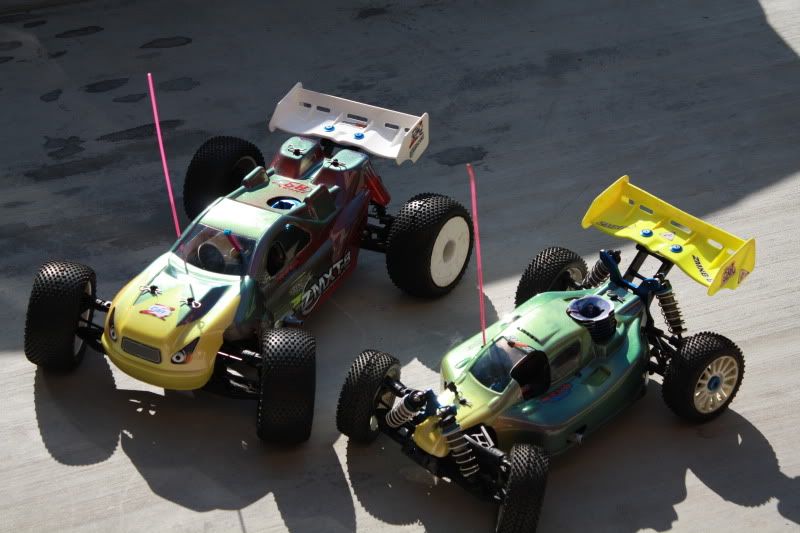 Race report soon!
06-01-2009, 05:15 AM
Tech Elite
---
Ran mine Saturday at Pineland RC, was gonna be a trophy race, but not enough showed, so it was a practice day, followed by an Ironman race , which I am proud to say my Z-Truggy won!
The guy that beat me in Pro last time was not able to do anything with me in practice, and I was chasing one of our fastest team drivers, so I am getting in the groove big time with our Z-Truggy!! I will post my setup as soon as I get a chance, I love this truggy!
06-07-2009, 12:53 AM
Tech Elite
---
3rd tonight in the 1st round of Hot Summer Nights series. I LOVE my Z-Truggy!
Mine and Jay'z Z's bodies done at our Team Painters, I dunno which is mine and which is his, but I would be thrilled with either!!!!!!
06-07-2009, 03:17 AM
Tech Addict
Join Date: Mar 2006
Location: Tucson,AZ
Posts: 582
---
That's some sweet paint fo sho
06-08-2009, 03:29 PM
Tech Elite
---
We have Z new cnc braking system in now, its beyond bad.
When the bodies come in later this week I will take some pics, we also have some buggy bodies (3) on the way as well!!
06-11-2009, 12:38 AM
Tech Master
---
Ran Truggy 1st time out, Got Second,
One Word For Now, Cause I am Tired...
AWESOME!!!
06-11-2009, 12:50 AM
Tech Master
Join Date: Jul 2006
Location: Bakersfield Ca
Posts: 1,097
---
Yeah monkeys truggy works good..I got to test drive it tonight.....Real nice truggy..If I wasn`t so invested with my Jammin trug I woud be runnin a z ride for sho

Oh and that AB mod Sh .........Its a ripper,,very very smooth can`t go wrong with that mill
06-12-2009, 08:14 PM
Tech Elite
New Team Z-CarUSA graphics!
---
Makes me wish I was running a white wing and wheels
I probably will be soon though
06-12-2009, 09:33 PM
Tech Elite
Join Date: Apr 2007
Location: The Aloha state
Posts: 3,091
---
nice ride! I wish I had one of those! soon, real soon............
06-12-2009, 10:19 PM
Tech Master
Join Date: Jul 2006
Location: Bakersfield Ca
Posts: 1,097
---
MR what engine is that in your truggy
06-13-2009, 12:53 AM
Tech Master
---
Looks nice!
06-13-2009, 04:54 AM
Tech Initiate
Join Date: Apr 2009
Location: Columbus, GA
Posts: 46
---
REALLY NICE