Z-Car ZMXT-8 Z-Truggy
05-18-2009, 06:06 PM
Tech Elite
---
No doubt! Truggys are more popular there I have heard, so I am getting a RTR Z-Truggy to them. Its gonna be in tomorrow or Wednesday, and I will get it all broken in, and make sure everything is locktited, and send it out to Bagdad International Speedway next week!
Truggy pics
http://www.z-carusa.com/pics/thumbnails.php?album=5
---
Last edited by MadRussian; 05-18-2009 at

06:16 PM

.
05-19-2009, 07:11 PM
Tech Elite
---
Started the break in process on the SH.28 in the RTR mostly done, runs nice and has a super Airtronics radio.
05-20-2009, 06:17 PM
Tech Adept
Join Date: May 2009
Location: Geelong, Australia
Posts: 175
bodys
---
does anybody know what bodys can be made to fit the truggy?
Im looking for somthing a bit more Sleek looking.
i was thinking about trying a reckward Tuning body or somthing like an RC8T body.

any input would be good, Thanks
05-20-2009, 08:30 PM
Tech Regular
Join Date: Jun 2008
Location: Erie, Pa
Posts: 255
---
I know personally the HotBodies D8 buggy body fits the buggy like a glove. I bought the jconcepts version and it looks awesome. I don't know that anyone has tried the Truggy swap yet but one would think it's the safest bet
05-20-2009, 09:53 PM
Tech Adept
Join Date: May 2009
Location: Geelong, Australia
Posts: 175
---
the D8T body would be sweet, It was actualy the first i looked at, but the D8T looks longer and the motor pops out the cabin roof so i kinda assumed it would not fit. ill do some research Ithink and figure out the measurements.

Cheers.
05-26-2009, 03:39 PM
Tech Elite
---
Any update on the body?
I actually am digging the stock body, I have the optional 1.5mm body at my painters getting the Z-Army treatment.
The one I have on it was a hour long quickie job the night before PIneland RC's grand opening
Had a blast last weekend before we got rained out, my engine was still really, really tight so it wasnt making the hp I needed (esp on bottiom) but still got 7th Pro Truggy and had some awesome lap times and great duels, and a ton of people came up and remarked that it looked really good out there!
Everyone came and looked at it and tripped out on how light it is, and the unique design features!
I have since ran about a half a gallon through it, installed 1.1 mm clutch springs and a ss-tech outlaw truggy pipe.
I cant wait to getit on a track, it was absurdly fast running in my yard, I know my neighbors HAVE to be pissed at me, lol
05-26-2009, 05:56 PM
Tech Master
Join Date: Nov 2006
Location: Freeport Texas
Posts: 1,007
---
Pics of mine..
Still need to paint a body! That "Sheen" is from Nitro!!! Virgin Run for the SH ride last night!!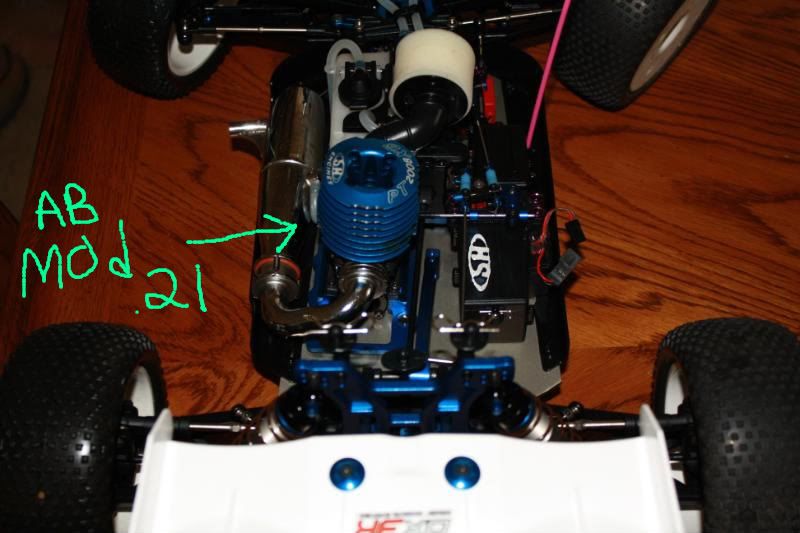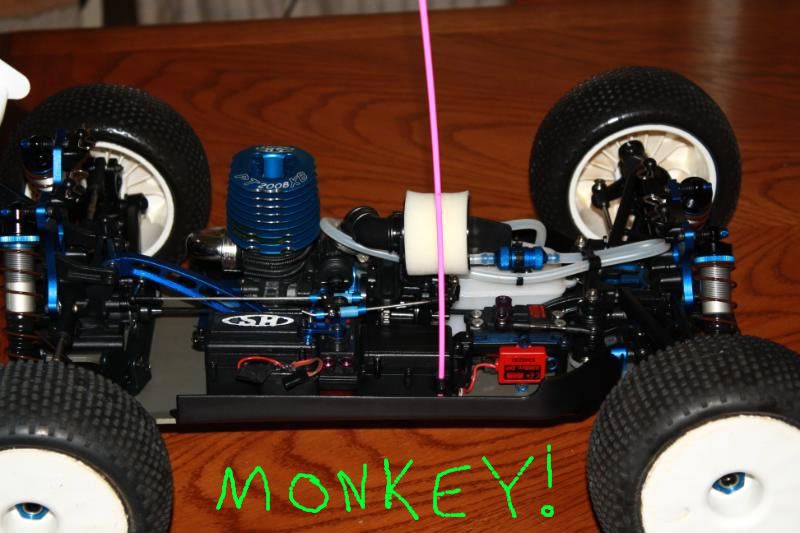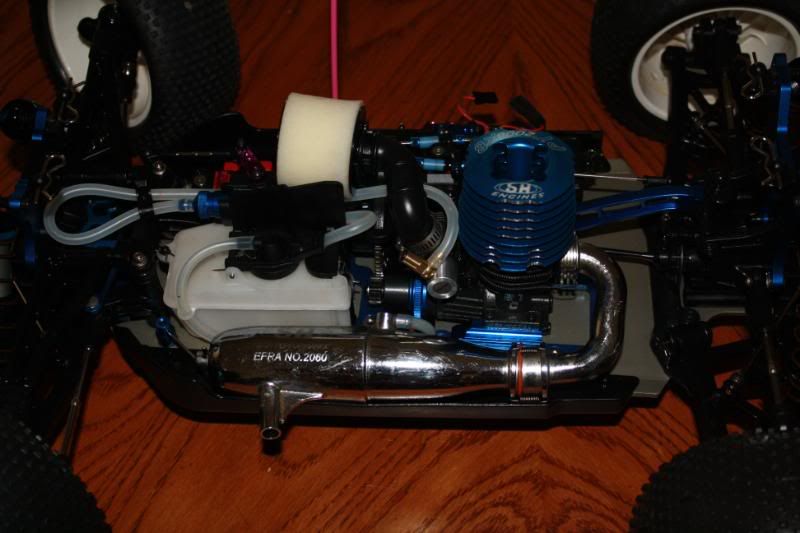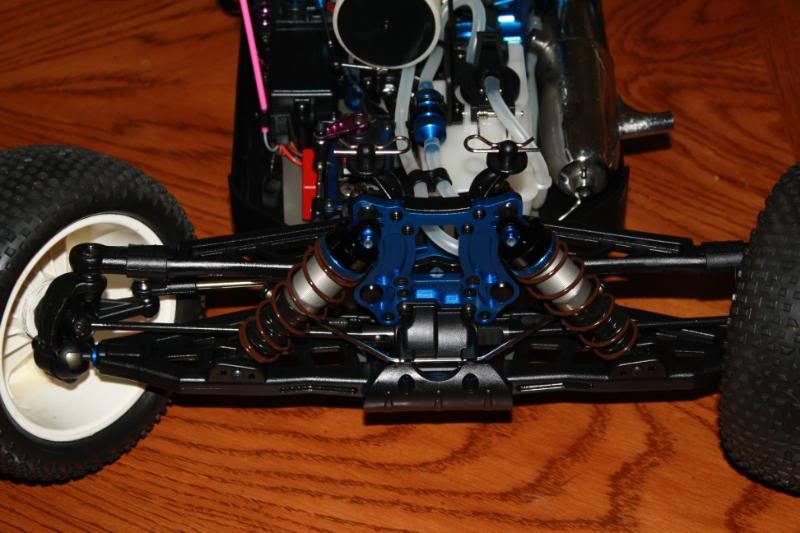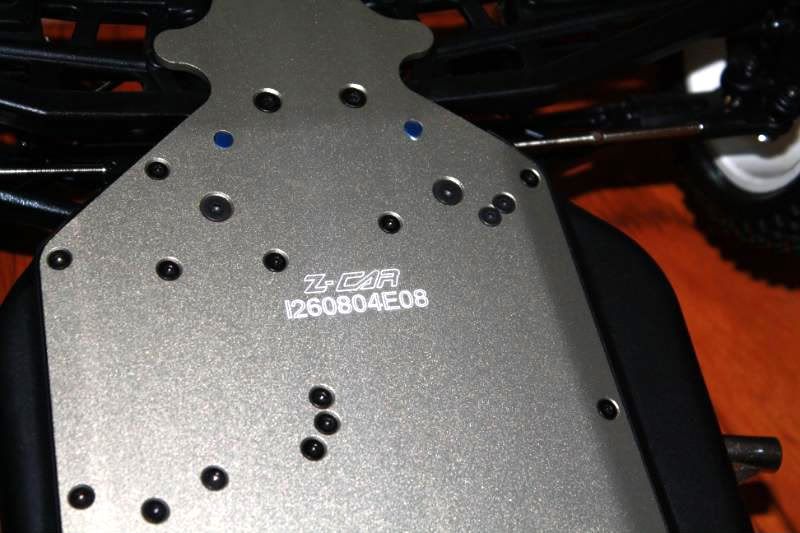 05-27-2009, 12:08 PM
Tech Elite
---
So how is this truggy performing? I had the buggy and loved it but didn't like the brake set up. It had too much brake fade on mine. How is the truggy holding up? Does it come with tires, wheels, pipe, etc? Talking about the pro not the rtr. thanks
05-27-2009, 12:34 PM
Tech Adept
Join Date: Jul 2008
Location: toronto
Posts: 192
---
sweet trugg!
can we get some shot's of the brake's? and how do you adjust camber?
thnx
05-27-2009, 01:21 PM
Tech Elite
---
Neesh--Degani was running 2nd and 3rd at the Wiregrass Indoor Nationals until the grub screw came out. My 1st race ever with it I ran 2nd for 43 minutes of a 45 minute main and my engine flamed out due to a bad clutch bell bearing. So in other words its performance is awesome!! Its very light, thats the 1st thing everybody says when they pick it up.
How it drives? Nimble like a buggy, with the stability of a truggy...simply awesome. The 1st batch didnt come with tires, foams and pipes, but they are sending them over to correct that screwup (as well as fired teh person responsible), so everybody that has bought a truggy from us will get these soon!!! The brake pads are made from a newer material which reduces fade, but if you want to have the ultimate break setup we offer
The stock brake setup
Camber is adjusted the same as the Z-Buggy, the turnbuckles in the back, and turnubuckles in the front, of course teh front ones are covered by the patented plastic sliding cover, which adds additional strength to the arms.
I will have a downloadable Truggy setup sheet this afternoon/evening on our www site
05-27-2009, 01:58 PM
Tech Elite
---
I like the looks of the new brake material. does it come with the truggy or is it an option item? If I order the truggy, will it come with wheels and tires? Sorry but I didn't catch what you wrote. thanks
05-27-2009, 02:24 PM
Tech Elite
---
Hi neesh, the Pro truggy will come with wheels, and pipe, tires and foam will be shipped out in about a week.
The brakes that are billet gold are optional, and run about $58.
I am a huge fan of the stock brakes however, I havent ever noticed fade, but 2 Team driver said they did, and are now using the new compound brake pads, which came out about 2-3 weeks ago as a running change in production.
05-27-2009, 02:51 PM
Tech Elite
---
Thanks MR. I think I'll wait til the running changes are made, ie tires, foams, and brakes before I actually order it. Thanks again
05-27-2009, 03:22 PM
Tech Elite
---
Like I posted, the brakes were already made as a running change, and on all the Truggys in the USA already.
The tires foams and pipe will be shipped out to all our clients who have already bought a Pro truggy kit, and should be in for me to add them myself to the kits next week.
When you get one you will love it I am sure; I so do not miss my 8T one bit
05-27-2009, 06:27 PM
Tech Elite
---