problem with my savage x 4.6
09-14-2008, 07:09 PM
problem with my savage x 4.6
---
i have a savage x 4.6 and the last time i ran it it was only working in front wheel drive. can you please tell me what i can do to fix it?

thanks
09-15-2008, 10:07 PM
---
09-15-2008, 10:23 PM
Tech Regular
Join Date: Apr 2006
Location: lewiston ID
Posts: 277
---
is the noise coming form the trany or the rear end. you may have took out a rear diff.
09-16-2008, 11:08 AM
Tech Initiate
Join Date: Jul 2008
Location: Romulus MI
Posts: 25
---
I would take a look at the rear diff.
09-16-2008, 07:51 PM
09-16-2008, 09:52 PM
Tech Master
Join Date: Mar 2006
Location: An Offroad track near you!!
Posts: 1,097
---
Yes .. you can get the bearings or the gears ... I'm guessing the stock rear diff went out. Is the pinion and ring gear ok? Also, it's a must to shim the diff closer to the pinion to tighten up the gear mesh other wise when under load the plastic diff housing will flex and you will chew up the teeth. I've been racing savages for a long time, and HPI released a upgrade diff kit with aluminum diff housings and spider gear shims to tighten the mesh in the diff and prevent flexing internally. I can't find the part number for this kit, but I know that you can get the parts to build one. I'll look once I get home for the part number and post it.
I'm curious as to what gear went out. That will tell a lot of what you need to do when you rebuild it. The other option is to buy a complete diff, but I would go through it and of course shim it.
Here's the diff parts sheet... this should help find the parts that failed.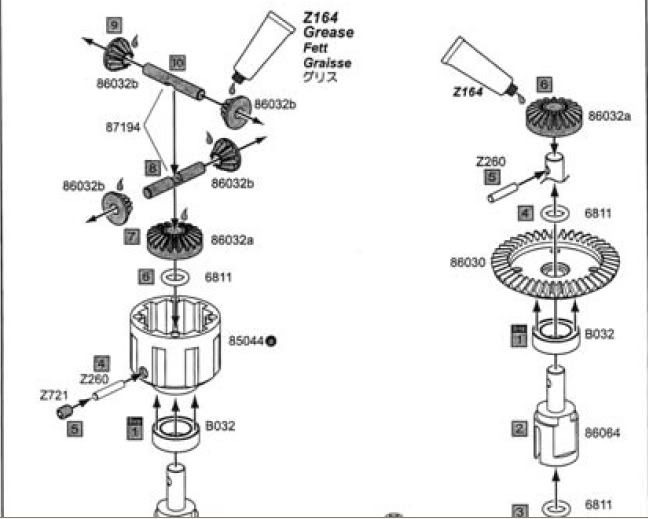 ---
Last edited by offr0aden; 09-16-2008 at

10:23 PM

.
09-21-2008, 08:28 PM
---
I took the differential apart and the only thing that was wrong was the bearing went out. everything else was perfect. i repalced the bearing and put it back together and started it up and it runs perfect.

Thanks for helping me out.
---
Last edited by ZH; 09-24-2008 at

07:03 PM

.
Currently Active Users Viewing This Thread: 1
(0 members and 1 guests)
Posting Rules
You may not post new threads
You may not post replies
You may not post attachments
You may not edit your posts
---
HTML code is Off
---