New XRAY 808
05-07-2008, 09:20 PM
Tech Addict
Join Date: Dec 2007
Location: so Cal.
Posts: 603
---
I had to shim mine, one shim in front and two in the rear. I like to shim mine a little close at first until they wear in during chassis and diff break in period . Then I will check again after a good day of running ,and after that I'm good to go.
05-07-2008, 10:24 PM
---
Finished building (well 98% of it) my 808 last night and it went together really good. I LOVE the new shocks, they are really really smooth and amazingly light weight for their massive size. The new seal pack at the bottom is so easy to build it is just ridiculous. The only problem I had was that one of the rear arms was a tiny bit tight on the inner hinge pin hole, which was easy to fix with a few quick passes from my Hudy arm reamer. Everything on the car look really great. I can't wait to get the body painted and final assembly done so I can go drive it!
05-07-2008, 10:26 PM
Tech Master
Join Date: Dec 2006
Location: Coral gables, Florida
Posts: 1,266
---
Mine also took 1 shim in the front and 2 in the rear.

The only dificulty I had was with the front arms. They were a little tight on the hinge pins.
05-07-2008, 10:34 PM
Tech Apprentice
Join Date: Sep 2007
Posts: 84
---
Has someone perhaps weight a 808,say with proline tires and empty tank.I have a 8ight and want to change,what do you guys think?
05-07-2008, 11:38 PM
Tech Addict
Join Date: Dec 2007
Location: so Cal.
Posts: 603
05-07-2008, 11:38 PM
Tech Addict
Join Date: Jan 2007
Location: AUCKLAND NEW ZEALAND
Posts: 715
---
a freind of mine had his weighed at our last big meet and is was 3260 g race ready with empty tank and my 8 was 3320g with the same running gear so they are lighter that the 8 but not by much.
much more stable car and it makes the 8 look like a brick over jumps
Adrian
---
Last edited by RETRO RC; 08-10-2008 at

03:37 PM

.
05-08-2008, 12:03 AM
Tech Addict
Join Date: Sep 2005
Posts: 743
New 808 hits the track....
---
Well lets just say.... its been a long time coming! I'm back in a big way!
World Domination BEGINS!!!!!!!!!!
.....oops got a little carried away... sorry guys!
Seriously, this 808 buggy is insane... I've had two Losi's, and well that buggy just doesn't even compare!
I ran out of orange paint and totally screwed up my paint job hence all the stickers, but I'm ready to rock this sucker!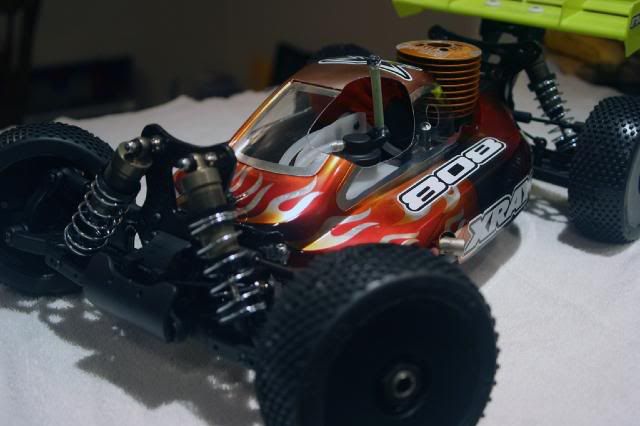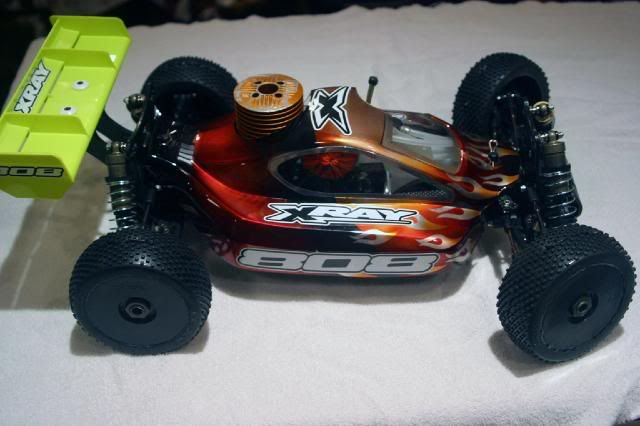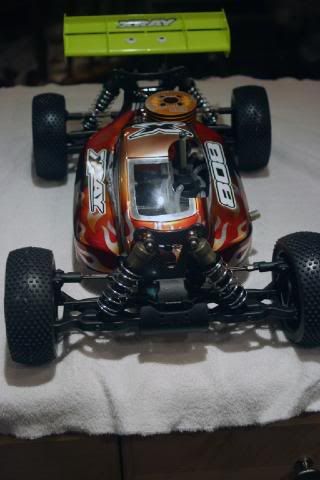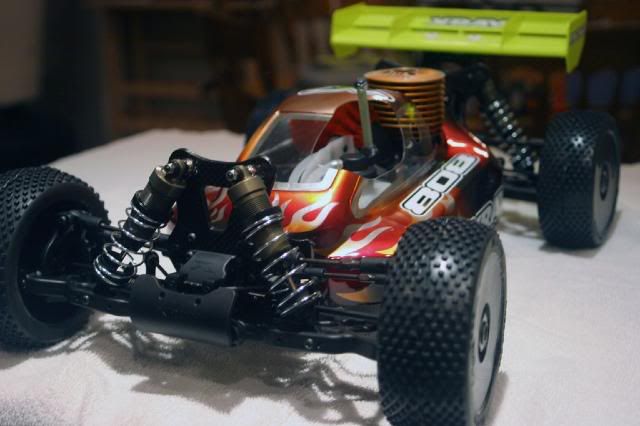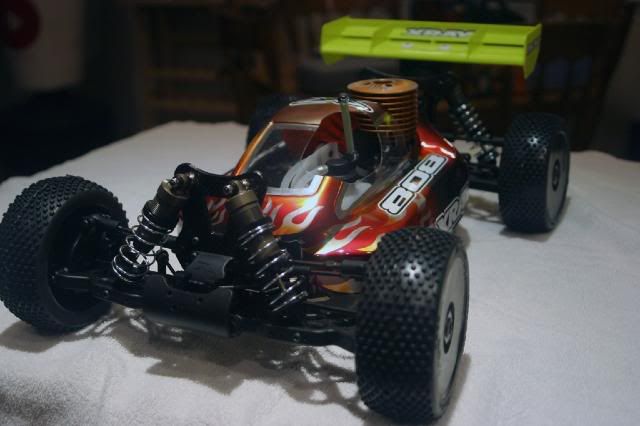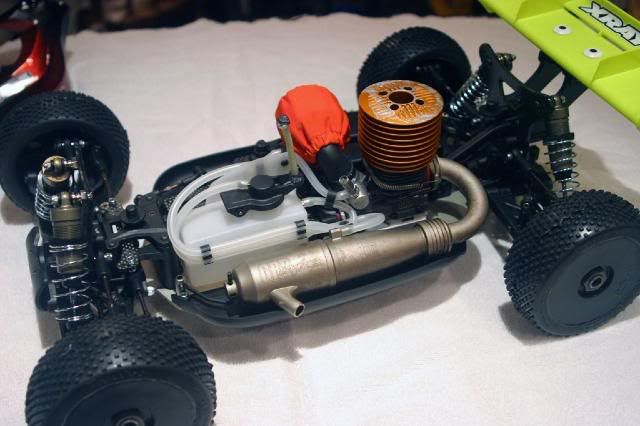 Will follow up with setup sheets as I dial...
Oh ya you can get those filter covers on UndergroundRC, in tons of different colors... they work very well!
05-08-2008, 01:49 AM
Tech Addict
Join Date: Jan 2005
Location: New Zealand
Posts: 557
---
I think those weights are abit out Adrian.
Mine weighs 3268g with no fuel. Mines got abit lighter since the North Islands, but I'm pretty sure Tims is about what mine weighs now.
05-08-2008, 05:00 AM
Tech Master
Join Date: Jan 2006
Location: Central NJ
Posts: 1,748
---
UPDATE!
Team Xray XB808 screw kits are now in stock!
Team Xray XB808 325-piece high grade 12.9 alloy steel socket head screw kit. Kit includes all applicable cap, flat and button head screws, as well as nuts, washers, lock washers and set screws.
Please note: The kit does not include the 3.5mm x 22mm and 3.5mm x 45mm diff screws. It also does not include the 4x10mm flanged button head motor mount screws (Xray part # 911410). These are specialty items. Please purchase these from your nearest Xray parts supplier.
Thanks and best regards,
05-08-2008, 05:05 AM
Tech Master
Join Date: Jan 2006
Location: Central NJ
Posts: 1,748
---
This is the easiest way to pre-thread holes that 3mm button heads or 3mm flat heads are going into. I HIGHLY suggest getting a cordless screwdriver if you don't have one. Once you own and use one, you'll wonder why you waited this long....LOL
I also suggest replacing some of the button heads with cap heads for the same reason. They are much easier to get in and out with the larger 2.5mm hex socket. If you're in the middle of a long race and break (or even in warm-ups) and need to get back to the pits to quickly change a part, the cap heads make life much easier (especially if there is dirt in the hex socket which is very common on screws like the lower shock mounts).
05-08-2008, 08:38 AM
Tech Addict
Join Date: Dec 2005
Location: MasshoL3
Posts: 715
---
agreed. I have already taken a few screws from my Mugen "extras" for this reason exactly. The upper and lower shock mount screws, and the sway bar lower mount screws (which are a pain to access without a ball tip driver and once they are 2.5mm cap heads you can use a ball tip driver without worry of stripping)
I have almost completed the build....only thing left is the shocks. I did have an issue with one of the front CVDs. The little metal insert which the pin goes into had some burrs on one end. When i assembled it, there was major binding. After staring at it for 15 minutes i decided to dissassemble it, chuck a wooden q-tip in the drill and run it through for a few seconds...problem solved. (big relief..i was nervous that the part was machined incorrectly!)
...man i wish there was a yellow wing included instead of white!
The car is REALLY easy to build. I would put it on par with Mugen quality...which IS saying a lot.
05-08-2008, 10:03 AM
Tech Master
Join Date: Aug 2004
Location: • 210 •
Posts: 1,436
---
On the subject of the small shims for the diff that are explained on page 5, IMO, it is not neccesary to use them at first build, and that is why they are not shown on page 6. As the diff gears(ring and pinion) wear in, then you may need to shim the ring and pinion tighter to tighten up sloppy mesh. I MAY BE WRONG. Or maybe I just got lucky cause mine seem perfect w/out using any shims. (I have had to do this w/ almost every buggy I've ever run....Ass. Mugen, Jammin, Kyosho, Etc.....

Rocco, feel free to correct me if I am wrong or misread the directions.

I haven't heard much talk of clutch shoes and springs. Any body try different springs????

Thanks, Dan Reino
SShhhh, but I have never run a shim in my diff in any of my cars... I ran one shim on each input pinion gear in my XT8 and that's it. The HUDY steel is so hard that it actually requires a looser gear mesh than what most are used to. So if you break a spur gear, your mesh is too tight, its weird but, its one thing we've found. Slop is not bad in the drive train with the hardness of the HUDY steel.
7.15 lbs on that scale (~3240g, so 40g over minimum weight)
05-08-2008, 10:21 AM
Tech Elite
Join Date: Sep 2007
Location: All 48 states...
Posts: 2,053
---
Nice pic! Now peel that sticker off the window box it up and ship it to Denver so I can salvage whats left of our series race here....
05-08-2008, 10:30 AM
Tech Regular
Join Date: Nov 2003
Location: Uppsala
Posts: 306
---
Regarding diff shims: you could also assemble the diffs with no shims at all and then (if needed) use Hong Nor #J20 shims that is mounted outside the bearings - see pic. They just come in one thickness though @ 0.2 mm. Its 4 in a bag...
I would guess they are available also in the US under the Jammin brand but I have no clue on what # they have over there.