OCM KAOS DOMINATING
10-21-2008, 03:20 AM
---
french EVO driver Laurent Dionis won last race
and regional championship this we.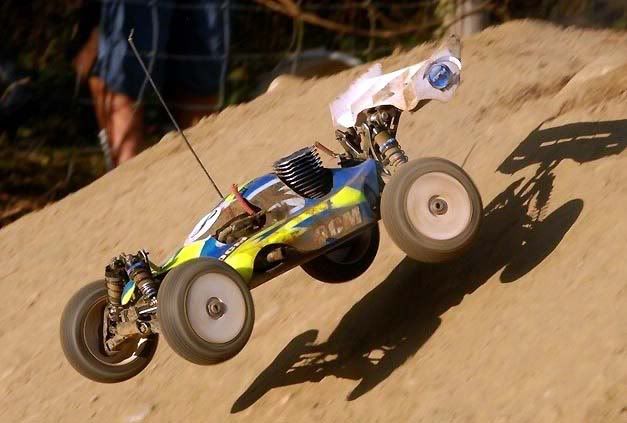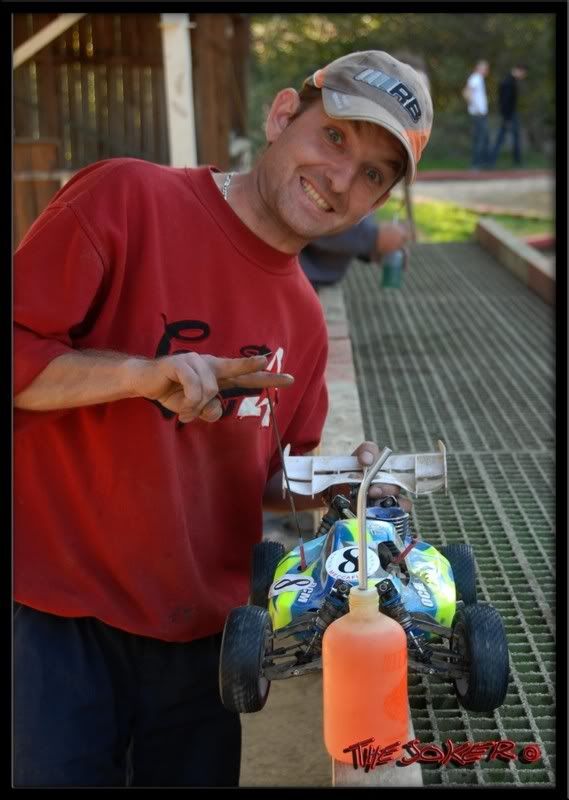 ---
Last edited by speedy2; 11-11-2008 at

05:52 AM

.
10-21-2008, 04:20 AM
Tech Master
Join Date: Jul 2007
Location: Planet Earth, 3rd Planet from the Sun
Posts: 1,119
---
Again, I'm no noob. I've had just about every top of the line buggy and truggy for the past few years and never had the problems with diffs that I had with the OCM.
After one particular race where it blew the diffs after a race, I replaced it, in its entirety. Everything new out of the package. New stuff I'd received from Alan B. at the time. As added insurance I had a couple buddies who are sponsored and long-time racers check the diffs before reinstalling.
Went out the next weekend and by the main, it blew out one of the diffs....
I see a few others have posted about diff troubles too....
Originally Posted by
speedy2
bushyar

you must be doing something wrong shimming

since 2 years now, I personally still race now all the diffs with all internals
also all gears and bell,from my old ocm PRO, being upgraded

basicely, I didn't replace any part yet
just the thin diffjoints, latest bulkheads has they come
and new shims and kyosho p6 o-rings this season
and all looks as new
I do put a little graphite powder with the oils in the diff though..

there certainly shouldn't be any problem
using the latest diffhousings and bulkheads
10-21-2008, 05:27 AM
---
didn't mean it like that..

I mean perhaps a bad badge of gears somewhere ? or confusion
going from one thin shim or joint, to thinner/thicker ones at a time..

I didn't have any problems at all with the pro diffs or gears
just the bulkheads must be looked after
but that's been taken care off now with the latest version ..

a pall of mine also blew his rear diff in a Amain
and he had no clue why it did ..
...then... he told me, he used mugen diffjoints.....these are 0.48 mm thick
ocm's being 0.18 thick, leaving a fat 0.3 mm play at the gears
---
Last edited by speedy2; 11-02-2008 at

02:15 AM

.
11-02-2008, 01:09 AM
Tech Initiate
Join Date: Nov 2008
Location: Australia NSW
Posts: 28
---
hey guys im new lol have u heard of the new OCM RTR im getting one do you think they would be good buggies?

here is a pic



plz let me know if u think this thing would be good quality and ready for a bashing by a beginner in racing?


MiTcH
11-07-2008, 05:00 PM
Tech Master
Join Date: Sep 2006
Posts: 1,631
---
anywhere to get a manuall at for one one of theese i bought a used car and need part numbers and such.
11-07-2008, 05:12 PM
Tech Addict
Join Date: Sep 2006
Location: Lynn Haven Florida
Posts: 511
---
I have it in electronic format that I can email to you. Hit me up on PM.
11-07-2008, 06:37 PM
Tech Initiate
Join Date: Nov 2007
Posts: 42
---
11-07-2008, 07:33 PM
Tech Regular
Join Date: Sep 2008
Location: Worcester, MA
Posts: 332
---
do you guys know here i can find a bodie for the kaos buggy?? or if there is any other brand that fits??
11-07-2008, 07:33 PM
Tech Regular
Join Date: Sep 2008
Location: Mt Gambier, SA
Posts: 497
OCM Kaos EVO Pro
---
G'day guys.
There where some earlier teething issues with some OCM quality control. Manurfacturing of the vehicle has since been moved and a number of components have been reworked to fix issues. Diffs are now almost bullet proof, plastics are very strong and very rarely break. OCM is a fledgling company that is slowly build up steam. Unfortunately for you guys in the USA, I can't tell you which series parts are being sold over there but the latest generation is brilliant. After a lot of fuel and harsh treatment, my buggy has broken 1 front A arm after repeated really bad hits and horrendously bad landings. The 4th Gen EVO is awesome.
Here is a post from one of OCM's owners on the Nitroaddicts forum after a similar series of posts there from our American Bretheran
Hi guys,

1st off Thankyou Mauve for your suport.

A little history lesson here for the guys that have doubt in regards to OCM and our commitment to the RC market place.

Basically OCM is in 4th Generation now. The following is how things have turned :-
1st Gen was China made and the Consistency of materials used and made by china was impossible to track and this hurt OCM' production models..The major issue was all metal driveline components. China's bad consistency made it impossible for OCM to put what was designed on paper on the track and what made it even worse was the fact that some components were good and some were bad but it was impossible to check by looking at them.
2nd Generation, OCM moved to Taiwan and remade pretty much everything metal and sent out a free of charge care pack to the customers that baught the initial china car which included new gears etc.
3rd Generation, OCM now had very good reputation with the build but guys wanted it to jump and handle better so EVO upgrade kit and then EVO Kit was made (kit form)
4th Generation, OCM were finding customers much prefered a pre built buggy and it was decided as shipping will cost more for a pre-built buggy, it would be good to have some nice additions. The additions were new bulkheads(no shims needed) that would not flex, no matter how much load applied, new lighter diff cases, new longer wing stay/ new high downforce wing, new wheels and new steering tie rod ends. (had reports of earlier ones breaking) and new Centre diff mount which allowed the centre diff with discs to be removed as one unit, yet would clip into place nicely when reassembling. This has now been further improved upon with new arms front and rear.

I can honestly hold my hand on my heart and say the buggy we at OCM have out now which is only a year and bit old company is up there with the best of em.

I can't think of one manufacturer that didn't have issues with there 1st ever buggy but now with most of them is old history and is forgotten about. This is what we at OCM are now trying to achieve and with our new technologies and our commitment to quality and the race market, this should be very achievable for us..

OCM Racing is owned and operated by Didian, Theo and now Myself. No owners have left the company but when we left manufacturing in China and moved to Taiwan a lot of people did think the owners had changed as the car's got that much better.

The American Market has not been forgotten about either, but we do have to take our time in chosing the absolute best distributor for the US market and one that mirrors OCM's commitment to service , growth and customer satisfaction.

Kind Regards

Kev Lewis

OCM Racing
For any of you that are having hiccups with shimming the older diffs or are looking for information and great setup guides for different track conditions, there is quite a bit of information on OCM's website
http://www.ocmracing.com.au
in the forums section.
No matter what you drive, I wish you all successful racing and hope your cars go like a scun cat.
Cheers
Mike
11-07-2008, 08:21 PM
Tech Rookie
Join Date: Jul 2008
Location: Alabama
Posts: 14
---
Mauve you are right the newest buggy is cool. I have two races on it,my dad did not miss with the diffs at all till after the 2nd race they still were 80% full of oil. OCM has made great improvements.I love my ocm's.
11-07-2008, 08:24 PM
Tech Addict
Join Date: Sep 2006
Location: Lynn Haven Florida
Posts: 511
---
I tried sending the electronic version of the manual but it is 29 megs and evidently charter's mail server has an issue with a file that large.
11-08-2008, 03:59 AM
---
Ocm parts lists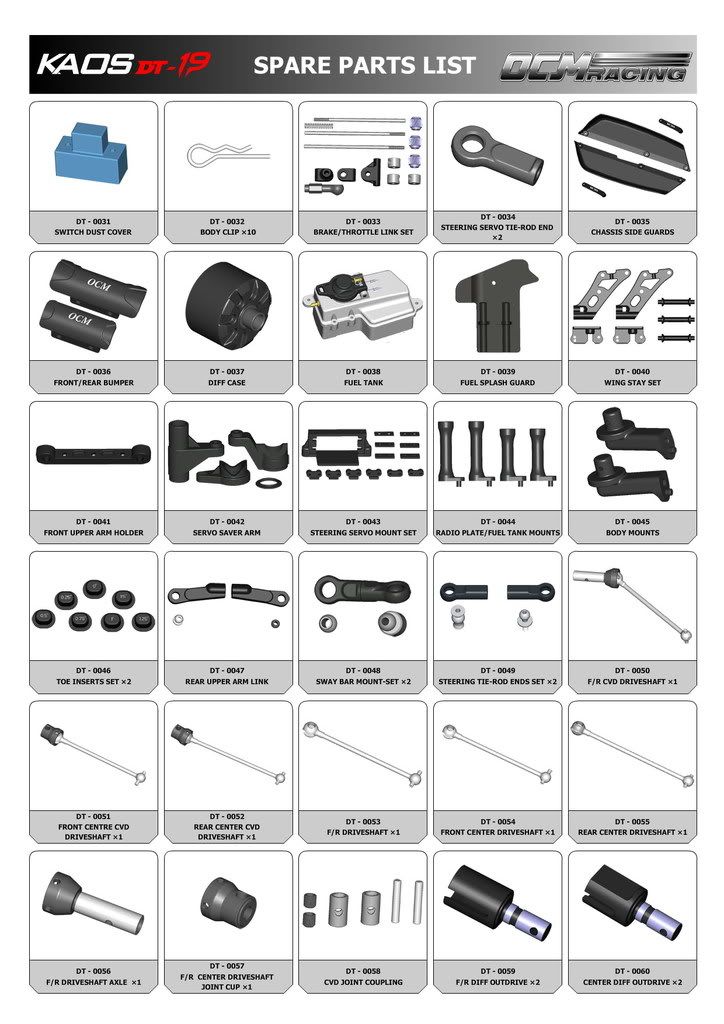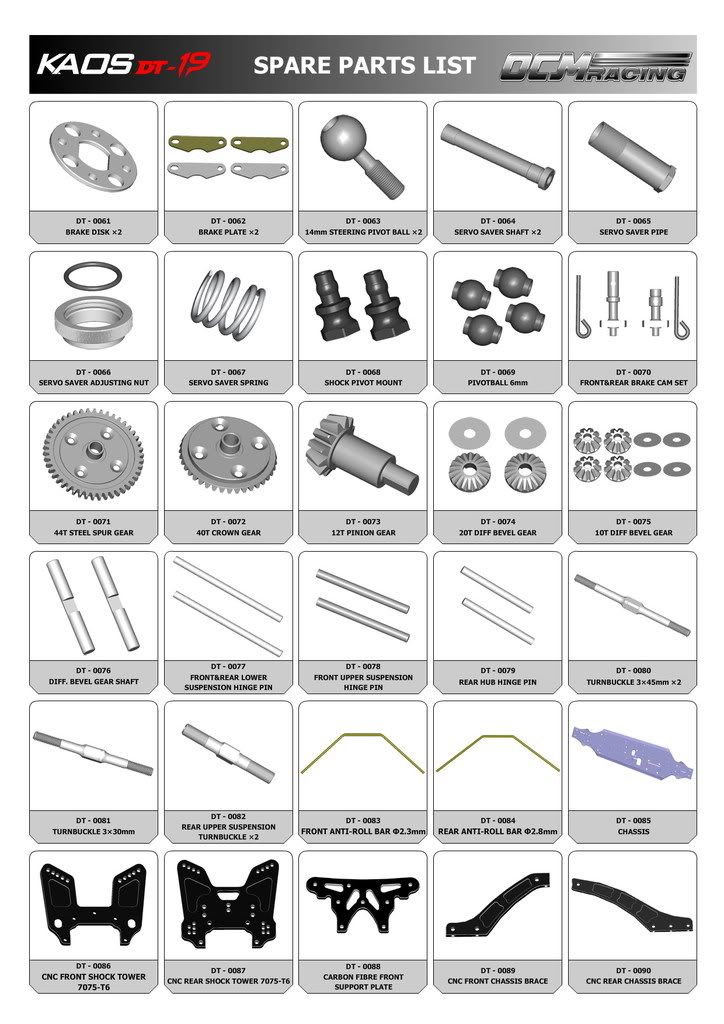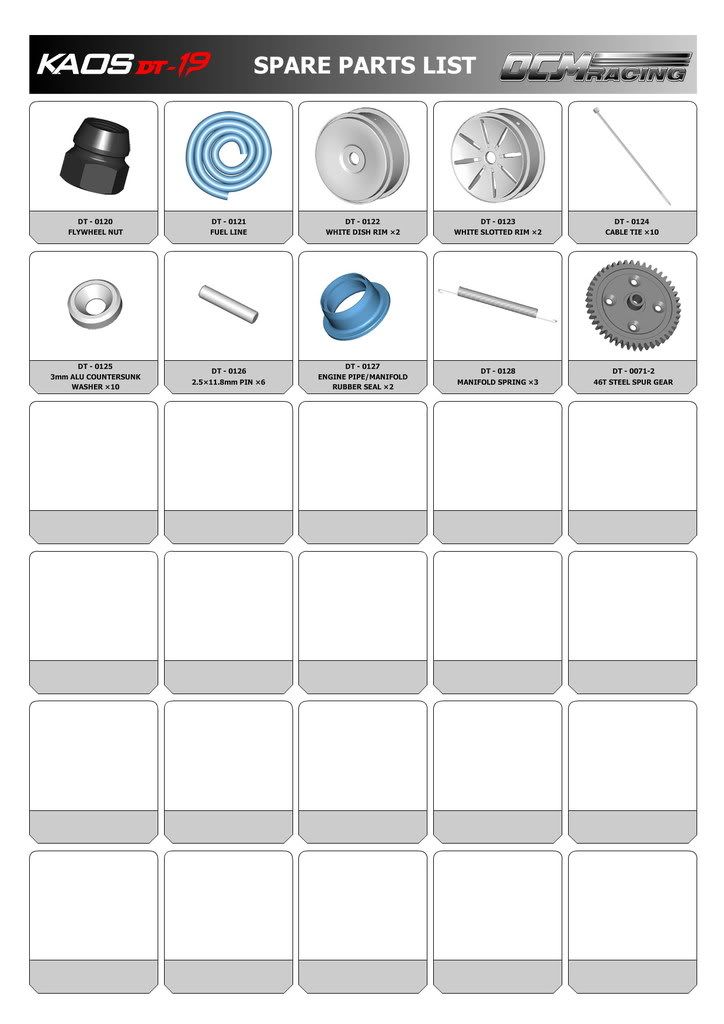 ---
Last edited by speedy2; 11-08-2008 at

09:35 AM

.
11-08-2008, 04:05 AM
---
special optional tuning parts

DTOP 1 .. fr. anti rolbar 2.0 mm
DTOP 2 ..................... 2.1
DTOP 3 ..................... 2.2
DTOP 4 ..................... 2.4
DTOP 5 .................... .2.5
DTOP 6 ..................... 2.6
DTOP 7 .. rr. antirolbar... 2.6
DTOP 8 .......................2.7
DTOP 9 ...................... 2.9
DTOP 10 .................... 3.0
DTOP 11 .................... 3.1
DTOP 12 .................... 3.2
DTOP 19 .. cnc lightn.chassis
DTOP 22 .. rr. cnc uprights
DTOP 23 .. cnc center mounts
DTOP 30 .. lightned pillowballs
DTOP 31 .. lightned flywheel
DTOP 28....light. diff outdrives fr/rr
DTOP 29....light. diff outdrives center
---
Last edited by speedy2; 11-08-2008 at

09:34 AM

.
11-11-2008, 05:46 AM
---
result race Castilia Spain
11-11-2008, 07:20 AM
Tech Regular
Join Date: Jul 2008
Posts: 266