OCM KAOS DOMINATING
06-03-2008, 01:29 AM
Tech Adept
Join Date: Nov 2007
Location: Chico, CA
Posts: 124
---
Originally Posted by
hakmazter
I do have a comment. IF what is being said is true here, now I understand why A main hobbies won't give me the time of day. What is most unfortunate is that Caster and other companies that are small and legitimate will always appear to be guilty by association from now until who knows when.
What the hell does this post mean? I have no idea who this poster is, but who exactly have we (A Main Hobbies) not given this person "the time of day"? Perhaps if you post who you are, I can check my emails and see if perhaps I missed your email? I would be more than happy to respond....
- Kendall Bennett, CEO, A Main Hobbies
06-03-2008, 07:53 AM
Tech Addict
Join Date: Dec 2005
Location: MasshoL3
Posts: 715
---
Kendall....air that dirty laundry!!
06-03-2008, 07:55 AM
---
lol
06-03-2008, 08:32 AM
Tech Apprentice
Join Date: Dec 2006
Posts: 51
---
hmm
---
Last edited by rcbraid; 07-16-2012 at

09:23 PM

.
06-03-2008, 08:40 AM
06-03-2008, 08:52 AM
Tech Elite
Join Date: Apr 2007
Posts: 2,171
---
I remeber asking when Amain raised them price up because I was getting ready to order one. I was assured that it was a mistake on Amain part and would be fixed right away. Nice to hear the true story now. Thanks Kendall. I loved the car but the more I hear the more uncomfortable I get with the company as a whole. Car drove great for me though. And Alan was second to none for customer support!
06-03-2008, 12:55 PM
---
Originally Posted by
kendallb
PLEASE, please do not post information that is not accurate. It would behoove you in the future to check your sources to make sure any statements you make, such as the above, are actually accurate.

Now if OCM is telling you that we stopped carrying their product due to MAP violations, then they are flat out lying to you. If OCM Racing has a MAP pricing policy, I would love to see it. Better yet, ask them to send you a copy so you can read it for yourself. You won't get one, as there has never been one.

Now, the decision to stop carrying OCM Racing products at A Main Hobbies was entirely our decision. Most of this came about after OCM Racing asked us to raise the price on the kits to $449.99, as they felt the kits were not selling because customers felt they were too "Cheap". If the price was higher, they theorized, customers would think the car must be better quality, so sales would go up (hmm, sounds a bit like Team Magic to me).

So we complied, and at the time I wrote them a very, VERY long email explaining why I felt this was a mistake. At the end of the day, we sold ZERO kits at the new price point, so we simply decided to can the entire product line (sales we absolutely dismal anyway).

Anyway, if anyone is interested, I can post the long email response that I sent to OCM Racing after they requested that we raise the prices. I never did get any response from them directly, but I am sure it would make interesting reading if people want to see it.

- Kendall Bennett, CEO, A Main Hobbies
Sorry if I fired you up but I never post anything unless I check my sources or will say up front I am not sure. I was told that by OCM themselves during a online chat with them. That is why I said that. If I was mistaken it is not my fault as I heard it from the source. Sorry if that was not correct but there always seems to be 2 sides of a story. My apologies if I am wrong.
06-03-2008, 02:12 PM
---
i must have missed the whole convo on the price raising.. it is very interesting though!!
06-03-2008, 09:12 PM
Tech Elite
Join Date: Nov 2007
Posts: 2,468
---
Kendall,
My post should in no way reflect negatively towards A Main Hobbies, its employees, or you. That was definitely NOT the intent and with the way I read it, I do not see how you would see it as such.

I have tried to contact you several times over the past 6 months and if you do not know who I am, then there is a communication break down somewhere. I did get your e-mail address today and I sent you a long e-mail.

Your company has a great reputation in the industry and there is absolutely no benefit for me to try and change that, especially given the circumstances of who you are and who I am.

I guess I was thinking out loud and had a "eureka" moment. I apologize if you took it the wrong way and I apologize to anyone else out there who saw it the way Kendall did.

Mike Mazza
Caster Racing USA
06-04-2008, 04:10 AM
Tech Elite
Join Date: Dec 2004
Posts: 3,815
---
come on let's talk buggy...
gigi's own home-made factory team Kaos
featuring :
Losi Ti.nitrited suspensionrods and airfilter
King Headz 4 pieces enginemount
jammin BB's
IDRC superlight balls
Fioroni Slita clutch system
OCM cnc servosaver plate, CNC rear uprights
HD wing, CNC light chassis....
....waiting for plastic braces, new wingmount..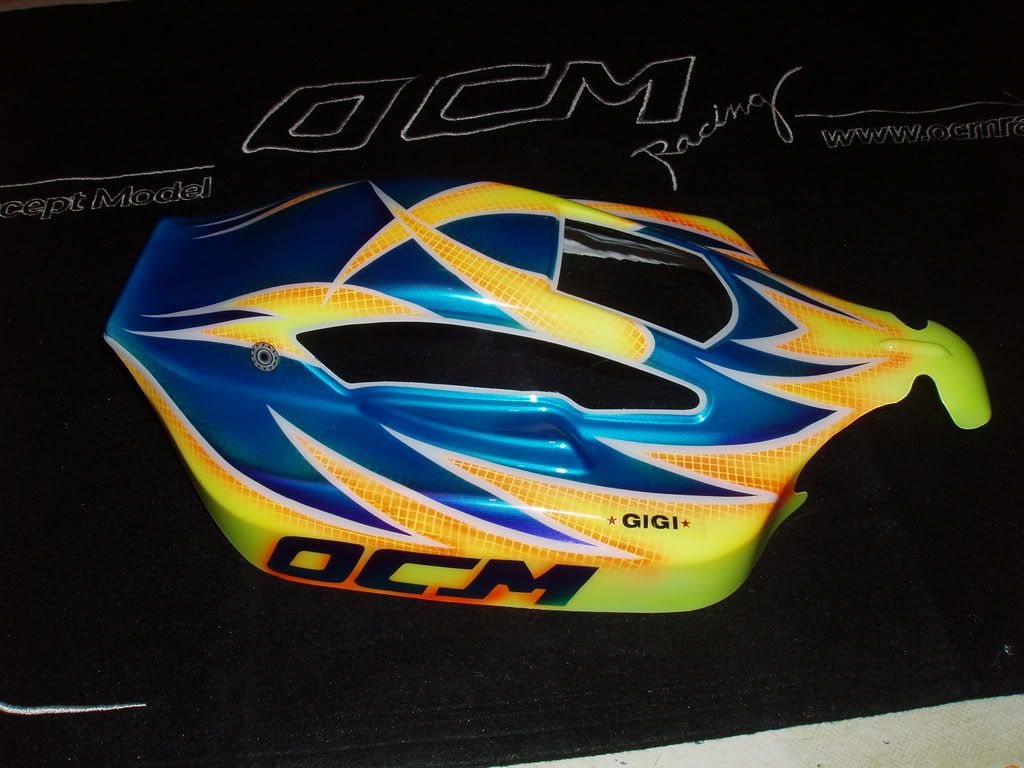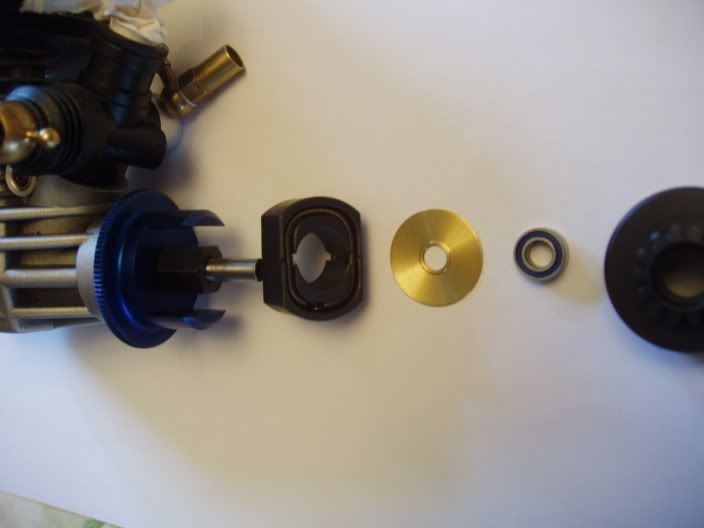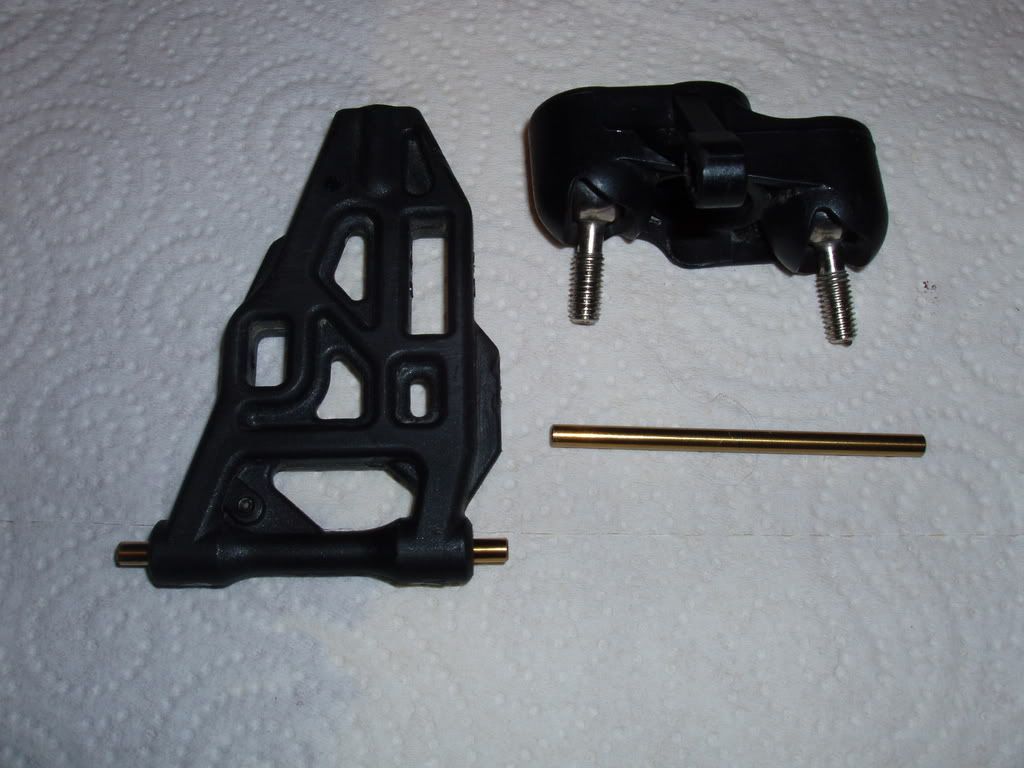 Losi 8ight Ti.nitrited rod are an exact fit
replaced all 2.00 screwheads
with 2.50 screwheads at the rear
and at diffhousings..no fuzz anymore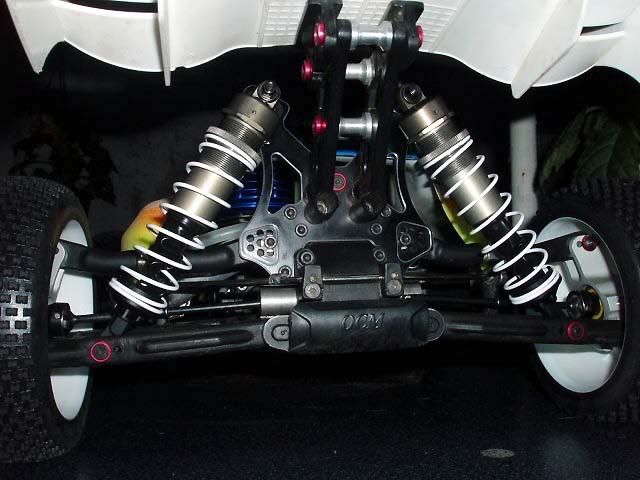 BBs with Kyosho yellow springs
---
Last edited by speedy2; 12-07-2008 at

03:31 AM

.
06-04-2008, 04:25 AM
Tech Elite
Join Date: Dec 2004
Posts: 3,815
---
still using first PRO diffs (except front diff), driveshafts, bell, gear and outdrives
---
Last edited by speedy2; 06-04-2008 at

08:26 AM

.
06-04-2008, 04:57 AM
---
That thing looks sweet. I love the OCM wings. If I may ask what is the benefit of the plastic pivot balls for the front knuckles?
06-04-2008, 05:13 AM
Tech Elite
Join Date: Apr 2007
Posts: 2,171
---
They aren't plastic. They are aluminum balls with steel threads and teflon coated. Save alot of weight though!
06-04-2008, 06:41 AM
Tech Initiate
Join Date: Nov 2007
Posts: 42
---
Speedy,
Are the Jammin Big Bores a direct fit? any modifications to use them?
...that is a lot of extra steering throw you've got by dremeling those control arms!
06-04-2008, 06:52 AM