Mugen Mbx4
06-07-2019, 06:41 AM
Mugen Mbx4
---
What would you guys think this would be worth? My old race rig, cleaned and put away. Have 2 full sets of lower arms, arm mounts and other spares. Have a few sets of old race tires as well and an extra pair of shiny cvds. I'm going to rebuild the stock shocks that I was using in my mbx4RR and put them back on.Currently no motor in it but was thinking of throwing one in with my old futaba 3pj super pcm for the vintage feel. Just looking for thoughts.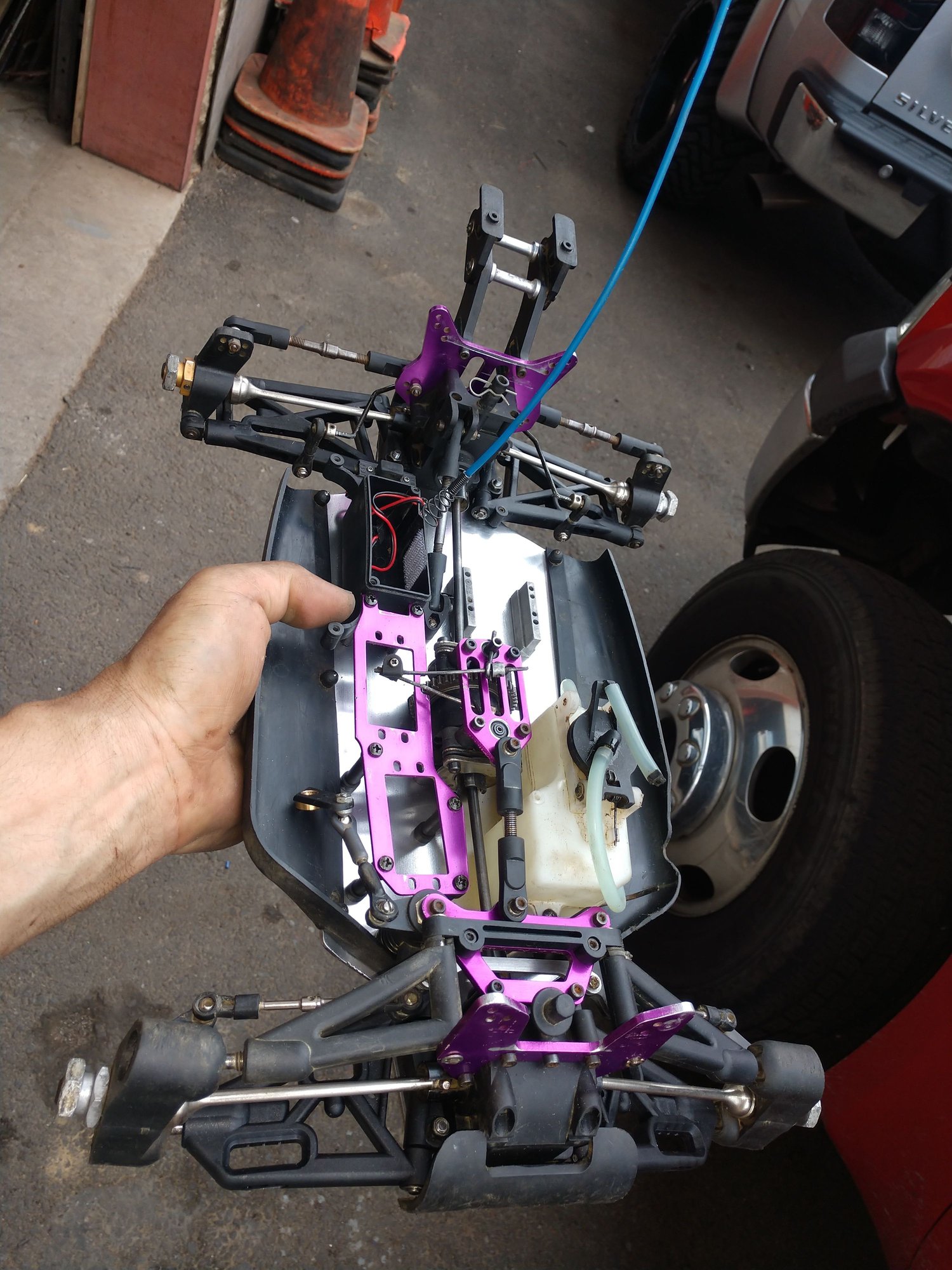 06-07-2019, 07:48 PM
---
It's back together. Just waiting for the motor to come
06-08-2019, 01:02 AM
Tech Elite
Join Date: Sep 2003
Posts: 3,353
---
I used to race one of these back in the day. The MBX4 RR weight forward buggy was considered a very aggressive buggy to drive. For racing on grass here in the UK, the weight distribution could be exploited and was a popular ride.
Mine was initially powered by an OS .21 VZ engine that was very smooth and reliable then an RB WS7 coated. The WS7 was an awesome engine and the MBX4RR was a screamer.
I suppose the design seems basic by today's standards, but whilst old - the layout is pretty similar to modern buggies. The shocks were smooth as butter with proper bladder and bleeder hole caps.
Mine was a blast and saw alot of club action. It also converted a fair few electric racers over to Nitro
Yours looks mint I have to say and brings back happy memories.
06-08-2019, 06:01 AM
---
Yeah pulling this out brings back memories too. The sound, the smells. Racing is totally different now, I mainly just bash and this car just sits. I also have the mbx4RR as well, it's the one in these pictures next to my Mbx7T. My race motor for my Mbx4 was an OS 21rz lol that now resides in the truggy and throws it around like a rag doll. It's kinda funny the suttle differences between the two. My RR had the motor set back about 3/4 to an inch, rear shocks flipped, etc. I actually liked the original style better and drove it better. My RR broke and couldn't find parts so I retrofitted mbx8 front arms on it. Funny that they changed the design for the worse when they went to the mbx5. I do diff changes in minutes in this car.
---
Last edited by Mbx4man; 06-08-2019 at

06:51 AM

.
06-21-2019, 07:17 PM
---
So since no real feedback I decided to put the nitro engine back in this car and convert the modified mbx4RR to electric. With a factory mbx8 center diff housing the bolted right in and the mbx4 diff fit with the original bearings. The battery tray and servo mount are all mbx8 with some drilling if the chassis but it was already modified. Mbx5 chassis braces and more mods to come making this a complete custom rig. Running 4s with a hobbywing ESC and a 2200kv motor, the things a rocket ship. Not some new fangled kit but will be a custom rig with everything set back unlike the newer stuff. Who knows, might run it at the track and it may handle better than a new kit. 🤷🏼*♂️ I have a video but can't upload it.
---
Last edited by Mbx4man; 06-22-2019 at

05:38 AM

.
Currently Active Users Viewing This Thread: 1
(0 members and 1 guests)
Posting Rules
You may not post new threads
You may not post replies
You may not post attachments
You may not edit your posts
---
HTML code is Off
---