Sweep Racing Tires SRC Monster Trucks thread
07-14-2015, 01:32 PM
Company Representative
Join Date: Aug 2008
Location: www.SweepRacingUSA.com
Posts: 1,855
Sweep Racing Tires SRC Monster Trucks thread
---
<iframe src="https://www.youtube.com/embed/0Rz2pIDXnS0" allowfullscreen="" width="420" height="315" frameborder="0"></iframe>
SPEC:
Fully belted
Pre-glued on our ROK strong wheels.
O/D: 142mm (Road Crusher) 147mm (Terrain Crusher)
Width: 80mm
Weight: 308gr(Road Crusher) 318gr (Terrain Crusher)
More information coming soon on this first page. please stay tuned.
---
Last edited by SweepRacingUSA; 11-23-2016 at

05:26 AM

.
07-14-2015, 01:57 PM
Tech Master
Join Date: Apr 2014
Location: Somewhere
Posts: 1,729
---
I wish you make SC wheels otherwise i love all my 1/10 buggy sweep tires
07-14-2015, 03:42 PM
Tech Regular
Join Date: Oct 2004
Location: kl
Posts: 403
---
Interesting! Whats the width of the tire? Any estimate on the price?
07-15-2015, 09:49 AM
---
I set of those offroad ones WILL be going on my 6S powered RC8TE!!!!
07-19-2015, 09:39 PM
Tech Regular
Join Date: Oct 2011
Location: Chicago Area
Posts: 307
Not throwing salt....
---
But I pleaded with SweepRacing to make MT tires 3 YEARS ago.
As I recall they were focused of the stadium and on road 1/10 scale.
I'm going to find that old thread...might even have an email from them as well.
However, none of that stopped me from putting my name on the waiting list.
07-19-2015, 10:39 PM
Tech Master
---
Me too. I want a set of the road versions for driving my BB Revo project on-road to not tear up the Badlands. Truck won't be done for at least a couple weeks and I hope these are released soon, I got my name on the list too. Fingers crossed!
07-27-2015, 10:28 AM
Company Representative
Join Date: Aug 2008
Location: www.SweepRacingUSA.com
Posts: 1,855
---
Thank you for the patient and supports!
Ordering is open at SweepRacingUSA.com as of today. We will start shipping as early as This Wed. July/29/2015.
07-27-2015, 01:05 PM
Tech Master
07-29-2015, 09:07 PM
Tech Master
---
Just got my ship notification today, too bad the truck they are going on won't even be done for another couple weeks! I'll post some pics when they show up.
07-30-2015, 08:43 AM
---
Just Ordered mine!!!!!!!!!!!!
07-30-2015, 02:15 PM
Tech Adept
Join Date: May 2015
Posts: 207
07-31-2015, 08:06 PM
Tech Master
---
Well here they are in all their glory. The seem nice, although they have a little air gap between the tires and the inserts. Well glued and good quality.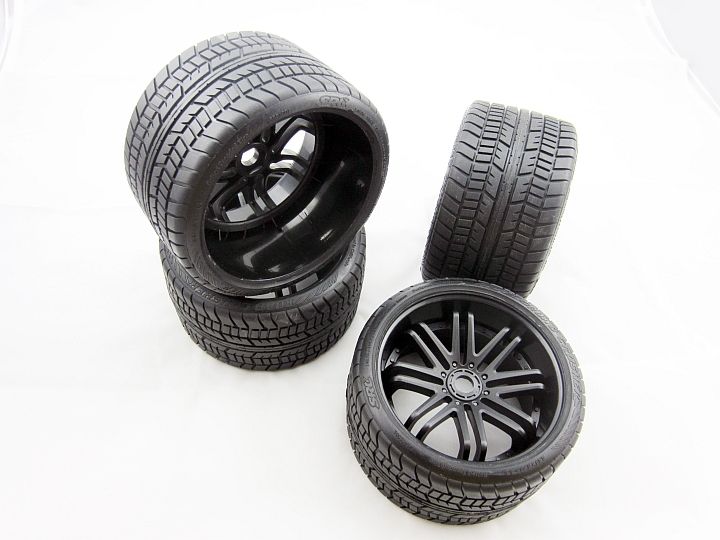 08-01-2015, 08:45 AM
Tech Master
Join Date: Oct 2010
Location: Birmingham, AL
Posts: 1,189
---
Let's get a review and video of these tires with speeds higher than 20 mph like in their promotional video, please.
08-06-2015, 10:55 AM
---
Got the tires!!! here they are compared to badlands. It is weird, the OD is actually just slightly smaller, but they are wider, but overall the look of them looks MUCH bigger with the low profile design.
It definitely is an aggressive look!
IT is a very different experience driving them. They obviously don't balloon AT ALL which is good. Due to this, I will have to re-gear to get back some top end speed.
They are somewhat pliable though, so they handle bumps just fine. The tread pattern did okay on loose gravel, but not as good as badlands.
They weren't very good at all on grass, there was a lot of wheels spin.
The truck doesn't wheelie anymore, some combination of lack of grip and lack of inertia from ballooning tires.
They did handle jumping VERY well, and I'm not sure why. Intuition would say they should land harder with less ability to absorb hits, but instead, they take off smooth and land very smooth.
less bounce I guess? You land and you're there, I think the suspension handles it more than the tires.
Even though they weigh more than the badlands, they FEEL lighter without the ballooning. Steering is better, control is better.
I'm gonna have to Give them more time to decide if I like them or not. Even though I got the offroad ones, I feel like these would be GREAT onroad. Lots of contact patch, square shoulders, etc. these or the street version would be AWESOME on asphalt I suspect.
Ill work on getting video.