Bulletproofing Emaxx
05-30-2012, 08:22 AM
Tech Regular
Join Date: Mar 2011
Location: Kitty Hawk, NC
Posts: 321
---
I have sank a ton of money into my sons brushless emaxx. No matter what I upgrade something else seems to break. This dang thing has been a money pit from hell. I bought this truck when the 3905s fist came out (got the first one my hobby shop got) I have upgraded it to brushless and put in new bulks, cvds, rpm arms front and rear, rpm shock towers, and a few other things that I am forgetting right now. Even now its not as durabale as say my savageX or lst2 was. I just wish my son didn't like it so much b/c I would get rid of it and get something better. Its his though and he likes it so it looks like its going to be my money pit a little while longer.
05-30-2012, 08:50 AM
Tech Addict
Join Date: Jun 2011
Posts: 506
---
Get you a flm chassis and hybrid bulks and your problems will be solved. I have jumped a berm at the Bmx track and could have cleared my house off of it. Nothing broke, just a turnbuckle popped of the little ball. Snapped it back on and good to go.
05-30-2012, 10:52 AM
Tech Adept
Join Date: Dec 2010
Posts: 100
---
Here is a good setup with prices on eBay

Suspension
Rpm arms ft. 16.00
Rpm true trac rr 25.00
Ue 35.00 or flm towers 45.00
Ofna or ue shocks 80.00
Rpm ft knuckles 25
Traxxas red tube turnbuckles just ft
Ue bell crank or a newer emaxx one with dual servo savers(the part of the bc that has the spring)

Drivetrain
Traxxas center and ft/rr steel cvds 85.00
Emaxx tranny 3905 3908 35.00
Stock diffs shimmed 20 or 1/8th diffs 60.00

Roller
Flm chassis 3905 110
Flm hybrids 110 or with diffs 180
Or
Ga 7075 bulks 150(stronger then flm)
With ue 1/8th diff cases with diffs on eBay 180.
05-30-2012, 05:51 PM
Tech Fanatic
Join Date: Oct 2011
Location: Round Lake, IL
Posts: 875
---
This is what's in my E-Maxx. I haven't broken a part in over three months, and that was just a steering knuckle due to a high-speed cartwheel finally cracking the rest out of the back of the knuckle at the pivot ball (damage from previous owner.) Before that, it was the stock plastic front bulkheads giving up after six months of abuse. I beat the hell out of mine, and it's always run on 5S.

Started as a 3905 E-Maxx, I got it as a roller.

Traxxas Steel Center CVD's
Traxxas BL E-Maxx Motor Mount and Gear Cover
Traxxas Big-Bore Shocks w/ TiNi Shafts
Traxxas 17mm Hex Adapters
Robinson Racing Gen3 65t Slipper
Robinson Racing Xtra Hard 19t Pinion
Integy 7075 Front Bulks
Integy Aluminum Rear Diff Case
Integy Titanium Front Skidplate
Integy Aluminum Rear Skidplate
Integy EVO-3 Wheelie Bar (Single Rollerblade-Style Wheel)
RPM Bulkhead Braces
RPM Rear Shock Tower
RPM A-Arms (Front)
RPM True-Track (Rear)
RPM 3-Peice Skidplates
GPM Aluminum Steering Bellcrank Assembly
Pro-Line Trencher X's on Desperado's (40-Series)
Savox 1256TG Steering Servo w/ Aluminum Arm
Servo>Crank Link made of 2.5mm Allthread and two "Short" rod ends

I'm still using the stock plastic Chassis, Front shock tower, front steering knuckles, chassis rails, Diff>Wheel driveshafts, bumpers, front diff housing and cup, and rear diff cup. The E-Maxx beats on it's rear diff housing, replace that and your gear problems disappear. The front doesn't take a third of the abuse of the rear. My front end is almost a year old and is still in great shape, and will be for a long time. The current rear is almost as old, and looks fantastic now that the diff housing flex is gone.
05-30-2012, 06:36 PM
Tech Apprentice
Join Date: May 2008
Posts: 61
---
yes those xxl are the same as lst2 the ones you want.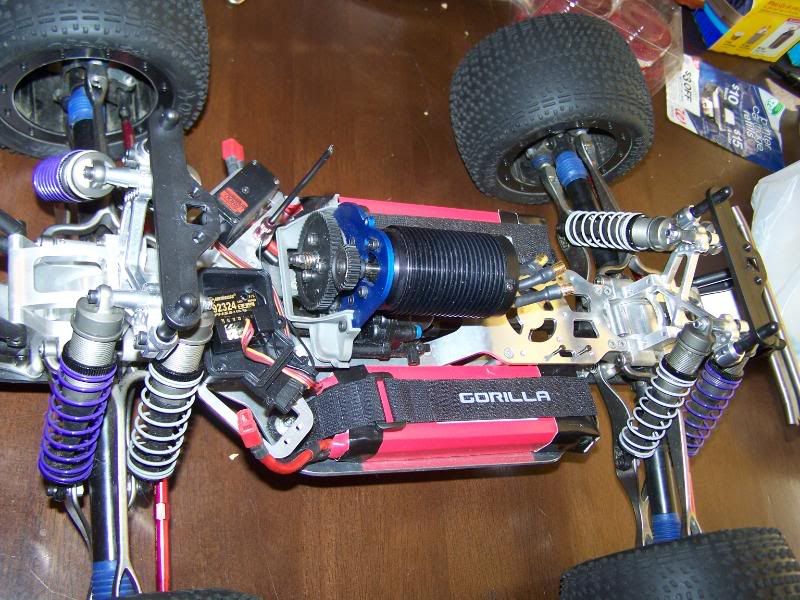 $2000 into this emaxx, don't break it now and it has its class and charm but the $750 losi muggy smokes it it everyway but general coolness
Currently Active Users Viewing This Thread: 1
(0 members and 1 guests)
Posting Rules
You may not post new threads
You may not post replies
You may not post attachments
You may not edit your posts
---
HTML code is On
---