Project Rollin Over.. 1/6th Scale Jeep Crawler...
08-27-2004, 08:43 PM
Tech Initiate
Join Date: Apr 2004
Posts: 38
Project Rollin Over.. 1/6th Scale Jeep Crawler...
---
This was a project started about 1 month ago...
Trying to keep with Scale, and looks I decided to use a 1/6th scale Jeep body from 21st Century Toys that I got in a trade..
Trimming the body was the easy part, but filling all of the holes on the body was time consuming...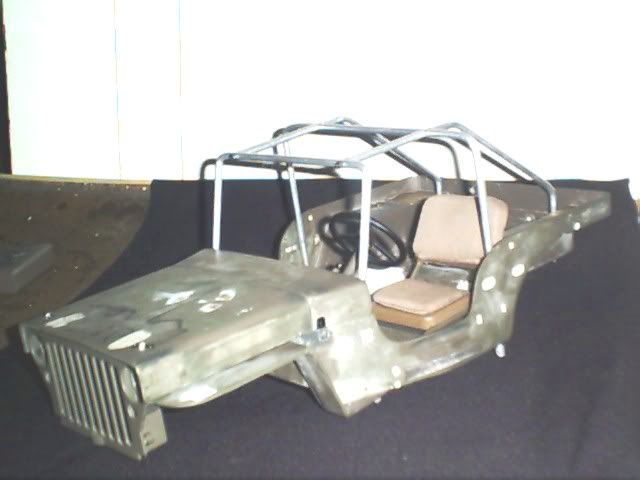 Next I started to design a frame similar to the Bruiser frame from aluminum.. But scale to 1/6th.. This took some planning but worked out perfectly..
Next part of the build was adding the Shock mounts as well as the frame based 4 link setup for scale appearance and usability..
Once the frame was done an aluminum Roll Cage was designed around the inside and set up to attach to the Lower Frame via a set of 3" Scale looking Body lift aluminum Mounts...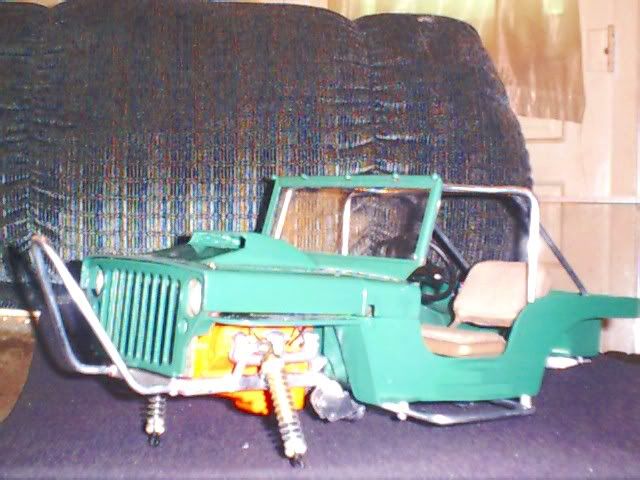 Nerf Bars where added to not only attach the Cage to but also to give a scale look... The shock towers are Aluminum as well and give the scale look to it....
On the body I added not only Juggernaut Bed mount body mounts for the hood but also added a scale Hood Scoop... The rear of the body has working tail lights as well as head lights.
Under the hood went a Lightning Models 1/6th scale 350 Chevy motor that is die cast and huge... Motor mounts where made to hold it to the frame...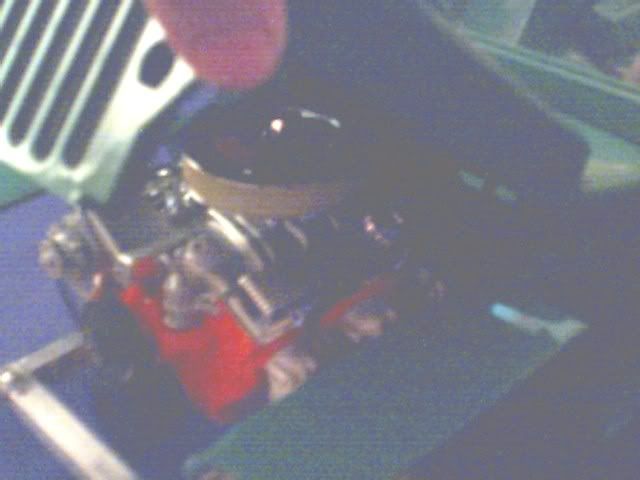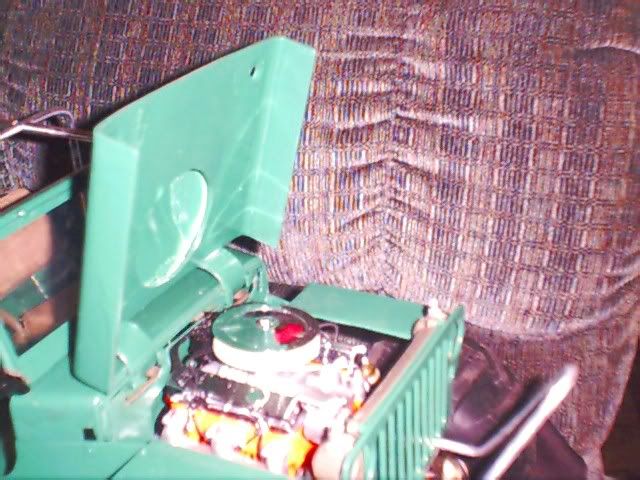 Finally the Rims where modified and narrowed and juggernaut Tires added for the scale look... Miserable Designs Helped out with 1/2 inch wideners...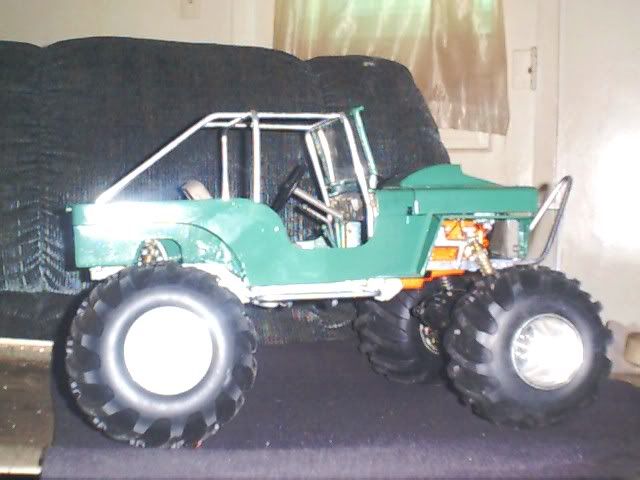 The mods on the body are too many to name, but the firewall was tubed and moved back 3/4 inch, Wheel tubs in the rear for the shock towers, Smoothed and shaved everything.
Front Fenders Bobbed rear fenders bobbed, as well as Floor pan custom shaped to accept the custom frame...
This jeep has taken about 45 hours to complete but is well worth the effort in building it...
Here are some pics of the finished jeep so far..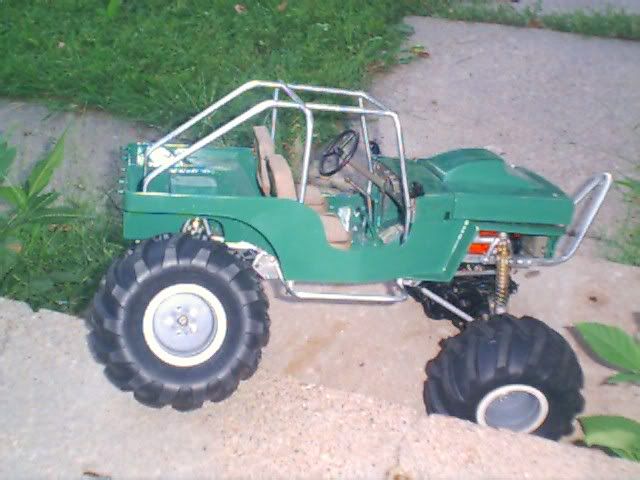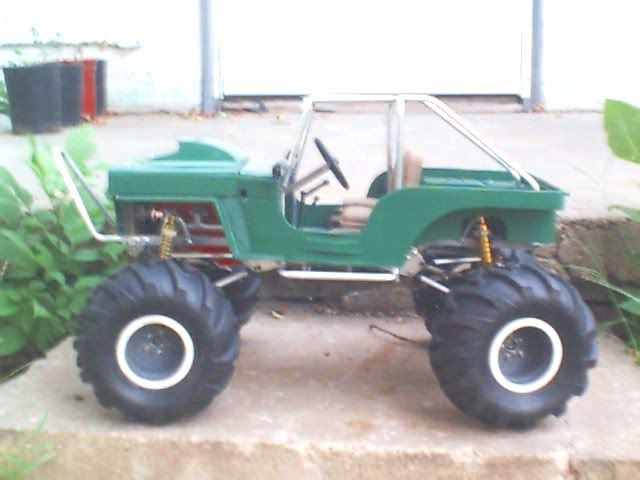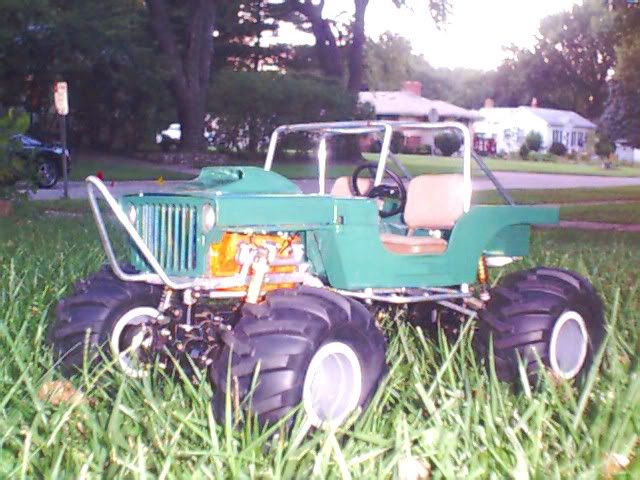 If you have any questions feel free to ask... or email me for more details
Thanks
Tom
[email protected]
www.rcmonsterxtreme.com
Currently Active Users Viewing This Thread: 1
(0 members and 1 guests)
Posting Rules
You may not post new threads
You may not post replies
You may not post attachments
You may not edit your posts
---
HTML code is On
---