stock e-maxx brushed - 5 cell lipo ???
07-03-2010, 07:30 AM
stock e-maxx brushed - 5 cell lipo ???
---
hey guys.
have you ever tried 5 cell lipo in a e- maxx with evx2 and stock brushed motors?

i am still an addict of that slight difference in rpm of the motors of 4 cell lipo
and 14 cell nimh ib cells.

when fully peaked my 7 cells are at 10.6 volts
but now good cells are getting hard to find
am i just hullucinating a difference?

i'm just about ready to try 5 cell lipo in my e-maxx just to see.
18.5 volts

but... wanted to check if any one trieed it yet... and the search gives no hits
07-03-2010, 08:05 AM
Tech Lord
---
A 5 cell fully charged is going to be 21.0v (4.2v/cell max x 5 cells) not 18.5v - thats the 'nominal' voltage as its called. That will not be what you get off the charger - nominal is for comparing the voltage just like 1.2v is for NiMh where everyone knows they are actually higher.
Looks like it has been done, but not with stock brushed motors -
http://monster.traxxas.com/showthread.php?t=441542
Try Promatch racing for quality Nimh cells. They haven't completely disappeared.
07-03-2010, 09:18 AM
---
thanks for the info , no kidding about the voltage when charged ...didn't i post that

seems like that traxass site is full of mad scientists.

the one that does everything you shouldn't seemed to have succedded.

but the guy that used just one motor fried them one after the other.
good news for the esc though!!

i'm wonder if the stock 550's would take it?
ah what the heck ...
i'll just go see.
07-03-2010, 10:54 AM
Tech Lord
---
No, you didn't....at least not in your 1st note....


If you read the thread that was linked, you'd see the titans have been tried and they won't take it. Use a pair you don't care about.


Your note was confusing, so you're going to try running a 5S charged to only 18.5v?
07-03-2010, 11:23 AM
---
oh now i see. i didn't know the fully charged voltage of a 5 cell by what i posted.
i think i was tiing to ask that but am better with my hands than words. lol
soo
seeing as the 5 cell is 21 v
and 2- 7 cell packs is 21.2 v
i went ahead and just got back from triing to burn out my titans ... lol
( i read the post for the most part , but seemed to miss it or not want to listen )
i used some old batteries that charge around 2800 mahs each
results ...
standing backflips! ... if i had the flux wheely bar.
insane power, tire pancakes on corners
screaming top speeds , WAY more than the best nimh's i ever had.
well like was posted the motors get hot first ! i got up to 160 in ten minutes.
130 on the esc no fan , 100 on the batts.
all is still stock on my e-maxx but the skid plates and the tires
soo don't try this unless you know you can stop your self before a lipo gets lower than the other or a motor starts blowing out fire!
i just used it to do a bunch of jumps and shread it up for a fuew laps and had nothing for problems except for dirt on my jaw and end of my tongue. lol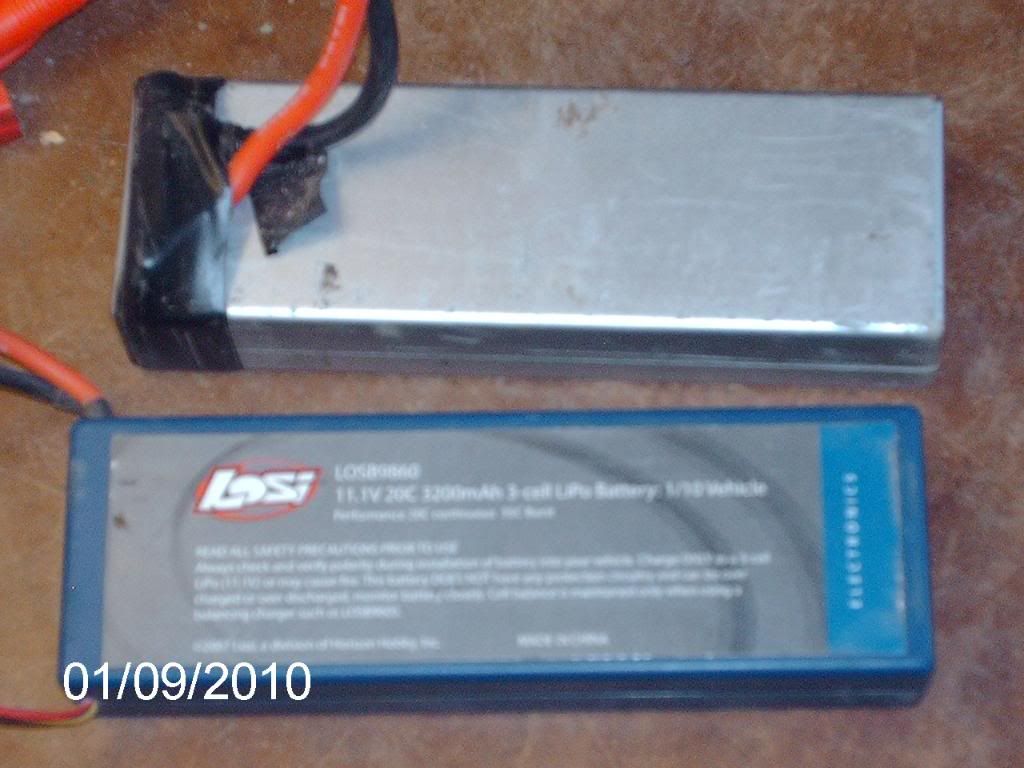 07-04-2010, 05:26 AM
Tech Master
Join Date: Apr 2003
Posts: 1,141
---
I ran a 5S set-up for years on many stock e-maxx (it was mostly the older esc) only one of my set-ups had the evx2 on 5S. It is overspeeding the stock motors though.
07-04-2010, 03:29 PM
---
lol nice ! i didn't reconize the name pro match , but i got some ener g cells from smc about two years ago now. great stuff!!
but my lhs says he can't get them for me now
has any body triied max amps?
nimh? or lipo? or green life?
07-05-2010, 10:56 AM
Tech Elite
Join Date: May 2003
Location: San Diego, CA
Posts: 2,039
---
07-05-2010, 12:42 PM
Tech Lord
---
07-05-2010, 04:21 PM
Tech Fanatic
Join Date: Sep 2008
Posts: 801
---
NiMH? yeah. Surprising to hear your LHS doesn't carry them. Very common for the trans am guys. Maybe on-road racing isn't popular where you are
LiPo? yeah. 5 (2+3) cell in an e-max with the original EVX. You gotta use a LVC and the titans won't last terribly long....long enough to have some fun though.
LiFe yeah. Not in an e-max though. I might hafta try that.
07-06-2010, 01:00 PM
---
wow !!!
thanks for the tips on batts. i was triing to stay away from more new ones and i'm glad i did
http://www.promatchracing.com/categories.php?cat=28
on this page , there is a listing of watts for the battery cells.
does any body know how to convert watts to amps?
i'm sure lipo is soo many laps ahead that is why they say the watts.
back when i started to be power hungry ... when i got my summit ... i bought too many batteries and don't like the 5000 cells ??? bad luck ??? mine don't give me that thrill of the motor s pulling and spinning, like with the 4600 ib cells.
now i triied 5 cell lipo three - four times now and both my three cell lipo's are bumping slightly. they where old and neglected , almost never used but left full charge. but the price was right ... not mine
you can REALLY hear the motors overspeed with 5 c lipo!!
but does it ever pull wheelies !!! and burn slipper clutch loose!!!
now these new life batts say 9.9 for 3c and 6.6 - 2c
i wonder what the fully charged voltage is of five cells ??? and if it would give us the volts we want to replace are old 7 cells.
on paper the 5 c lipo is ok ... but not in the truck.
a bit of throttle control and stopping after a few minutes to check temps,
but your sure to where out/break/explode something
07-06-2010, 02:01 PM
Tech Master
Join Date: Feb 2007
Posts: 1,168
---
you'll get short insane speed runs, then replacing motors will come next. Good thing the esc is pretty tough itself.
07-06-2010, 03:23 PM
Tech Lord
---
watts to amps depends on what the voltage is => amps=watts/volts. But beyond that, I don't understand what he's quoting there - is that for a 6cell pac or what??


Life cell fully charged is 3.6v vs 4.2v for a lipo cell. I run a123s occassionally and in the higher cell counts, you run lipo ceoll count +1. In other words instead of a 5S lipo, you'd run 6S life. 5S lipo is 21.0v 6s LiFe is 21.6v while 5S life is just 18.0v.
Currently Active Users Viewing This Thread: 1
(0 members and 1 guests)
Posting Rules
You may not post new threads
You may not post replies
You may not post attachments
You may not edit your posts
---
HTML code is On
---