New Cen 1/10 Scale Solid Axle Monster Truck Coming Soon
01-11-2019, 08:51 PM
Tech Addict
Join Date: Sep 2013
Location: Coral Springs, Florida
Posts: 629
New Cen 1/10 Scale Solid Axle Monster Truck Coming Soon
---
01-12-2019, 02:39 AM
---
My first impression is somewhat "Plastic-fantastic", but fingers crossed!
01-12-2019, 05:05 AM
---
01-12-2019, 09:31 AM
Tech Addict
Join Date: Sep 2013
Location: Coral Springs, Florida
Posts: 629
01-12-2019, 12:50 PM
---
Chassis screams plastic to me, but I could be wrong. Nothing wrong with plastic chassis though if designed correctly. Carriers, spindles (sometimes whole axle) and linkages however, tend to suffer from serious bashing if not made of (quality) metal. Thats my experiance anyway, but I'm coming from 1/8 scale and this is 1/10 I believe (?).
01-14-2019, 09:19 AM
Tech Fanatic
Join Date: Jul 2015
Location: Colorado Springs, CO
Posts: 875
---
Cen monster trucks have been twin vertical plates before. That may be what this new one has too.

The second truck looks like a mini size and I'm really curious about it. Hopefully we get more info soon.
03-12-2019, 09:45 AM
Tech Addict
Join Date: Oct 2010
Posts: 696
Cens New Monster
---
Has anyone heard anything new pertaining to this new truck? Im having a hard time being patient...
05-19-2019, 01:17 PM
Tech Master
Join Date: May 2010
Location: Great Falls, MT
Posts: 1,160
---
It will great for kids but honestly there a lot of people wanting a high end MT with a longer WB and big bullet proof axles. For many the SMT10 had wesk points so somebody should have came out with something better. MTs are getting popular and someone needs to fill that void. Axial is already posting on Facebook they will like be releasing and new variant of the SMT10 but a ways down the line.
05-19-2019, 02:54 PM
09-08-2019, 03:12 AM
Tech Initiate
Join Date: Jun 2017
Posts: 33
---
Unboxing at rccrawler forum in the monster truck section.
lots of plastic. A little longer than a wheely king.
05-14-2020, 10:56 AM
---
Here is my first mod Freestyle Rc Servo mount.Yes I'm using the stock plastic servo horn..In these times taking a trip to my LHS for a metal one isn't easy. I noticed immediately with this mount servo centers. The stock set had lots of play and the servo wouldn't center. Yes there upgrades available for this truck.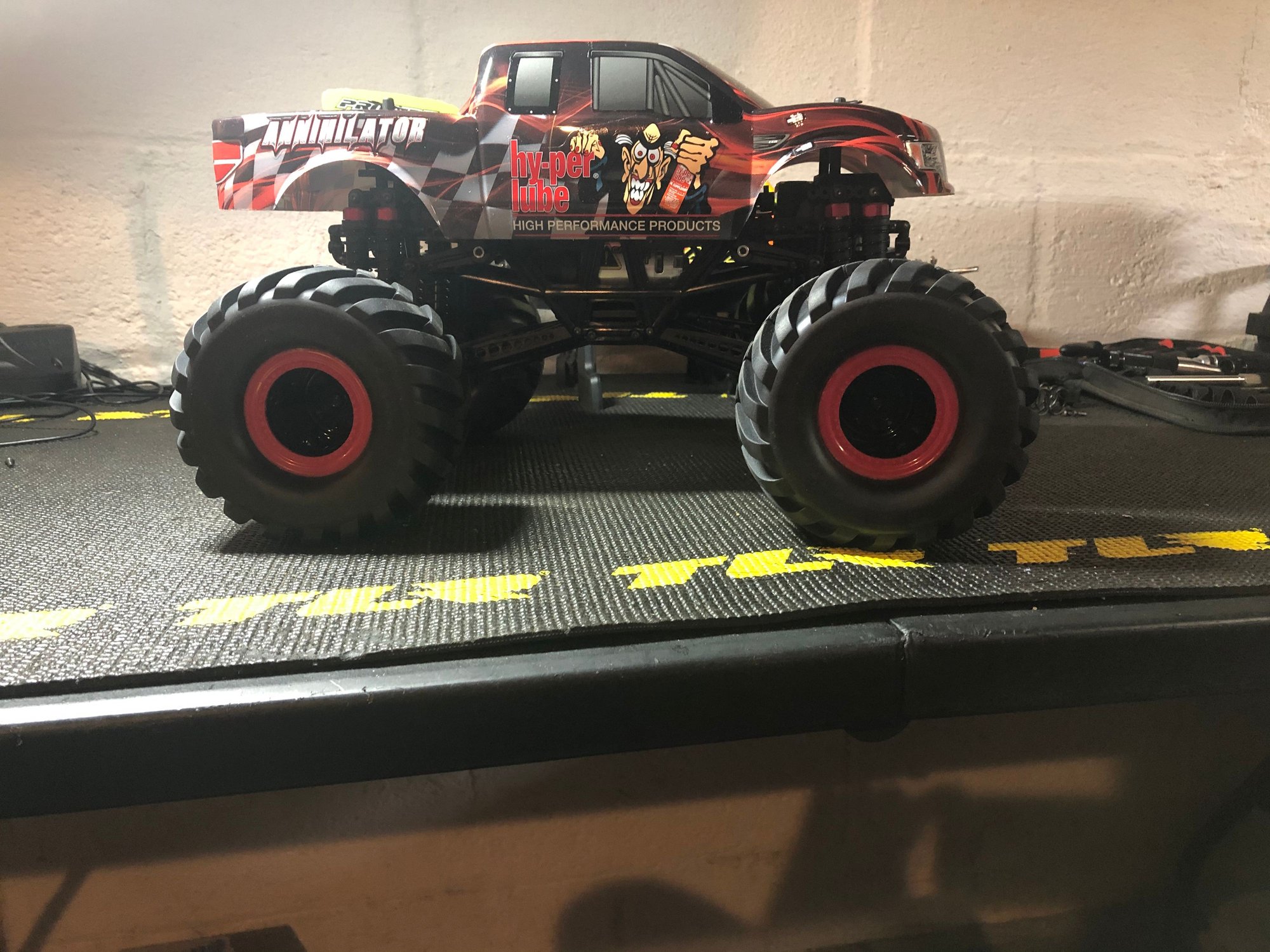 05-14-2020, 10:58 AM
---
Well I ran about 5 batteries through it. Im running it on 2s lipo. Not one problem to report.Truck took everything I threw at it. I also switched it to high gear in the transmission. Which gave it more speed. I got some more upgrades coming I'll be sure to update with pictures. Overall I'm very happy with the truck .