Mini 8ight Speed Calc Guaging interest
08-22-2013, 08:14 PM
Mini 8ight Speed Calc Guaging interest
---
Since Ive busted my bulk on the M8 and recently openned it up, I counted the teeth on the ring and pinion to make the calculations needed to calculate the theoretical top speed. Obviously RC weight and increassed load from increassed gearring etc will keep the motor from hitting max rpm and in turn max speed, this can be used to get an idea of what changes to the gearing will do and it can also be used to calculate your gearing with different wheels.
Here is a pic of the rough calc, as you can see the calc is working well with the stock data input into the calc, Ive also gone to using a digital caliper to measure wheel n tire overall diameter for the calculations as the info commonly used is off. For example the HPI 26mm rims are credited with having a 72mm OD, but when measurred up they only get 65mm OD, quite a difference especially in end results.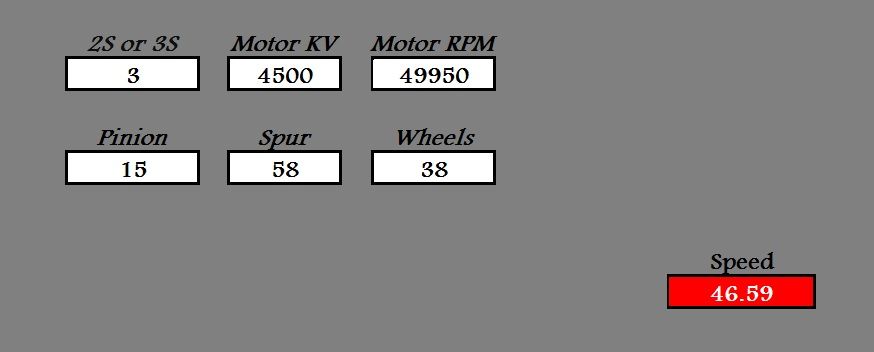 If there is enough interest I will refine the calc and post it up, or if anybody who is skilled in Excel would like to volenteer to make it look more presentable etc I will release it to the public as a Free Doc.
08-23-2013, 07:29 PM
Tech Master
Join Date: Apr 2010
Posts: 1,804
---
Post it up. I'll compare the calc with a GPS reading on my Kemora and maybe you could add a real world estimation based on my results among others...
09-04-2013, 04:39 PM
Tech Fanatic
Join Date: Nov 2007
Location: Granbury, Tx
Posts: 991
---
Maybe the 72mm is taking tire ballooning into consideration.
09-07-2013, 04:47 PM
---
10-10-2013, 02:16 PM
---
Crazy how such a simple tool can take ALL the guess work out of gearing the Mini 8ight
10-23-2013, 07:05 AM
Tech Addict
Join Date: Sep 2013
Location: Germany
Posts: 650
---
Nice tool! You're right, who needs guessing when there's math
I've put the math in Excell too to make a spreadsheet of the battery/motor/gearing/wheel options I wanted to try out and it greatly helped me comparing set-ups and figuring out the what makes most sense, see table attached below. It doesn't look that user friendly (don't let a bunch of numbers scare you though), but the left-hand side is user input and the right hand side is what follows from the math.
If anyone's interested, let me know and I'll share it.
Currently Active Users Viewing This Thread: 1
(0 members and 1 guests)
Posting Rules
You may not post new threads
You may not post replies
You may not post attachments
You may not edit your posts
---
HTML code is Off
---