Finished my M18 PRO but having mamba issue :)
01-07-2007, 09:52 AM
---
Yea Sydewynder I have fulll ycharged that battery. I think I will call Castle on Monday as has been suggested before I try and toss more cash in the pit. Thanks for all the suggestions everyone. This site is so helpful
01-07-2007, 02:24 PM
---
Took the little bugger out to the local high school rubberized track that encircles the football field. Was running a 12 tooth pinion and it looked to be hitting low 50s in mph with the 8000. Geezus these motors are nutz!!
Going to head back and try a 18 tooth pinion and see what happens. Still having the cogging issue but I will work on it till its figured out
01-07-2007, 07:15 PM
Tech Fanatic
Join Date: Apr 2006
Location: Abrams, WI (Yes the same town as CJ & John Greaves)
Posts: 821
---
I run a C-4 9200kv in a Associated 18T and had the same problem yesterday. I'm using GP1100 batteries with a 10 tooth pinion. All I did was move my receiver and my mamba esc and it stopped. Maybe try that, it was a simple fix for me.
01-07-2007, 07:32 PM
---
Originally Posted by BIGTACO
... Perhaps I should change to a Quark controller.
Yup- been there done that. I'm not sure if it's the solution yet since I haven't installed it but from what I read about the Quark it's the end all micro controller.... better be for the price
01-10-2007, 08:49 AM
---
Well I opted to go ahead and get the Quark 33a controller and try that. I really hope that works. If it doesn't than I guess I am I am just cursed.
01-11-2007, 05:58 PM
---
Well I installed the Quark 33A controller and all I can say is OH MY GOD. Its like night and day. Not even a hint of cogging or hesitation. Not only that but this controller has really opened this mamba 8k up. It winds up faster and pulls more rpms at the top. Its like having a brushed motor with brushless speed. For once a product really has delivered everything it claims!
01-11-2007, 07:34 PM
Tech Regular
Join Date: Sep 2006
Posts: 473
---
Thanks for the update. Glad it worked out for you. Can I ask: How did you mount th Quark? Its so large from what I understand.
01-11-2007, 10:35 PM
---
To answer your question mini-me refer to the following pics. I had to take a couple thin pieces of plastic and glue them together then use them as a mounting plate. This way I could clear the reciever. It is very tight but all fits nice.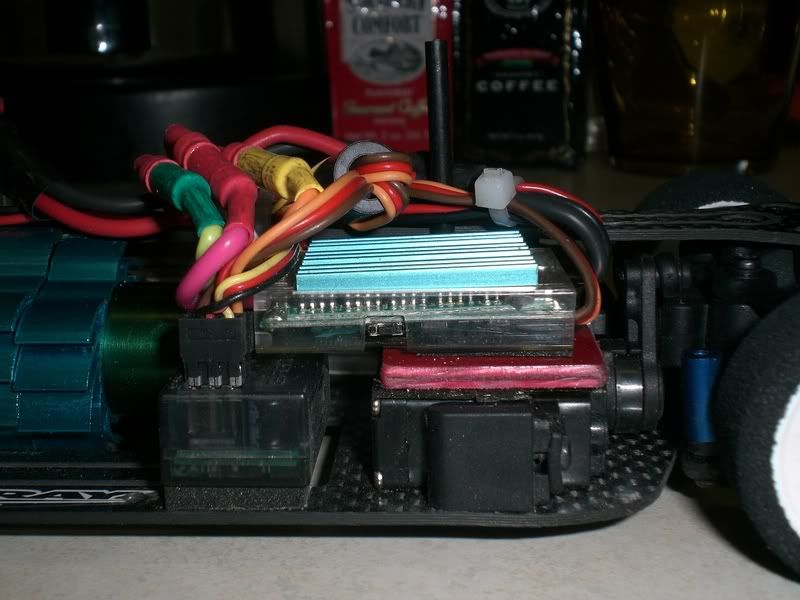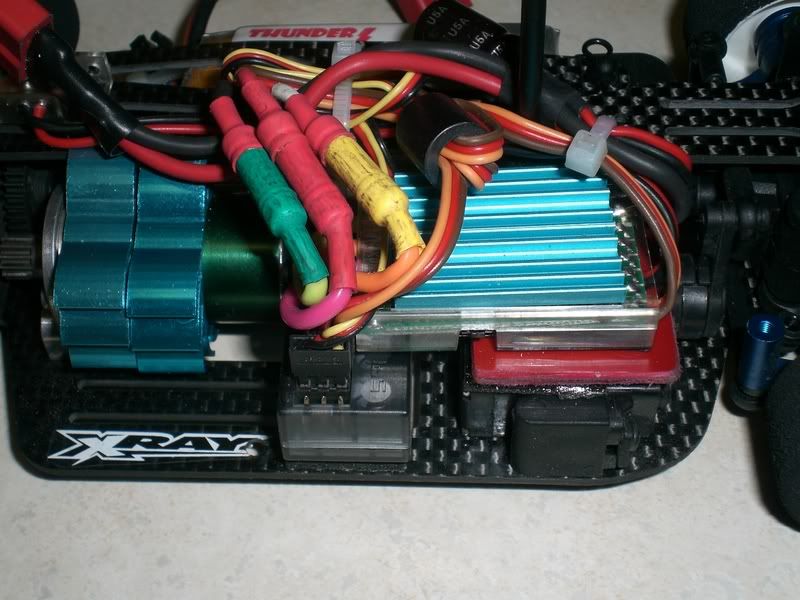 01-13-2007, 02:40 PM
---
where is a good place to get the Quark?

I had a Mamba Comp X in my MiniT a couple years ago and couldnt get rid of the cogging. I spent hours on the phone/email with Castle. Tried it in a 18T and still had it. It was kinda weird them telling me to turn down the performance of their high performance package - whats the point of getting the fast one then...

Anyway, they finally replaced it after they had me buy all new batteries - said Apogee was the way too go and thats what I bought. New mamba, new apogee and recommended gearing...still cogged...sold everything the next week. Now, I could eliminate the cog by turning the low voltage detector off...but that wouldnt be prudent...

anyway, im getting an FT RC18B and was wanting a good brushless setup for it...
01-13-2007, 07:06 PM
---
Get it from Bishop Power. Cheapest prices and best service. As far as a brushless setup there are a few really good ones from what I hear. With the QUARK controller though the mamba motors work great. For me its almost like a whole new car since I paired the mamba with the Quark. I would go with that if I were you. I am using the 8000k with it and running it on a huge track built for 1/10 and 1/8 scale cars. It runs mid 50's with 13/42 gearing and still doesn't get to hot after 8-10 minutes of solid hard running. Do it man, you won't be dissapointed... I am actually considering getting the c4 9200kv motor and seeing if I can keep this thing on the ground. So far the handling characteristics of this tiny car are unbelievable and able to hold insane speed through the corners. I figure I had better go faster if I want to make the other nitro guys say " WTF did that little car just pass me?"
Currently Active Users Viewing This Thread: 1
(0 members and 1 guests)
Posting Rules
You may not post new threads
You may not post replies
You may not post attachments
You may not edit your posts
---
HTML code is Off
---