1/16 slash to erevo conversion help
04-10-2019, 07:47 AM
Tech Initiate
Join Date: Feb 2008
Posts: 22
1/16 slash to erevo conversion help
---
Hey all,
I finally finished my 1/16 slash to erevo conversion. I opted for RPM A-arms but the rest of the stuff is pretty stock, here are the parts that I used for the conversion.
Push rod set - 7118
Toe links - 7138
Driveshafts - 7151
RPM A-ARMS
Pro-Line Pre-Mounted Dirt Hawg I (Desperado)
I'm having an issue with both the front and rear end notice how far the wheel is turned when the steering is straight, it seems that something isn't right. I have already visited my LHS and they are stumped and want to swap out my RPM A-arms, I don't think that is it.
Anyone have any suggestions for me? What did I do wrong?
Thanks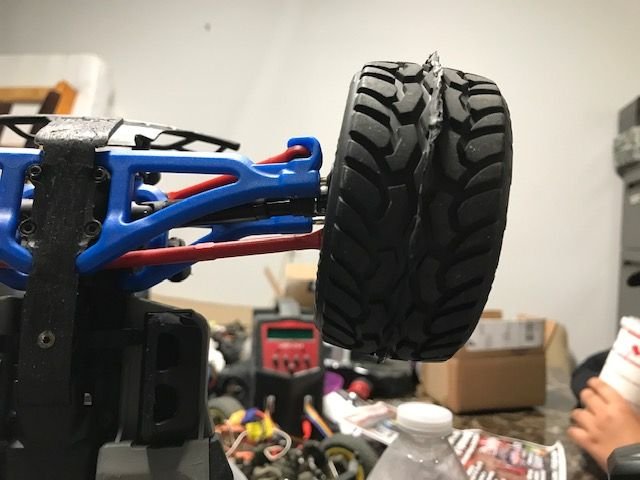 ---
Last edited by marciscool; 04-10-2019 at

10:32 AM

. Reason: typos.
04-12-2019, 05:51 AM
Tech Apprentice
Join Date: Apr 2018
Posts: 76
---
is the steering linkage the same for both cars?
if those are for sure right turnbuckles then the akerman could be too short.

another posisbility is that the front carriers are different also creating an issue.


05-07-2019, 02:28 AM
Tech Regular
Join Date: Jun 2009
Location: So-Cal
Posts: 483
---
The suspension balls in the front need to be screwed into the arms a bit more to dial out the excessive toe-out. You do need to have some toe-out, but not as much as you have in the picture. Both, top and bottom, suspension balls need to be screwed in.
05-07-2019, 03:58 AM
Tech Master
Join Date: Nov 2008
Location: Kannapolis, NC
Posts: 1,395
---
For the conversion to work correctly you will need to swap out the upper and lower control arms, toe bars and push rods, and axles for each corner of the car. Nothing short of this will work. All you have to do is look at the individual suspension bits for each corner to see it. Not rocket science, just simple math. You will probably want to swap out the bumpers as well.
Currently Active Users Viewing This Thread: 1
(0 members and 1 guests)
Posting Rules
You may not post new threads
You may not post replies
You may not post attachments
You may not edit your posts
---
HTML code is Off
---