Associated Reflex 14B/14T
09-13-2021, 04:31 PM
---
Nitro Ace, Good to hear you have a responsible pain Dr.! I too now have a excellent Pain Dr. who knows how to treat pain with out heavy drugs! I've had many shots, nerve burns, and even a spinal cord stimulator installed, and while they all helped, it was for a short term fix! Aleve, and a nerve "destimulating" pill, is all I take, and just tough it out, and TRY my best to not be a Crabby A-hole to my wife while dealing with the continuous pain!
RC is a AWESOME OUTLET to my frustrations with being stuck at home! Keeps my mind focused on something other than pain!
Your 3s Reflex sounds INSANE! I went to the 70t spur to make my Reflex controllable on my driveway track, and it should help in the dirt too. As it had TONS of speed with the 58t spur ay least on smaller tracks! Mine was running aprox. 35mph with the factory gearing, which I know isn't all that fast compared to 1/10 scale, but in smaller tracks it's QUICK!
Rearview, I TOO LOVE YOUR FAN INSTALL!!! I too am going to HAVE to try a fan with the Texas heat! Even with the Windshield cut out, the "vents" cutout in the front/rear corners that were molded into the body, and cutting away most of the backend of body for air flow, if it's 95*+puts my motor at 160s. And the 95*+ temps are close to half of the year here, so a fan is our best hope! Can you please show us some pics of how it's installed? A model number for the fan? Thanks
Take Care Everybody, and keep up with the Great Work with Reflex!!! Drew
---
Last edited by BoxxerBoyDrew; 09-13-2021 at

04:31 PM

. Reason: added info
09-13-2021, 06:39 PM
---
Hey Drew,

I love building RC models. It keeps my brain and hands functioning. I'm into small RC airplanes and helicopters along with the cars. I want to get my Blade 300X helicopter running again.

Here's some new photos from today: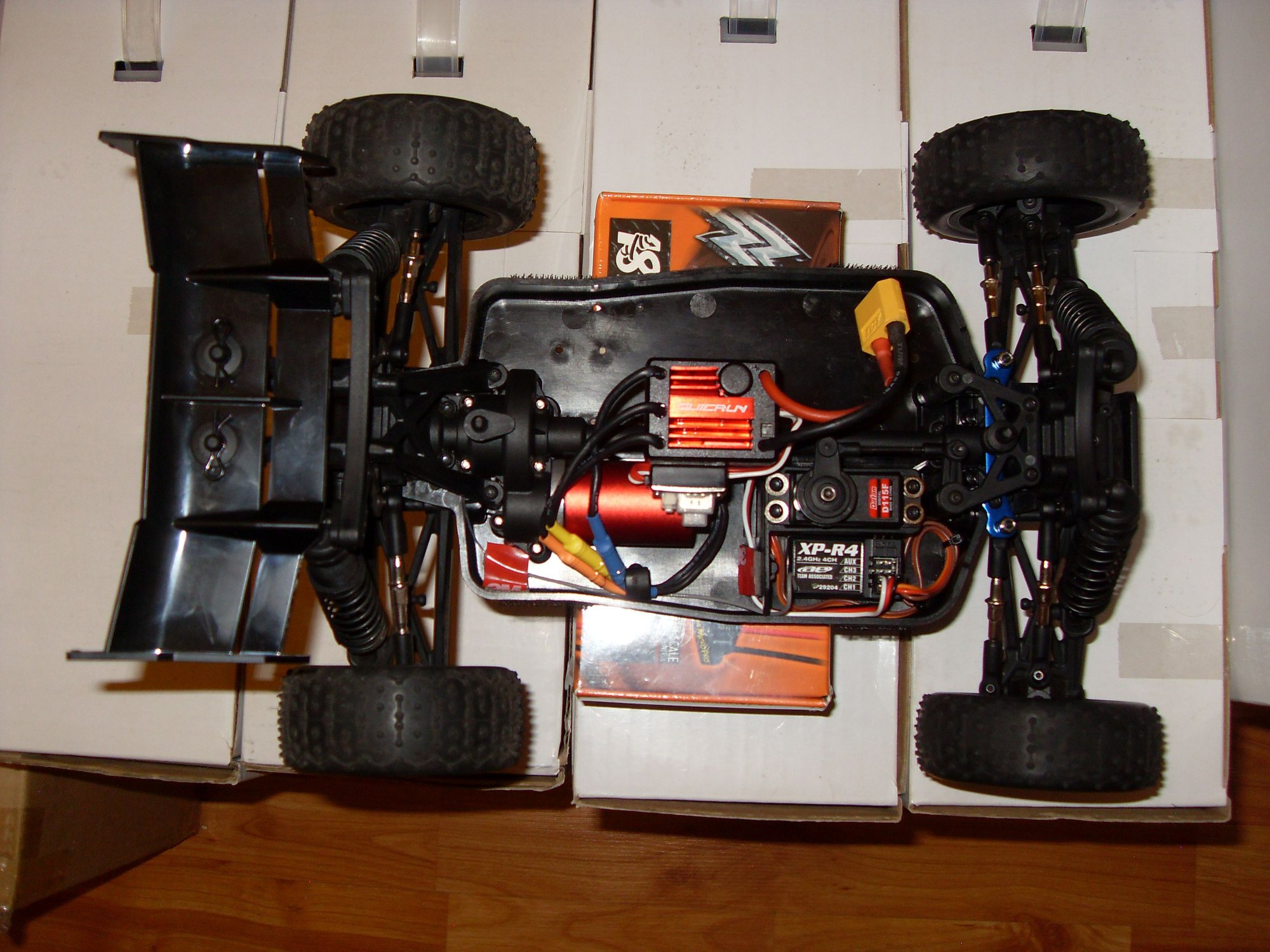 09-13-2021, 06:49 PM
---
When I recently pulled those 2250 mah 3S 25C Rhino batteries out of a LIPO storage bag (after several years) I thought they were too big for 14B. But NO, they easily fit under the body shell like all my smaller lipos. I've ran them in the 14B a few times, they still work like brand new.
09-14-2021, 09:03 AM
---
Love the pics Nitro Ace!!! I too like micro Heli! I've got a whole fleet of Syma 107G, and a Hero H911 fixed pitch. I want to get into park flyers, but too many hobbies and never enough cash!

It was pretty cool here this morning, 78* at 9am, so I ran my reflex for 3-60 lap heats, and the motor temp hit 159* . So I took the body off and ran it and after 5 laps the motor was 144* and the ESC was 103*. So now I know that even more air flow than I currently have with ventilated body, will cool the motor even better. Now just trying to fit one! I won't mind trying the way RearView installed his on the current chassis, since the current one has the stripped diff cover screw holes and I have a replacement. But when I want to run on dirt the open fan will be a problem! Just trying to find room in there is a challenge!!! I really like my Sanwa MX-6, but I should have done more research, as I didn't realize it is limited to 1 receiver and it is pretty big for todays standards! Also going to order a truggy body to get more airflow and to protect the shock towers for when I go sliding across the concrete on my lid from a rounded corner!
09-14-2021, 09:49 AM
---
Drew, You have RC helicopters? that's cool! Great that your 14B is getting plenty of lap time. I sent you a PM.
09-14-2021, 09:59 AM
---
I flipped this photo 180 degrees (big rhino lipo)...right side up...looks better. Plus a couple more from yesterday.
09-14-2021, 10:06 AM
---
Can you, or has anyone tried to take a 540 sized heatsink and bending it to fit a 370 motor?
I figure you could use a ratcheting band clamp to "shrink" it to fit.
Maybe a heatsink like this could work?
https://www.hobbytown.com/team-integ...ncsesqqqsbg4yz
It would solve 2 problems. First motor heat, and second is a fan mounting location.
Thanks for any advice! Drew
09-14-2021, 11:44 AM
---
forget about above post, as I found a 370 sized fan mount/heatsink, but it's coming from china, so we'll see if I receive it and how long it takes!!
Nitro pm replied, THANKYOU!!!

09-14-2021, 01:01 PM
---
Yeah...ha ha...my pleasure. The only reason I decided to buy the HW Quicrun (2 pole) 4500kv motor for my 3S project, was because the original equipment Reedy 280-SL4 motor was totally sold out. No vendor anywhere had them. But after a few months there are now plenty available, but they cost ($36.99) $10 more than the Quicrun $27 on Amazon. So I'm glad I got the Quicrun, and can compare both motors on 3S after I install a 16BL30 in the other buggy.
Hey Drew, did you use a HobbyWing program card when you hooked up your Quicrun ESC? I got dizzy looking at the setup manual for that esc, but then I ordered the HW program card, and carefully studied the instructions for both items. My instinct going in, was this ESC and motor were probably designed to run on the DEFAULT settings. There is a very useful table in the ESC manual, that shows the nine (9) default settings for the 16BL30, and I verified these were already preset out of the box. The program card is handy to have, so you can see and verify the settings...plus you might want to experiment with the PUNCH setting. The default punch setting is 5, but it goes up to 9 if you're looking for serious trouble.
(punch = acceleration)
The program card manual is only good for learning what the four buttons do. Once you have that figured out, the ESC MANUAL is where the correct table is, showing the nine adjustable parameters, with the DEFAULT settings highlighted in black, making the most important information so easy to find and use.
The tables that come with the program card DO NOT work for programming the 16BL30.
---
Last edited by Nitro Ace; 09-14-2021 at

01:50 PM

.
09-14-2021, 01:25 PM
---
Yeah, there's not much room next to the motor for a heat sink (I'm not saying it's impossible) but i've seen a few people put small fans in there.

---
Last edited by Nitro Ace; 09-14-2021 at

03:54 PM

.
09-15-2021, 03:52 PM
---
Just a quick update on my fan mod above. It works amazing! We ran both 14B's last night , after about 15 minutes of full gas on a small track mine with the fan had a motor that was cool to the touch, no heat whatsoever. The other one, even after sitting for 5 minutes was still very hot and it was ran much gentler. Needless to say I'll be adding the fan to the other one now, it makes a big difference.
09-15-2021, 10:13 PM
---
Pics of fan install? Thanks!

09-16-2021, 10:53 AM
---
Hey Drew, is this the photo you were asking about? The 14T truggy is shown here with 1/10 wheels and Losi Mini-8 tires. 1/10 wheels are standard equipment on most, if not all 1/14 scale RC vehicles. These wheels are 2 inches in diameter. The industry says they are 2.2 inches, but all of mine measure exactly 2 inches. The Vaterra Kalahari on right side of the 14T is also wearing Losi Mini-8 tires in this photo.

I agree with you the bright yellow mini-8 wheels would make your car much easier to see. These wheels are available right now on Ebay at a fairly decent price. Just scroll down this list a bit to find them. They will indeed fit on your Reflex 14.
https://www.ebay.com/sch/i.html?_nkw=losi+mini+8+wheels
---
Last edited by Nitro Ace; 09-16-2021 at

12:35 PM

.
09-16-2021, 11:09 AM
---
REARVIEWMIRROR,

I like how you routed the motor wires, and moved the on-off switch down to the floor to make room for the fan. It's a challenge to accommodate add-on components inside the small space and still get the body to fit correctly. I was amazed my large Rhino lipos fit in the battery space. I use a rubber band to hold down the wires and connectors, body still fits perfectly.