Mini/Micro RC
06-03-2017, 06:16 PM
Tech Regular
Join Date: Sep 2009
Location: http://www.fastharry.com NJ
Posts: 303
---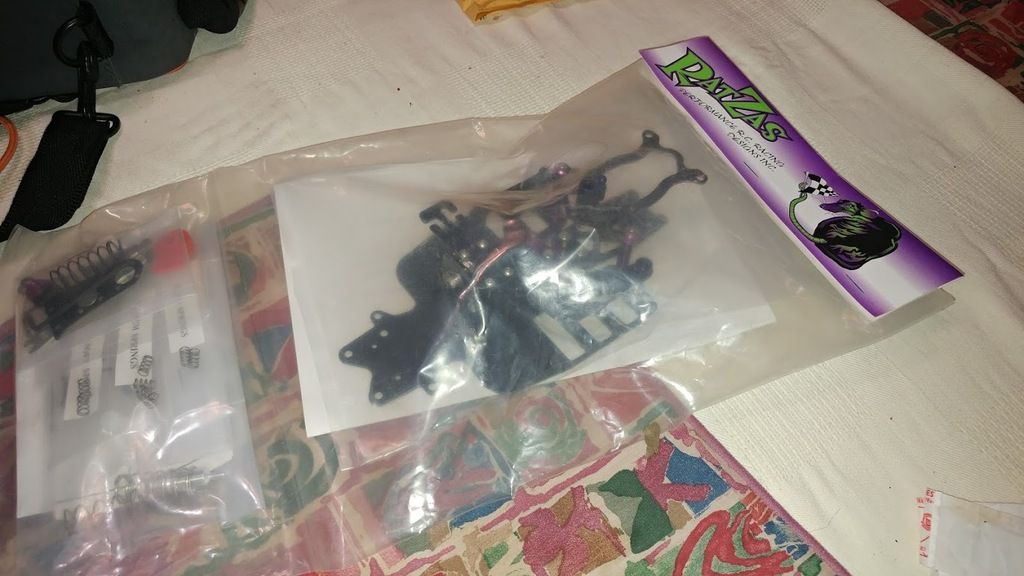 anyone remember the Ratzas Rat Racer extreme chassis?..
Just found one in my RC collection...bought it when they first came out...If I remember correctly, they were limited editions
02-28-2018, 01:25 PM
Tech Apprentice
Join Date: May 2017
Posts: 51
---
Where Can I buy Mini-Z parts in Manila? Are there any tracks around?
02-14-2019, 11:59 AM
Tech Initiate
Join Date: Oct 2011
Posts: 28
Mr03 ve pro
---
Hi how are you? I need your help. I have mr03 ve pro unit and I want to know if I can play brushed motor with this unit and how .
thank you
02-18-2019, 01:56 AM
---
The mr03 ve pro is a brushless format.... so no chance to use brushed motors...
The mr03 evo... though is the latest offering. And can use brushed and brushless motors... hope this helps...
Taga san po kayo?
02-24-2019, 06:54 PM
Tech Master
---
Hi rad! Been a looong while since. You still tinkering with Zzzz's ?
02-25-2019, 10:27 PM
---


Was thinking of getting into rc sailboats.... I know you have an rc boat... any clue where to get an rc sailboat and where to sail?
02-26-2019, 09:49 AM
Tech Master
---
All my kits are gathering dust. Started garage cleaning and hopefully, start getting my stuff in working order again. Will thin down my collection . . . maybe.

As for the sailboat, I have no idea as I have been out of circulation for quite sometime now. You might have to source online. Anyway, as you know, any non-comm input valued at less than P10k is tax free.
Before I went into hibernation, I last tried running my boat at Parks and Wildlife. That was years ago.
You should check it out. Last I heard (about 2 or so years ago) there was a group there on weekends.


02-26-2019, 06:43 PM
---
Oh... I see thanks for info... will be sending you PM.
were you able to read my articles on the previous page?
whats keeping you busy these days?
02-26-2019, 07:08 PM
Tech Master
---
Read your journals. It's great that you keep track of all your adventures. Maybe start a blog and compile it all in one place, apart from the forums you post on?
I visited osaka and taipei but RC was not in my mind back then. But you have the advantage of being able to bring your Z kits with its' small footprint.
I am interested in trying race drones. Might just visit the UP group one weekend.
03-12-2019, 08:59 PM
---
Sorry for late reply... although i haven't got a drone, I got to fly a couple... and they are fun to fly... hehehe... I remember you had a brushless 1/18... is it still alive?
03-20-2019, 09:14 AM
Tech Master
---
Yes, still have my AE & Xray 1/18s. Had to inatall a gyro on the RC18 just to keep it running straight. Crazy fast even on 2S lipo.
04-03-2019, 02:25 PM
Tech Adept
Join Date: Mar 2018
Location: Cerritos, CA
Posts: 188
Makati Race
---
I was visiting the Philippines last month and saw this in a Makati mall.
Never realized how big this is in Manila.
Currently Active Users Viewing This Thread: 1
(0 members and 1 guests)
Posting Rules
You may not post new threads
You may not post replies
You may not post attachments
You may not edit your posts
---
HTML code is Off
---