Serpent S400 EP Touring Car
09-10-2007, 01:26 AM
Serpent S400 EP Touring Car
---
Hi guys,
Another established brand is joining the EP scene. From the looks of it, I'm sure it'll be another sure winner! Do drop by to our showroom in 1Utama Shopping Center or to HMS to view it!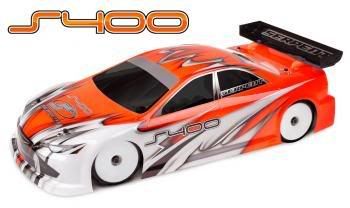 Competition level 1/10th scale 190mm electric touring car chassis. The S400 is a very clean, narrow and sleek design with a focus on easy handling, ease of set-up and maintenance.
Introduction
Serpent enters the competitive electric touring car market with the S400, which like all our previous cars, has been designed to win straight out of the box. Featuring an ultra low centre of gravity, optimized weight distribution, high performance geometry and top quality materials throughout, the S400 should see you in the winner's circle in no time. In fact everything associated with this car is of the highest quality, from the packaging and supplied manuals, right through to the product and race support.
Rear end
The rear end of the Serpent S400 has been designed for high performance and ease of maintenance. The rear bearing blocks have been designed in 2 pieces which allows the topside to be simply removed with 4 screws, giving you easy access to the differential for maintenance or adjustment. All the parts have been machined from aluminium and have anodized in gun metal grey.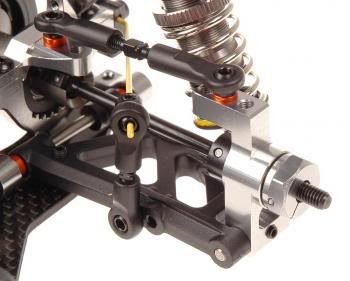 Rear suspension
The rear end of the S400 features strong 1-piece lower wishbones and aluminium uprights. As with all the wishbones on the car, the lower wishbones can be used on both the left and right sides, minimizing the number of spare parts needed to bring to the track. The rear upright features a pivot pin mounting point on the bottom and three upper camber link mounting holes for fine-tuning camber rise.
Rear Differential
The kit version of the S400 comes supplied with a lightweight and smooth rear ball differential. The diff halves are made from hard anodised aluminium which is lightweight yet extremely strong, while the use of high quality balls and steel plates ensure a long lasting and smooth diff action.
Drive train
The S400 drive train utilizes a 2-belt system with rear ball differential and front spool, while 4 CVD (constant velocity drives) transfer the power to the wheels. The motor, which is mounted to an aluminium plate, powers the main spur gear and hard anodised aluminium pulleys.
Front suspension
Similar to the rear suspension in configuration, the front suspension sports a lower composite wishbone while the upper camber adjustment is handled using a track rod which is solid, lightweight and can easily handle impacts.
Front C-hub system
A standard system on all high-end touring cars, the S400 features a front C-hub system, which is a lighter alternative to a pivot ball steering system. The car comes standard with a 4-degree caster block but is also supplied with a pair of 2 and 6-degree blocks.
Servo Saver
The servo saver on the S400 features 4 steering rod mounting points to allow the user to easily adjust the cars Ackerman. The servo saver system itself features a nut for adjusting the spring tension of the saver.
Chassis
The chassis plate has been machined from a plate of 2.5mm thick carbon fibre, which creates a perfect platform for the cars electronics as well as stiff structure, especially when combined with the equally rigid 2.5mm thick carbon fibre top deck. All holes in the base of the chassis have been countersunk while on the top of the plate, the area around the motor has been milled down to allow it to sit as low as possible. The plate features cooling holes below the motor and speed controller.
Anti-roll bars
The S400 is supplied with colour coded anti-roll bars front and rear that are held in place using a 2 piece anti-roll bar mount. The anti-roll bars are available in a number of thicknesses and are connected to the wishbones using short adjustable track rods. Stiffness is quickly and easily adjustable by changing the linkage mounting points on the lower wishbones or alternatively by changing the position of the ball joint pivot point on the roll bar itself.
RCC Shock absorbers
The RCC shock absorbers are the smoothest and easiest to build shocks ever designed. Machined from aluminium and unique in that the shock bodies only open on the bottom half, they are really simple to assemble. The result is an ultra-smooth and air-free shock absorber thanks to the self-bleeding system incorporated into the design. The shocks are supplied with 4 different shock pistons.
Another great benefit is that these shock absorbers come pre-assembled in the kit, so you need only add shock oil.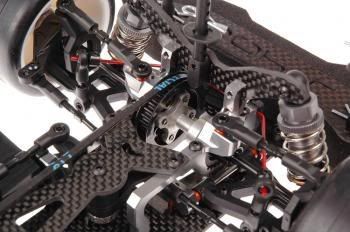 Front axle
The car comes supplied with a front spool which has been made from hard anodised aluminium while its shape has been optimised to ensure that the part is as light as possible without compromising strength. The drive is provided through the attached pulley into the lightened steel drive cups, which are held in place using steel pins.
Shock towers
The Serpent S400 features 2.5mm thick carbon fibre shock towers on the front and rear of the car. Each tower sports numerous holes for adjustment of the shock absorber angle while the rear tower also acts as the mount for the rear body posts and the front tower accommodates a 3rd front body post.
CVDs
This car is supplied with a complete set of 4 high quality hard coated steel CVD shafts, which are a highly consistent, efficient and durable way to transfer all the power the ground.
Suspension brackets
For adjusting the cars toe-in and track-width, the S400 is equipped with separately mounted suspension brackets on both the front and rear of the car. Each bracket features an easily recognisable number that corresponds to the setting being used and due to the way they are mounted allows the user to easily and accurately adjust their cars settings.
Steering system
The Serpent S400 utilises a centrally mounted steering assembly that contains the servo saver and Ackermann adjustments. Controlled by a side-mounted laydown servo, the steering assembly is ball raced precision and due to its central position it is much lighter than more complex off set steering systems. The tension of the servo saver spring can be adjusted using the supplied adjustment nut.
Bumper
The front bumper has been made from a high impact absorbing foam material and is shaped to protect the entire front end of the car in the event of a crash. The bumper is held in place with a large stylish carbon plate that features the S400 logo cut out of it.
Belt tensioner
Secured to the cars top plate, this machined aluminium piece acts as the mount for the aerial as well as the cars ball raced belt tensioner.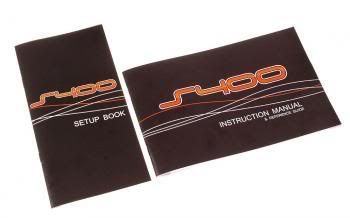 Manuals & Decals
To allow you to build your car with the greatest of ease, Serpent supplies a full colour instruction manual and integrated reference guide section that contains all the exploded views and latest options. The S400 also comes supplied with a small setup book explaining how to adjust your car and a pair of decal sheets in colour and in chrome finish.
---
Last edited by CheeYong; 09-10-2007 at

04:02 AM

.
09-10-2007, 03:24 AM
Tech Regular
Join Date: Jun 2007
Posts: 465
S400 Price
---
Hello Chee Yong

I won't be able to come by to 1 U lately because of my work schedule. Can you maybe PM me the price of the car? Thanks.. Look great i would say

Thanks again
09-10-2007, 11:13 PM
Tech Regular
Join Date: Sep 2006
Posts: 347
---
Hi,our Tamiya Master,
I think you donn't mind we ask you a quention:
1)which is the best EP car in market Malaysia? "Tamiya or Serpent"
09-11-2007, 01:23 AM
---
Hi Niko Cheng,

Thanks for your question.

Since you nothing about EP, allow me to teach you a thing or two. Have you seen a Tamiya 415? Believe not. Both the cars have alot of similarities. To make things simple for you, in my opinion, the only difference being chassis rigidity, steering design and weight distribution provides a different feel and traction ability. Both are great cars!

So far we provided great parts support and service to many satisfied customers for Tamiya users.

As for Serpent products, our partnership with HMS Racing, allows us to provide parts and service like never before. We being an authorised master dealer for Serpent products have full parts coverage, fully supported by HMS Racing. We are not like some so-called self pro-claimed Serpent "distributor" in Johor providing little parts support and doing parallel imports.

Hope the above helped you.
09-11-2007, 02:30 AM
Tech Adept
Join Date: Dec 2003
Location: Don't drive too fast
Posts: 218
---
IMHO..it is hard to make a comparison between car manufacturer and to decide which is the best EP cars..as for me the main thing is not the car itself but the support and service that carries the brand.
FYI i'm been drving Tamiya 04 since 2003, at that time not many ppl racing using tamiya's car..why? becoz of the poor support due to the parts etc..etc and the brand seamless dying (i mean in rc cars only not other's like die-cats or models)..but than and now, why tamiya car suddenly resurrect? that is becoz of its fully supports and i think that is the most main reason and makes people to ponder which car to spend through-out their future in RC-ing..and as the results it can be the best buying and popular car too..
my2sen
CheriO
09-11-2007, 03:06 AM
Tech Addict
Join Date: May 2007
Posts: 581
---
whahhaa...finally..its about time...love at 1st sight...chee yong..PM me the price..
09-11-2007, 03:48 AM
Tech Regular
Join Date: Sep 2006
Posts: 347
---
Hi Tamiya master,
I think your answer is very nice & everyone will understand the 'serpent s-400 & tamiya 415' are both good EP car.
Thanks for your advised,i will consideration to bring in this EP car model & promote to everyone who intresting to buy.(the price for s-400 just same with the s-720) @rm 1350.00 per unit.
Tamiya master,
I think you try to teach me how to running my r/c business,this is not my quentions isnn't it?
since you bring out the issue,i decide to ask you, anything wrong if someone to parallel inport the tamiya & serpent products?do you study our Malaysia r/c market?
Please mind your words,i never tell you we are the distributor for serpent product in Malaysia.the only thing you must know,before HMS this company set up in Malaysia we already direct inport "serpent products".(more than 14 years).
What you want to said,may be you have right to stop me to direct order from oversea?
Thank you for you reply!
Best Regards,
Niko Cheng
09-11-2007, 05:13 AM
Tech Initiate
Join Date: Jan 2006
Location: MALAYA
Posts: 46
Price
---
Please PM me the price master chee yong
09-11-2007, 10:10 AM
Tech Regular
Join Date: Aug 2005
Posts: 421
---
Chee Yong, no worry..being our appointed master dealer for Serpent, rest assured you will have our full back-up on the supply of all Serpent products as may be required by you from time to time...
As the Authorised Serpent Distributor in Malaysia and Brunei, we will ensure our continuous support of parts and sale services to all dealers properly appointed by us to sell Serpent products in both Malaysia and Brunei.
Please feel free to contact me or Eder to find out the details of our authorised deaalers for Serpent products. We shall be pleased to assist you.
Chris Han
09-11-2007, 08:10 PM
Tech Fanatic
Join Date: Aug 2005
Posts: 838
---
Like Master D T said to me......
hobby maaaaaaa
.
nice chasis...although looks like the 415 but it's not entirely the same
09-11-2007, 10:26 PM
---
Dear Mr.Niko Cheng,

I'm surprised that after so many years into your own business you still do not know the meaning of tactfulness, ethics and respect. You come into a thread which will only do us all good and ask some very silly question with bad intentions.

I will not and am not in the capacity to stop you from parallel importing but bear in mind that by doing so you are only helping the source you are ordering from. By doing so, you will not help Malaysian R/C to grow. And thanks for openly admit how you run your business cos we have gotten Serpent to look in here.

Thanks alot!
09-11-2007, 10:35 PM
Tech Addict
Join Date: May 2007
Posts: 581
---
mr niko and mr chee yong....u share the same industry ma....RC
....so just enjoy the hobby...rezeki masing-masing...dont worrie...all the best to both of u...
09-11-2007, 10:40 PM
Tech Initiate
Join Date: May 2007
Posts: 11
09-11-2007, 11:08 PM
Tech Regular
Join Date: Jan 2007
Location: Bandar Sunway, PJ
Posts: 245
---
Dear Mr.Niko Cheng,
I almost forgotten you. Ya right. You make me recalled or remembered you
. Once my friend told me before you're the great or so called "BeST" RC event organizer he ever known. Just like the past Johor Cup Event. I bet that u know which one I'm referring to. The winner is only eligble to complete the season in oversea by buying another Serpent car. Is that true? I just heard this from my friend who was about to participate but at last a word "No". Is that the way you promote RC in our community here in M'sia? No offense here. Since this tread belongs to "Serpent S400 EP Touring Car", is right for OCY to promote the new car to the community. You can promote too if you want but make sure it's just don't have the similarities like how you promoted RC event in the past few months.
Cheers,
aDrian
09-12-2007, 12:05 AM
Tech Addict
Join Date: Feb 2005
Location: Sepang Home of Malaysia's Formula One
Posts: 684
---
ish ish ish....
not another battle of wits n fancies...
Serpent
vs.
Tamiya
...
in this land of malaya.
i only knew
Tamiya
...
got hooked to it...
live with it...
breathe it...
played it...
have great friends using it...
promoting it...
supporting it...
then there is this
Serpent
...
from very far in the winterland...
sneaking quietly...
as potent as the deadly snake they say...
reputation of the brand...
is well known i have no doubt
a big established European manufacturer
with accolades of achievements on the plate.
now i may ask, whats the fuss?
please not another mess...
its a bitter love n hate
in the RC business
courtesy, kindness, tactfulness
with lots of grace
will guarantee you the support from fans
for many many years...
be it
Tamiya
or
Serpent
be it Kyosho or Yokomo
be it any brand
i can truly understand.
i take this opportunity
not hijacking this Serpent thread out of animosity
wishing my fellow racers, bashers, friends in RC...
Selamat Menyambut Ramadhan!!!
peace to all...
*views expressly reserved*