2011 Fall Classic-Dallas
09-25-2011, 01:16 PM
Tech Elite
2011 Fall Classic-Dallas
---
Thanks for those who waited! I am the sure the race will be worth the wait.
Go to
www.mikeshobbyshop.com
for a printable flyer and all the details. Or PM me! See ya at the track!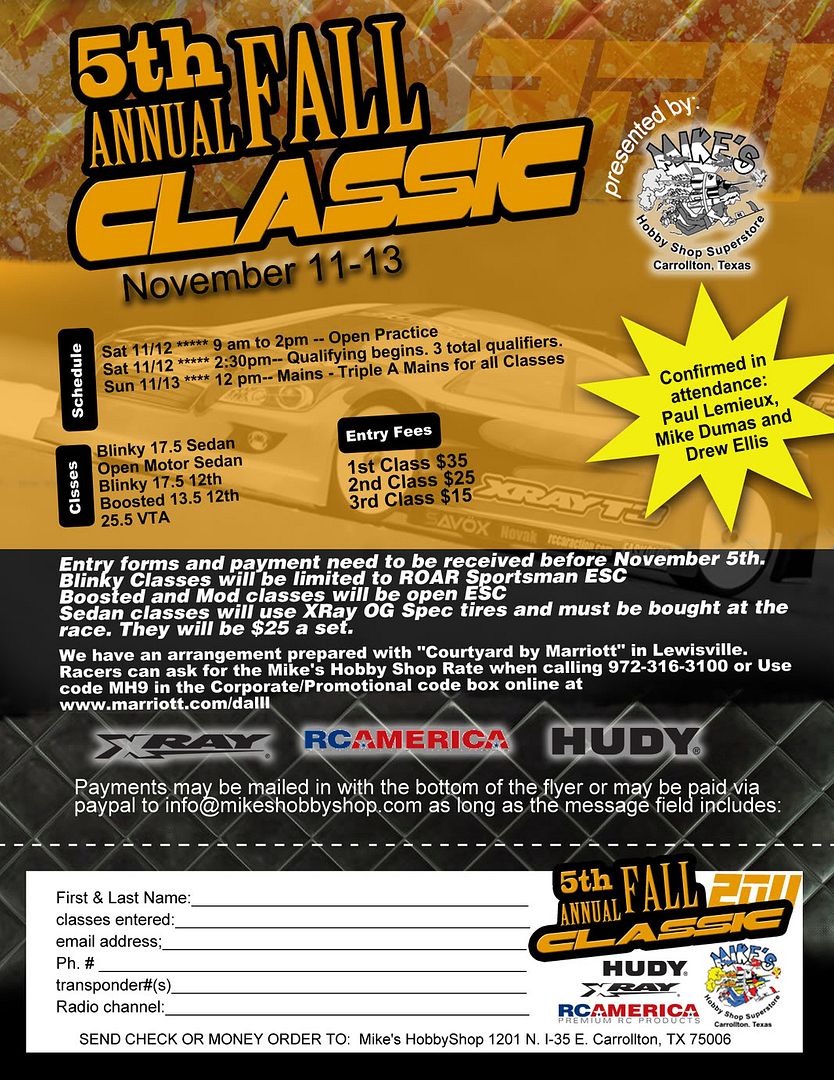 09-25-2011, 01:22 PM
Tech Regular
Join Date: Jun 2007
Location: Ringgold, LA
Posts: 393
---
cool beans!! maybe I can get some of are local guys over here to come through down in the VTA class? I will sure be looking to put that race as a must attend!!
10-23-2011, 10:17 PM
Tech Elite
---
Lots of good VTA racing taking place as guys get ready for the Fall Classic. Everything is green light for Drew, Dumas, and Paul as well. This is going to be awesome!
10-25-2011, 11:43 PM
Tech Elite
---
10-30-2011, 03:13 AM
Tech Elite
---
You boys ready? We are!
11-01-2011, 06:07 AM
Tech Elite
---
Layout will be going in this Saturday for the Fall Classic.
11-06-2011, 09:12 AM
Tech Elite
---
11-07-2011, 11:56 PM
Tech Elite
---
Grass infield? YES!!
Currently Active Users Viewing This Thread: 1
(0 members and 1 guests)
Posting Rules
You may not post new threads
You may not post replies
You may not post attachments
You may not edit your posts
---
HTML code is Off
---