Psycho Nitro Blast II - The Relapse Feb 6-8 2009
09-11-2008, 09:00 AM
Psycho Nitro Blast II - The Relapse Feb 6-8 2009
---
10-15-2008, 10:54 AM
---
NEWS UPDATE!
Psycho Nitro Blast 2 Registration will open on October 31st at 3am eastern time. Please visit
www.rcsignup.com
or
www.psychonitroblast.com
for registration details.
****Cash payout for top 5 and plaques for TQ and top 5 for pro classes ($ amount not determined yet)
****Sportsman classes receive Product packages and plaques for top 5. Also, TQ receives a plaque.
FIRST RACER TO SIGN UP FOR THE EVENT IN EACH CLASS USING RCSIGNUP WILL RECEIVE A DOOR PRIZE AT THE RACE!!!!! Good Luck!!!!
More News Soon!!!!!
12-09-2008, 04:08 PM
---
Hotel information is now up on the PNB site. Best Western is our host hotel and are offering some good deals for the race weekend. Make sure you tell them your attending the race to get the discounted price.
www.psychonitroblast.com
12-11-2008, 07:04 AM
---
Alright ladies and gentlemen. We are giving you a sneak peak at one of the featured sections of the track. Tonight at 6 pm eastern you will be able to watch LIVE the construction of the "DEJAVU" feature. The first one has already been built and number two is happening tonight. Please log on to:
http://www.ustream.tv/channel/psycho...---the-relapse
We will be using this site as well to broadcast the racing action LIVE and to give heat updates and make announcements along side the radio broadcast. The more media the better It has a built in forum so you can talk about setups, tires, ect. we do not have wireless internet at the track so you will need a wireless card. The best western has free internet so you can watch the action and get updates from the hotel. I would like to get as many people watching tonight so we can see if there are any crashing problems or issues.
Grab some popcorn and your favorite beverage and enjoy a spin off of the New Yankee Workshop. lol and maybe see one of us nail a finger to a 2x4.
Later.
Special thanks to Alex Pilson at
www.MODHOBBY.COM
for discovering the site. You the techno man!
---
Last edited by Leikam; 12-11-2008 at

07:50 AM

.
12-13-2008, 03:48 PM
---
As quoted by Dave Leikam on SGRID: These features are NOT jumps. They are CORNER HUMPS that will be placed in corners that are back to back. You will enter the 1st corner and will have to make a 180 degree turn going over the hump, then you will accelerate briefly then enter a 90 degree corner and roll the next hump. keeping all four tires on the humps and making the corners smoothly is extremely fast and fun. the trick for the second hump for sure will be to accelerate down the back side hard because waiting for you will be a low-fast jump with a nice little gap.
speed will be everything there. Get the throttle finger ready!
More to come soon!
01-05-2009, 09:34 AM
---
New info....hmmmm let's see....

Well, all the stuff that we have been holding back on will slowly come
out in the coming couple of weeks or so, but let's reiterate some of
the things that are already out there.

For those who did not go last year, the track will be open for
practice for a full 24 hours before the heats begin (7 am Friday 6 Feb
to 7 am Saturday 7 Feb) Breaks will only take place to ensure the
track is well watered in preparation for the heats. Once the heats
start, the track will go untouched, unless emergency track repair is
needed (unlikely.) The reason for this stance is that maintenance
between heats may give an unfair advantage (or possibly disadvantage)
to the heat(s) that immediately follow the track maintenance.
Experienced racers have seen this time and again in larger events, and
it is frustrating. If the track becomes tough to drive during the
heats, then so be it.

Maintenance, on the other hand, MAY be performed between mains. Since
in the mains, participants are only racing against others in their own
race, as opposed to racing all other participants in the racer's
class, manipulating the track surface does not give an advantage to
anyone over another. We will, on the other hand, make sure that the
track is ready to be raced upon before the following heat begins.
(Note: There was an incident in '08 where the B main in Pro Buggy
started too soon after the track was watered and the cars became
pretty muddy......not good. It was a communication error between the
race announcer and the maintenace crew. Since all of the B main
drivers had to deal with the same conditions, there should not have
been a complaint with regard to competition, but I could definitely
understand anyone being upset with running in muddy conditions. I did
give a public apology to all in the race immediately after the race,
but the damage was done.)

Again, for those who did not go last year..... There is plenty of pit
space indoor. Many tables were not even used last year. The heats will
go for 24 hours and you will do three heats which means that the time
between heats will be around 7 or 8 hours. Be warned...... schedule
your sleeping, eating, and prep work carefully. Many people last year
were victims of their own enthusiasm and did not get enough sleep. By
the time the mains came around some people were really dragging ass.
Some people even missed their mains because they were so sleepy or so
miserable. Do not make the same mistake.

Keep track of the race while away from the track with a GRMS radio if
you are in a trailer at the track, or if you planning to stay at a
hotel bring a laptop and keep track of the race by live video and
audio feed via live broadcast on ustream.com

More to come.....
01-05-2009, 09:35 AM
---
People who live outside of Georgia listen up:

Practice for this race will go for 24 hours starting 7 am on Friday 6
Feb to 7 am Saturday 7 Feb. This means that if you were to get off of
work at 5 pm on Friday and drive for, let's say, 7 hours and arrived
at midnight, then set up for one hour, you would still have six hours
left to practice! The same is true for racers coming from out of
town. Atlanta Hartsfield/Jackson International airport is only 10
minutes from the track. As long as you can get some practice time in,
you are good to go.

Do not miss this race guys. We have some stuff that you have never
seen at a racing event before (that I know of.)
01-06-2009, 06:03 PM
---
Dear Psycho Brethren,

It is very closet to the time when Dave and I need to start letting
out some of the info for the PNB II which is rapidly approaching.

Although I cannot let the whole cat out of the bag at this point
because of a few very small issues that must be dealt with, I can tell
you that there will be a Guiness World Record attempt on Friday, Feb 6
outside of the building. Details coming soon.

Sorry to tease you like that, but I need to get a definite "ok" to let
the info out. The guys have worked too hard for me to turn around and
mess it up.

Talk to you soon.

- Ollie
01-07-2009, 12:07 AM
---
Alright guy's,
For 2 months now Alan Burton and Adam Drake of team Losi have been working on designing a Losi 2.0 buggy that could set a guinness world record for jumping the longest distance and landing it without crashing. They have been working with the enginneers at losi to develop a car that would approach speeds of 70 mph and have the right suspension package to withstand the impact of the takeoff and landing without upsetting the car. Well, at Losi anything is possible and it appears after 2 months of work they have done just that. They will be using a losi 2.0 chassis with a newly designed 40 tooth spur gear and 20 tooth clutch bell. A new rear wing has been designed to accommodate for the increase in speed. Losi hard XBT tires with firm Foams, Nitrotane 30% fuel and a GRP .28 highly modified motor and pipe will provide the power. The losi is capable of speeds in excess of 70 mph so it will be something to see when these cars hit the ramp.
Alan approached me some time ago and wanted to know if we could build a ramp that would get them the distance. Well you know the answer to that and what better race to do the jump than the Psycho Nitro Blast. The jump will take place during friday practice at 3pm outside of the arena on the access road. The PNB will be building a seperate drivers stand and constructing the ramp that will send Burton and Drake the distance. The ramp will be roughly 4 feet high and 24 feet in length. Its going to be ONE BIG RAMP!
It is free for anyone to come and watch. You will not want to miss this, it is sure to be one heck of a spectacle. If you know Alan Burton and Adam Drake, they will be shooting for 200ft plus. We are very excited to see these guys go for it and you know at the PNB, Nothing is ever to big or crazy enough!!!!!
01-13-2009, 07:13 PM
---
OK guy's and gals, here is an updated list of sponsors. We are also happy to announce that the defending 1/8 pro buggy champion Chad Phillips will be returning to defend his title.
Thanks to all the 2009 sponsors for supporting the Psycho Nitro Blast. We could not do it without you!!!
01-18-2009, 08:21 PM
---
Get ready for some serious thrash metal during Friday night practice.
Only at the PNB.
01-19-2009, 10:28 AM
---
Okay folks.... the time is getting close and the race is getting
more "real" every day now. Dave and I and some friends moved the
Dejavu corner bumps down from Dave's house to Henderson's Arena this
last Saturday. Loading the things at Dave's house, I crushed my left
index finger as I helped to put the thing up on the trailer. Dammit!
Hurt like hell in the cold. An hour later at Henderson's arena, I
crushed three more fingers on the other hand. M**********r! I am
officially the first person to curse the darn things. Just wait.....
you may curse them also.....you never know. They are actually kind of
hard to master......you'll see.

PS - forgot how big that friggin place is.
01-20-2009, 01:22 PM
---
Common sense information regarding PNB race registration:
We fully expect this race to sell out at the 350 entry max. Pre-
registration without payment does not reserve a spot in the race.
Only paid entries before the 350 entry maximum will be assured a spot
in the race. Once the 350 entry limit has been reached, we will
populate the entry information into the race management software.
After this is done we will fill out all of the heats with paid entries
above and beyond the 350 limit until all heats have 15 racers. We
will continue to accept registrations after the 350 limit, but a racer
who registers after the limit still may not get into the race if the
heats have been filled. Registration fees will be refunded to those
who register and pay after the limit but are denied entry due to the
race being full.

Make sure to get your payment in. Also make sure to confirm your
status in RCSignup.com and make any changes to frequency, car, and
transponder number.
01-21-2009, 10:27 PM
---
The PNB would like to introduce everyone to the Psycho Nitro Girls. These lovely ladies will be present during Friday night practice walking through the pits and trailerville taking pictures with everyone and handing out MONSTER energy drinks. They will return on Sunday afternoon to mingle and congratulate the winners.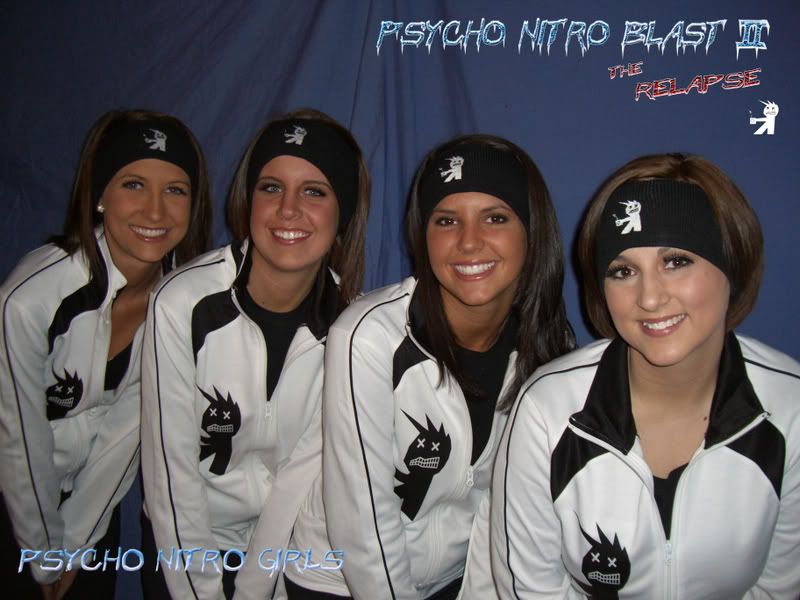 01-22-2009, 10:57 AM
---
Open letter from Oliver Aspinwall

Dear Psycho Brethren,

So here we are…. Just over two weeks away from the start of the PNB II practice session. Dave and I are in anticipation of an awesome weekend of fun with about 350 of our racing buddies. Hopefully you have seen (or will see) that the PNB is more than just a race. Dave and I envision the PNB as more of an event. Since having fun is really what this whole thing is about, in addition to the normal sick race, this year we are bringing live music to you late in the practice session as well as the Guiness world record attempt by Adam Drake and Alan Burton earlier in the day. The Psycho Girls will also be there.

We made every attempt last year to make the track and the event as fun as we could possibly make it. Hopefully you had a great time. No corners will be cut in our efforts to make the track as fun as possible this year also. We learned about the dirt last year, and although I personally loved the way the track turned out very rutty in some areas, we realize that not everyone shares the same feelings. With what we learned last year, we know that the track will not rut up the same way this year.

The Leap of Faith, although she lofted its RC vehicles in a seemingly endless majestic arc, she also claimed an unfair share of victims. She did not discriminate. She was ruthless. She didn't care if you had a buggy or a truggy, or if you were a novice or a pro. She didn't even care what brand of car vehicle you drove. She ruined TQ runs, she ruined good runs in the mains. She was a royal ……. Well, you know. It did make for a great show, but it was a bit too much for racing, so sadly she will not be the LOF as we knew her. (Sniff)

Do not be sad though. We have plenty of "air" out there for everyone. We actually will have a higher quantity of significant jumps out there this year than last. Just wait and see.

Everyone that experienced last year's race learned just how hard it is to race this particular format. Ten minute qualifiers in and of itself is not necessarily that hard, but your pitman's speed factors into your qualifying position. If your pitman is racing as he probably will be, the two of you need to figure out your race schedule and plan time to sleep.

Also, since this race is based on the best two of three in qual points, you certainly do not want to miss that third qualifier which may be at 3, 4, 5, or 6 in the morning. Not budgeting time for sleep was a common mistake last year. I, for one, can attest to feeling like a zombie on Sunday morning. I actually fell asleep on my feet while turn marshaling. True. A truggy flipped over at the entrance to the berm at the beginning of the straight. It was right at my feet, but my eyes were closed and I was sound asleep. He death-revved and woke me up so I eventually turned the truggy over. Sorry to whomever that was.

As I mentioned earlier, Adam Drake and Alan Burton of Team Losi will be attempting to set a world record distance for jumping an RC vehicle. Dave will be building the ramp in the next few days. The special Losi 8ight buggies have already been built and tested at over 70 mph. There are other modifications also, but I do not have the details to give you at this point. For those of you who will not be able to make the event, there will be plenty of video posted soon after the attempts.

I am tempted to continue rambling on and on, so I will spare you and cut it off here. I really do hope to see and talk to each and every one of you at the PNB II – The Relapse. See you soon Psycho Brothers (and Sisters.)

Best Regards,

- Ollie